Here are some pictures of my new 1975 Ferrari Dino 308GT/4.

.
.

The red over black is known as the 'Boxer' paint style, the house behind is our converted school-building home in Port Townsend, WA.

.

The dash is strictly business and well laid-out.

.

240 bhp, 4-cam, 3 litre V8 and yes, that's me with the camera.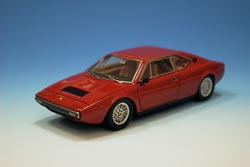 .
.

Two 1:43 scale models of the 308 GT/4 (left) expensive BBR white metal and (center/right) Polistil diecast with different wheels.