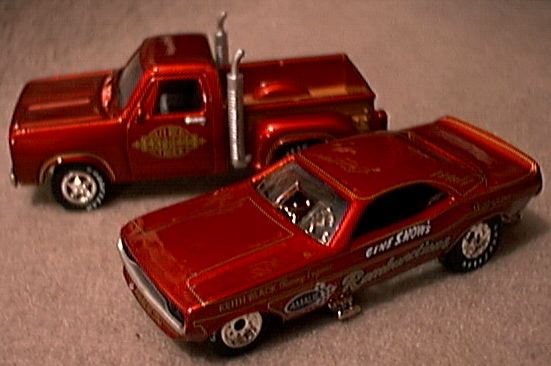 Mopar Match


Chevy Combo


Ford Fraternity
A Perfect Match

TofTC recently welcomed Jeff Koch to our distinguished list of contributing writers. Jeff's skills as a professional writer (most recently with Hot Rod Magazine), and editor of the the late lamented 'Collecting Toy Cars' magazine were proof of his credentials. In addition, Jeff is a serious collector of toy cars and he and I have found a number of models from our respective collections to trade.

Just last week, Jeff e-mailed me that he has accepted a new challenge. He is leaving California to head for Indiana as he has accepted the position of Brand Manager for Johnny Lightning. Frankly, I can't think of a better combination.

Without a doubt, Johnny Lightning (JL) has been the primary catalyst for the current golden age of diecast cars. No company has moved more quickly to bring new and innovative models to market and they have done so while keeping prices at fail levels. In just ten years, JL has become a keystone of the diecast market, to which all other producers look for new trends and levels of quality. JL would be the first to admit that there have been mis-steps along the way (.com cars anyone?), but most of their products have been right on the money.

Bringing a real collector and enthusiast to JL is a master stroke. I know that Jeff and I agree that the market needs more models of un-done cars in 1:64 and fewer '57 Chevys, '63 Corvettes and Dodge Vipers. Jeff has agreed to an interview with Tof TC once he gets settled and we may still get an article from his pen on occasion. Congratulations to JL and Jeff for a perfect match.

Now, if we could just find a true toy car person to direct Matchbox. Better yet, we need a toy car person to buy Matchbox!
---


Speaking of perfect matches and Johnny Lightning, the three images to the left feature a 'Car and Truck' theme from some of JL's great models. See Jeff, I'm giving you ideas already.

For Mopar fans, we have the 1978 Dodge L'il Red Express Truck and a 'Rambunctious' 1970 Plymouth Barracuda funny car. I love the candy-apple red colors. For Chevy fans, the 1956 Chevy Cameo Pick-up is paired with the 1978 Chevrolet Corvette, both in silver and red. Lastly, FoMoCo fans have a 1929 Ford Model A Pick-up and a 1968 Mercury Cougar, both in classic black..
Just in case anyone is interested

Here is my list of cars that should be done in 1:64 scale, assembled in no particular order:
1964 Studebaker Avanti
1929 Bentley Speed Six
1938 BMW 328
1966 Oldsmobile Toronado
1955 Lincoln Continental Mk II
1952 Bentley Continental
2000 Peugeot Pro-Rally WRC Champion
1960 AMC Metropolitan
2001 Bentley Le Mans racer
1970 Pontiac Grand Prix
1963 Buick Riviera
1965 Corvair Corsa
1961 Chrysler Imperial Convertible
1965 Jaguar Mk. II
1979 Jaguar XJ6 S3
1970 Maserati Ghibli Coupe
2000 Maserati 3200 GT
1963 Studebaker Hawk GT
1964 Ford Thunderbird
1970 Volvo 1800ES
1965 VW Karmann Ghia
1970 Datsun 240Z
1968 Datsun 1600 roadster
1970 Oldsmobile Vista Cruiser wagon
1969 Buick Sportwagon
1970 Pontiac LeMans wagon
1972 Ford Ranchero pick-up
1972 Chevrolet El Camino pick-up
1968 Triumph TR6
1966 Alfa Romeo Giulia Sprint GTA
1970 Fiat Dino Spider
1966 Mercedes-Benz 280SE convertible
1959 Mercedes-Benz 190SL
1957 Studebaker Golden Hawk
1971 Renault Alpine 1600S
1957 Facel-Vega Excellance
1960 Chrysler 300F convertible
1955 Mercedes-Benz 300 SLR
1959 Aston Martin DBR LeMans
1956 Pegaso Z-103
1967 Lancia Fulvia Zagato
1964 Honda 500 roadster
1963 Lotus Elan
1961 Saab GT 750
1959 Alfa Romeo Giulietta SS
1957 Mercury Turnpike Cruiser Cvt.
1948 Volvo PV 444
1955 BMW 507
1955 Lancia Aurelia GT2500
1954 Maserati A6GCS 2000 Sport
1953 Lincoln Capri
1950 Hudson Hornet
1938 Maybach Zeppelin V-12
1938 Alfa Romeo 8C-2900/B
1937 Morgan Super Sport 3-wheel
1936 Bugatti 57S Atlantic