Several years ago when I added an Italian car to my full-sized collection, I realized that I was getting close to having a car from all the major automotive producing countries. With my latest addition, I have now achieved what is strictly, a personal goal.

Japan, the United States, Great Britain, France, Italy and Germany have traditionally been the major car-making countries. I realism I am leaving out Sweden, Australia, Spain and other smaller countries that have produced very fine cars but one has to draw the line somewhere.

While I now have cars from the 'big six' automakers, they are not necessarily my ideal choice, should financial reality somehow be suspended. At the same time, I am very pleased with the examples I have and don't want to appear to be dissatisfied, I'm not. Just for fun though, I began trying to decide what I would want from each of the 'big six' if it were possible. To avoid including cars worth seven figures that will never be in my reach I decided that I would set a limit of less than $100,000 per car in value. Here is my list, and of course, it is illustrated with favorite toy cars.

Japan - Honda/Acura NSX
Even if you love old cars, it's nice to have one that always starts and seldom breaks. The NSX design is over 10 years old and still looks fresh and unique. Performance numbers are still some of the best ever assembled in one car. Tomica, Majorette and now Motor Max have done nice examples but I like Majorette's green version.

United States - 1937 Cord 810 Sportsman
It's hard to believe that these excellent examples of these cars can still be bought for less than $100,000 but it's true. The '37 Cord is simply on of the most beautiful cars ever produced. I am so happy that Racing Champions finally did a beautiful 1:64 scale example.

Great Britain - 1964 Jaguar 'E' type Coupe
Grace, Pace and Space were the Jaguar marketing claim and the 'E' type is simply a machine for the ages. The line of the Coupe are my favorite. Many have done the 'E' type in 1:64 but the original Matchbox and Hot Wheels collector model are some of the best.

France - 1972 Citroen-Maserati SM
While there are many wonderful French cars (no really!), The Citroen SM is my choice. I've owned one for the past 10 years and I still smile every time I drive it. Tomica, Majorette, Matchbox and Siku all did nice models but I would love to see a top-end collector edition.

Italy - 1979 Ferrari 308GTS
Of all the Pininfarina designs, this Ferrari model is still as sexy as they come. For their price today, these are an amazing value. I would prefer the earlier carburated version. The Corgi casting with tires from Hot Wheels is my favorite of the many examples done.

Germany - 1972 BMW 3.0CS
Here is another collector bargain. The beautiful line are some of the best from BMW and it drives as well as it looks. A 1974 Porsche 911RS would be tempting too. Matchbox, and Majorette did nice 3.0CS models but Schuco's 2800CS with the same body style looks best.

You have to admit, every drive would be a delight. Now all I need is the $250,000 to afford these six cars. Actually, If I subtract the SM I already have, and sell all the other cars I currently have, I'm only $150,000 or so short. Let's see, if I sell all the toy cars... no, I'm not ready to make that trade just yet. Just for the record, my garage currently holds only one of these cars, the 1972 Citroen-Maserati SM. The other five are Japan - 1991 Mitsubishi Eclipse GS, United States - 1968 Cadillac Eldorado, Great Britain -1963 Bentley S3 Saloon, Italy - 1975 Ferrari Dino 308GT/4 and a Germany -1988 BMW 325iX. My '72 Buick Sport Wagon is icing on the cake.

Share your fantasy garage list from the big six with me and I'll put it in the next issue. If you can send images, even better. Send it to: doug@breithaupts.com.
Honda/Acura NSX - Majorette

Cord 810 Sportsman - Racing Champions
Jaguar 'E' type Coupe - Hot Wheels

Citroen-Maserati SM - Tomica

Ferrari 308GTS - Corgi/Hot Wheels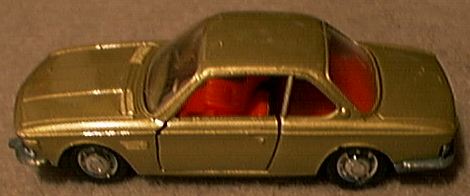 BMW 2800CS - Schuco