Mini Ha Ha - Matchbox


Rodger Dodger - Hot Wheels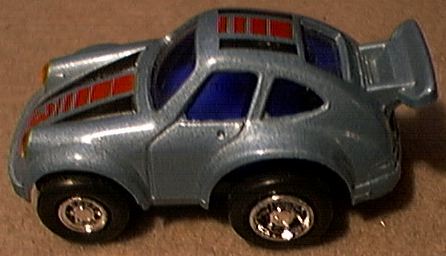 Porsche 911 Turbo - Maisto
|

Cosmic Blues 'Road Runner' - Matchbox
Car-Toons - Old is new again
What pre-teen boy has not drawn pictures of wild cars while sitting through algebra or history class? As a seventh grade student, I remember most of my drawings had bulging fenders, oversized tires and of course, an engine that made forward visibility totally impossible. In the 1970's, cars just like this could be seen in plastic car kits and from Hot Wheels and Matchbox. The ultimate 'car-toon' in my opinion is the 'Cosmic Blues' Dodge Charger by Matchbox, shown below with the perfect cartoon character, the Road Runner. Matchbox did the Mini Ha Ha and others as well. Hot Wheels did the Rodger Dodger in 1970, another Dodge Charger, recently re-released with a big engine up front. These cartoon cars were a passing fad of the era and largely forgotten although occasional re-lapses like Maisto's Porsche 911 Turbo did occur. Then recently, Funline began producing them again in diecast as Muscle Machines.

Collectors seem either hot or cold on these toy 'car-toons' and I admit they have little appeal to me. Still, they proved a success with others and Funline's sales have been impressive for such a young company. While Hot Wheels still produced the occasional big-engined 'car-toon' like the Morris Minor Traveller, up to now, Muscle Machines had this diecast niche pretty-much to themselves. It appears that 2004 will change all that.

Mattel added a few more 'car-toons' in their 2003 line like the '68 Mustang. For 2004 they have pulled out all the stops in an effort to out-muscle, Muscle Machines. American muscle cars are now joined by Asian tuners and even a Ferrari 360 Modena and Enzo! How Ferrari agreed to the license for that one is hard to figure. Still, these are not the first cartoon Ferrari models as shown by a generic Asian model from a few years back. Out of 100 new castings for 2004, HW has decided that all but a few will be fantasy 'car-toons'. Many collectors are none too happy about this.

Not to be outdone, Johnny Lightning is putting huge tires and motors on some of their muscle car models in an effort to get more life out of older castings. One expects to see Mattel follow the herd but it's sad to see JL join the cattle-call. Still, if sales of 'car-toons' help JL to pay for the great realistic castings, does it really matter? I would simply prefer that series like the Simpsons, Speed Racer and the Wacky Racers provide 'car-toons' while realistic castings remain devoid of huge engines and oversized tires. With these high profile players committed, others are sure to follow along. Majorette has actually done these models (a Firebird received this treatment) and Matchbox could dust off their 'Red Rider' or 'Cosmic Blue' models. Racing Champions/Ertl, and Jada may be easily tempted to join at the 'car-toon' trough.

Let's hope there will always be Siku and Tomica to hold up torch for realistic toy cars. Welly, Real Toy, Motor Max, Maisto and Yat Ming seem on the right track too although Maisto did a series of cartoon models some years back.. When the 'car-toon' fad passes as it surely will, HW may have to moth-ball a lot of castings. Until them we can all pretend we are back in 7th grade algebra.

Share your thoughts on this topic with me and you may see them in the next issue. Send to: doug@breithaupts.com.

Shelby Mustang 350GT - Muscle Machines


Ford Mustang by Hot Wheels


Ferrari 360 Modena - Hot Wheels


Ferrari Enzo - Hot Wheels


Ferrari 250 - generic