I cannot remember a year where more new 1:64 scale models and colors were available during the holidays. Usually, I take December off in terms of toy car hunting. Most of the new models for the year just ending have been out for some time by then and I've found them. In addition, holiday shopping crowds are as much fun as crawling through a swamp, at night, and I'm not sure which is more dangerous.

This year, Hot Wheels and Matchbox are actually putting 2003 models in the stores before year-end. While nothing from Matchbox is likely to get me out to the mall, some of the new Hot Wheels are worth the trip. Could it be that Mattel decided the best way to insure higher holiday Hot Wheel sales was to get a jump on 2003? Then again, if GM can offer 2003 models in October, why not Mattel?

It also appears that Mattel has seen the writing on the wall regarding the writing of their name on the top or sides of every casting. Manufacturer names belong on the BASE, period. The new 2003 models I found are free if these 'marketing' reminders on every Hot Wheel and Matchbox model.

Johnny Lightning saved some of their best new efforts for the holiday season. The '70's cars are easily my favorites, profiled last issue. The new Bond cars look good too although I have yet to find them.

For 17 years I have made a trip to Canada in late November to enjoy the hospitality of our northern neighbor and get a jump on holiday shopping. This is also an opportunity to seek out toy cars that may not cross the border. This year was a bonanza. I found new models from Motor Max, Real Toy, Jada, Hot Wheels and others.

My theory is that the economic slump has pushed toy car manufacturers to produce more new models for the holiday season. This could be a sign that manufacturers are responding to the collector market, kids and adults, where new products are critical for new sales. Moms may be happy simply pulling old castings off the pegs for stocking stuffers but you and I will not. Of course the downside is that if sales of toy cars are off or flat, manufacturers will not have the resources or the incentive to push out more new models early in 2003.

My problem was that I was starting to feel guilty about buying toys for myself this time of year when I am usually focusing on toys for my kids. The simple solution was to buy toy cars for them too! One for dad, one for Bentley, Amelia and Sophia. My youngest, Spencer is only six months old so I am waiting an appropriate amount of time before I buy diecast cars for him, say March. If he can crawl, he can push a toy car.

In reality, a sinking economic ship will drown toy car producers too so I'm in favor of a rapid recovery. At the same time, perhaps more new toy cars at Christmas will become a tradition. Like the song says, "Santa Baby, a '52 convertible too, light blue".

Share your thoughts on this topic with me and I'll put it in the next issue. Send to: doug@breithaupts.com.
Look Ma, no logo!
2003 Fish & Chipped by Hot Wheels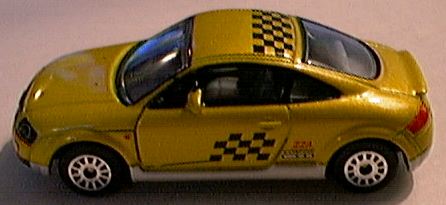 Audi TT from Real Toy
New Corvette color from Motor Max