---
The following editorial reflects the personal thoughts of Doug Breithaupt relating to our common hobby of miniature cars. It is intended to generate discussion relating to 'Tales of Toy Cars'. Your letters are welcome and may be submitted via the 'Guest Book'.
---
In the beginning...
Why do we do it? What is the fascination with miniature vehicles? I know you think about it every so often, so do I. Do you collect because it's fun or perhaps in the hope of financing your golden years? Perhaps we should look at this a little closer.
With this the first editorial to accompany 'Tales of Toy Cars', is seems appropriate to start with the most basic issue we all share. What is it about toy cars (yes, even the most expensive, detailed 1:43 scale models are in essence, toys) that attracts us? Let's go back to where it started.
For me, it began in about 1965. Swain's General Store in Port Angeles, Washington provided my first toy car of memory. I was eight years old and I remember the day when my parents took me to this wonderful store, still thriving today. I was allowed an allowance of $1 per week. Every Saturday that $1 had to be spent or my pockets would start to smolder. Often it went for candy or some other food treat but that fateful Saturday at Swain's, something else caught my eye. There with all the other toys were a rack of Matchbox cars and I was perfectly financed to buy two at .49 cents each. My selections were a deep burgundy sports car, the Jaguar 'E' type, complete with wire wheels, and a red Pontiac Grand Prix coupe.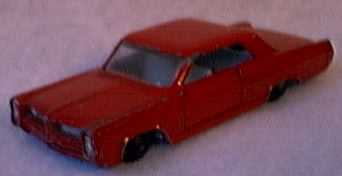 Is it coincidence that my full-sized car collection today includes a Jaguar ('73 XJ12) and two GM personal luxury coupes of the 1960's? To this day, the 'E' type is my personal choice for the sexiest cars ever built and the Bill Mitchell designed luxury coupes from GM are represented best by my 1968 Eldorado.
Do I still have those two toy cars that started it all for me? No, not the originals but both have been replaced in my collection. Like many young collectors, at the age of 14 or so I gave all my toy cars to my younger brother and they became residents of the garden or back yard.
In 1984 I bought two VW Rabbit/Golf miniatures for my wife because she owned a Rabbit. These Tomica and Matchbox models were followed by several original Hot Wheels found at a second-hand store and the rest is a story that you could tell for me I'm sure. Now the collection includes close to 5,000 models. Most are out of the package because I do believe in playing with my toys. I store the majority in Plano Molding's wonderful 48 car plastic storage boxes. In 1997, I started my Web site for miniature motorcars. Today I receive over 3,500 visitors
(93,000 hits) per month to my site.
Long term, I hope to provide online images of all my collection, to actually create a comprehensive Web museum of miniature cars (The Breithaupt Miniature Motorcar Museum). At some point in the future I will create a nonprofit museum to which the online Web site will be donated. I will continue to buy, sell and trade through a museum gift shop online and the nonprofit status will allow for tax-deductible contributions from companies or individuals to support the museum.
Getting back to my original question, why do we do it? I can't answer for you but I'm happy to share my reasons. First, I have long been fascinated by the automobile and what it represents in our culture. I have had an un-realized desire to be an automotive designer and would love to own many of the most admired cars from around the world. The toy car collection is one way of owning and celebrating the thousands of cars I will never own in full-scale (there are still many I have hopes for). Of course there is one other reason. Every time I look at the Matchbox Jaguar 'E' type or Pontiac Grand Prix, it takes me back to Swain's General Store and the joy of being eight years old.