Porsche 911 by Real Toy
Excellent paint, simple but well-styled wheels


1996 Ford Mustang by Real Toy
Another wheel style, base painted to match body

Hummer by Real Toy
Third wheel style and excellent detailing
Real Toy Makes Real Progress
by Doug Breithaupt
In the last issue of Tales of Toy Cars, Real Toy was chastized for copy-cat packaging, used several years ago. Now it's time to talk about what Real Toy are offering the diecast collector today.

Most of us first noticed this new Asian diecast player when they were best known for large 25 play sets. They offered racing, city scape and vacation themes with cars and plastic accessories. I did not buy the big sets, they offered too much I did not want but I began to notice some interesting cars. Their Porsche 911 models caught my eye and an interesting selection of F1 race cars. My first Real Toys came in a five car set for $5. It included three racing Porsches and a Ferrari Testarossa Pace Car. They were cheap and unique. later on a trip to Canada, I found Real Toy models in single and three-packs and at three for $2.00 Canadian, I bought all their car models. The graphics were a bit over the top and in some cases down-right wacky but the castings were good.

Take a good look at the three cars to the left. Would any collector expect to find this level of quality for about $.65 each? Real Toy is for real. These three cars came from my most recent Canadian trip and Real Toy has made two major steps to improve their diecast. First, they are dumping the dopey graphics and wild paint in favor of realistic, detailed colors. Their paint is equal to the best of the major diecast producers and actually superior to many. The green Mustang actually has a fully painted base, matching the body color. Second, new wheel patterns are being used that while simple, are effective and contribute to the models.

This is not to say that real Toy will challenge the big boys any time soon. None of the Real Toy products appear to be licensed and all bases simply read 'Made in China'. In addition, Real Toy racing cars use phoney sponsor names to ape Ferrari or Williams F1 cars. The castings are good but the look-alike graphics are cheap. Of course the flip-side of this coin is I will have to pay more if I want licensed products. Corporate egos and trademark protection seem a bit out of hand today and I know a Porsche 911 when I see one.

Real Toy is offering unique castings, quality details and an un-beatable price. Competing with that combination could force other manufacturers to sharpen their paint, interiors and wheels to stay in the game.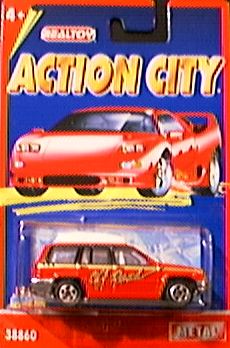 Packaging gives no clue but this looks like the new Jeep Grand Cherokee.


With no help from packaging, this looks like a Mitsubishi Montero.