The meat of the 1:64 scale collection. Each box represents 48 cars so this wall has over 2,100. Another 18 boxes are not visible for a total of about 3,000 loose cars with another 1,000 in packages or special displays.


The 1:18 scale cars finally have a home.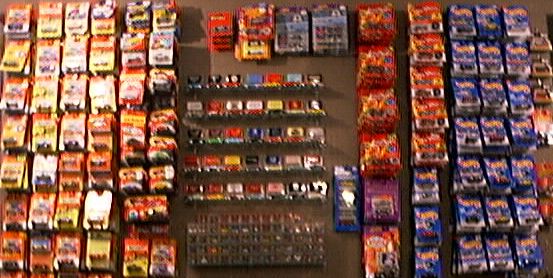 Racing Champion Mint Edition and Hot Wheels Redlines are framed by packaged models.
The Toy Room
Ask any normal person what room in the house is their favorite and see what they say. For those of us who like to cook and eat, the kitchen might be the choice. For some, the garage or shop is their place to 'get away' from it all. Of course, the bedroom is a common choice for obvious reasons. I know that if you are reading this, you are hard-pressed to consider yourself normal. You are a diecast collector and our homes have another room that is dear to our hearts, the toy room.

Over the past month I have been re-locating my toy room from a converted cloak-room to a much larger room (about 500 square feet) in the basement. I was over-flowing my cloak-room and my wife decided a bigger toy room downstairs was better than my collection becoming the center-piece of our dining room.

I really did not realize how long this re-location would take. First, I had to prepare the room. As it was an un-finished room needing interior walls, I decided to do three of the walls in peg-board to accommodate all the items that need to hang on hooks. Most of my small-scale diecast collection is either in 48 car, clear plastic boxes by Plano Molding Company or in packages. It is easy to organize the collection by make and model for easy reference. All can hang from hooks. In addition, I had shelves made for my 1:18 scale collection, now approaching 200 models.

More work remains to find the right space for my smaller 1:43-1:36 scale collection. In addition, some 50 1:24 scale cars are also competing for display space. Special displays are provided for Matchbox World Class/Premier Collection cars, Racing Champion Mint Edition and Hot Wheel Redlines. Once everything is in place I will provide some overall views of the room.

For now, I have to share my space with the washer, dryer and hot water heater. You see my new toy room is the old laundry room. A new laundry room is planned but un-funded at present. It's a tough choice, spend money to move the washer/dryer of buy more toy cars. I'm willing to share my space at present and the sound of the dryer as I prepare this column could be considered meditative. Yes, close friends and relatives have recommended professional help.

My two children, (5 and 18 months) have decided the new toy room is their favorite place to be too. They are both very good about not playing with dad's toys unless dad says so. I'm just lucky I guess. It is amazing to me how small children can be trained to respect the sanctity of 'The Toy Room.' Perhaps the use of the cattle prod for conditioning purposes was a bit over the top (yes, I'm kidding here).

My ultimate goal is to create a mini-museum for the collection, sound familiar? This way I don't burden the heirs with what to do with the hoard once I go to that big toy store in the sky. Running a nice non-profit museum with a gift shop of course, in my golden years may be just the ticket. I just a benefactor to sponsor my dream. Let's see, The Bill Gates Toy Car Museum has a ring to it. However, we should all remember, the one who dies with the most toy cars... is still dead.

One month and I'm still only half done. Since the family is coming for Easter, I guess I need to pick up the pace. One un-anticipated bonus, the 27 stairs from the basement to main floor have put me in good shape. Now, if I could just find a spot for the 1:24 scale cars.