1965 Ford Mustang (1966)



1968 Ford Mustang Cobra Jet (1996)



1967 Mercury Cougar (1968)



1974 Dodge Challenger (1975)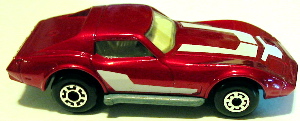 1974 Chevrolet Corvette (1979)



1974 Pontiac Firebird (1975)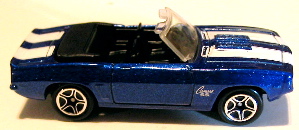 1969 Chevrolet Camaro SS 396 (1996)



1971 Chevrolet Camaro Z-28 (1997)

1965 Shelby Mustang GT-350 (1970)



1970 Ford Boss Mustang (1997)



1967 Mercury Cougar (1970)
---
Between 1964 and 1974, Matchbox toy cars were some of the most popular in the world. Half-way through this period, in 1968, Hot Wheels became an instant success and the primary competitor to Matchbox in the U.S. market. While Matchbox models of this period had a distinctive British and European flavor, Hot Wheels were primarily focused on the muscle cars, customs and hot rods of America that were so popular with the youth of that era. Many feel that the failure of Matchbox to offer examples of the dominant pony and muscle cars of this period led to the ultimate success of Hot Wheels over Matchbox.

Matchbox did not entirely neglect the 'American muscle' segment of the toy car market. They offered a 1965 Ford Mustang and a 1967 Mercury Cougar that proved to be very popular models. Both models were re-issued with 'Superfast' wheels and later were done as hot rods with big motors. In the 1970's, an AMC AMX Javelin, Pontiac Firebird, new Ford Mustang, Chevrolet Corvette and Dodge Challenger were added, no doubt in part to respond to Hot Wheels. These additional muscle models were also very successful and it is telling that some of these castings continued to be offered well into the 1990's. For the next 25 years, these seven Matchbox models were the extent of the Matchbox classic muscle car line. A cartoonish Dodge Charger with a huge motor was offered but was never identified as a Charger. Another Dodge Charger funny car was also done.

In the 1990's, the muscle car craze was re-born and new companies like Johnny Lightning and Racing Champions began offering classic American muscle cars to a new generation. Matchbox, then owned by TYCO Toys, joined with Hot Wheels and others to add more of these models to their line. A 1969 Chevrolet Camaro convertible, 1970 Pontiac GTO, 1970 Chevrolet El Camino, 1968 Ford Mustang and a 1970 Ford Mustang were produced. A rather curious retro-casting of the 1965 Mustang Fastback was also produced in tribute to the original Lesney version of the Mustang.

Matchbox has continued to offer more classic muscle cars under Mattel's ownership although this seems to be in direct competition with Hot Wheels. A very nice Shelby Cobra 427 was done, first as part of the Elvis series and now in several other variations, although it is actually an Anglo-American roadster and therefore not included here. In 2004, a new version of the 1967 Mercury Cougar was offered in the new Superfast (NSF) series. In addition, a 1970 Plymouth Hemi 'Cuda and 1968 Chevrolet Camaro were offered as new castings in this series. Many of the older TYCO castings like the GTO and Mustang models have also now appeared in the NSF program.

It is interesting to speculate what might have happened if Matchbox had offered all these classic muscle car models back in the 1964-74 era. Would Mattel have seen the need to create Hot Wheels? Would Lesney have survived with better sales in North America during the 1970's? Is Matchbox still trying to make up for these missing models by offering them now, some 35 years later? The new Hemi 'Cuda, Camaro and Cougar models have all been done by Hot Wheels, Johnny Lightning, Racing Champions and others. Matchbox has largely failed to find it's own niche in the toy car market today. The success of the NSF program has been the one bright spot of late. Having missed out on the muscle car craze the first time around, it is hard to see Matchbox returning to success by finally producing these models today. Still, I expect young and old alike would prefer to see more Matchbox muscle rather than more hats or animals on wheels. Adding more muscle to the Matchbox line-up just might be the ticket to replace all those dusty blisters currently clogging the pegs.

1965 Ford Mustang GT (1998)



1971 Ford Boss Mustang (1972)



1968 Mercury Cougar (2003)



1970 Plymouth Hemi 'Cuda (2003)



1970 Chevrolet El Camino (1997)



1970 Pontiac GTO (1995)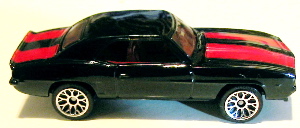 1969 Chevrolet Camaro (2003)



1971 AMC AMX Javelin (1972)