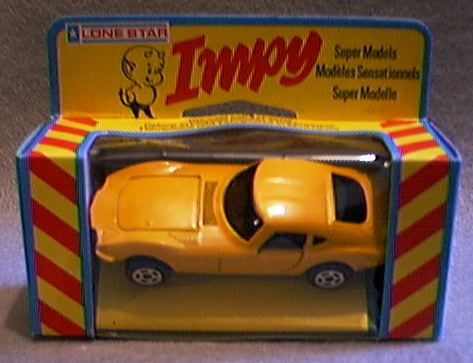 Toyota 2000GT #74, Impy Lone Star Flyer
Porsche 911 #301, Norev Mini Jet
If you are reading this editorial, you and I likely share our common interest in collecting diecast vehicles. Of course, our primary connection is that I write and you read my comments in this Webzine. Perhaps you have sent me an e-mail and it has been published on our letters page. A much smaller, but much appreciated number have made story contributions. Here the contact is more in-depth and regular but still, it is primarily electronic. All of these forms of contact are positive and serve to further our common hobby. Even so, I often feel something is missing.

This past February, I had the occasion to travel to Southern California on business. My schedule allowed me to make contact with one of our regular contributors to the newsletter, David Cook. David is a collector specializing in diecast race cars and motor sports. His contributions to the Webzine have been excellent and it was a pleasure to be able to thank him in person. I was able to see his collection and we had a wonderful dinner and visit at his home.

Last week, I had the rare opportunity to actually welcome a reader and collector to my home to see my collection. Kyle lives in Sequim, Washington, just 17 miles away and we had connected through Tales of Toy Cars (TofTC). He brought examples from his collection and we spent three hours lost in the world of diecast cars. It was a delightful opportunity to share my collection with someone who understood the joy it brings me and to view his prized pieces as well. Kyle is a big fan of Lone Star's Impy models and we had a great time comparing our collections and identifying variations in interior and exterior colors. I was able to introduce Kyle to some of the more obscure 1:64 diecast like Norev's Mini Jet series. While all this could have been done with images and e-mail, it would not have been as much fun as the hands-on version. After all, the best part about 'toy' cars is that they are designed for play.

It is unlikely that we will ever meet in person. The readers of TofTC span the globe and the possibility of connecting, face-to-face, is remote. Should you ever be in my part of the world, please consider this an open invitation to visit my collection. I am sure you would do the same for me. The truth is that the marvelous technology that makes TofTC possible, also removes most of the personal elements from our exchanges. Without that personalization, we will be missing one of the great joys of collecting, the opportunity to share our collection, first-person.

This is not a lament for the good old days before the Internet. On the contrary, the Internet has been a revolution for the collecting public, and I think, overwhelmingly positive. This is simply recognition that the personal contact for all of us is too wonderful to be entirely replaced by electronic exchanges. We should all make every effort to meet and share with fellow collectors in our local areas. Joining a local diecast club or attending toy shows and swap meets can provide this level of contact. Like most hobbies, ours is not going to save the world or advance the cause of the human race to any great extent. It's greatest value is in that it allows us to balance the cares of every day with a bit of whimsy and child-like fun. Sharing that value on a one-to-one level gives our hobby the human touch.