NEW Corvette Stingray casting


Recent Corvette Stingray casting


Original Red-Line Corvette Stingray


Altered Tails - Is this a new model or a revised casting? The new wheels certainly don't help the car look better.
HOT WHEELS' CORVETTE STINGRAY IS UPDATED

Since 1975, Hot Wheels has offered a 1974 Corvette Stingray in their line-up. Almost every year, this model has sported new colors, wheels and often, description. It has been labeled and mis-labeled as being a pick-your-mid-1970's-year Corvette, often with the Stingray name attached. It is actually closest to a 1974 model.

The latest version is still labeled as a 'Corvette Stingray' but it clearly is no longer a 1974. As the images show, this casting has been converted to add the full, rear window, introduced in 1978. The casting is plastic with a metal base. The earlier casting had also been done in plastic at least once but was primarily in metal. With the new rear window, Hot Wheels could call this casting a 1978-82 model although it is clearly a 1978 due to the shape of the front nose. Curiously, the base has been completely changed and includes no mention of 'Hot Wheels'. It does say 'M.I. 1975', which must be for Mattel Inc. and the year of the original casting. Another change is that the windows have been smoked and no interior is included. The original interior was cast with the windows in clear plastic, as shown with the original, red-line version of the car. The tail of the new casting has also been changed with the addition of a spoiler and altered tail-lights. The original red-line version had also been changed with the removal of the rear-window air vents and the crude, bumberettes between the rear lights.

One wonderes why Mattel did not simply label this as a new casting since both the body and base are different from the original. perhaps the new casting was necessary because the old one was worn out. It will be interesting to see if a metal-bodied version is offered and if the older casting is also continued.
'67 MUSTANG AND ASTON MARTIN V8 - SEPERATED AT BIRTH?
Johnny Lightning recently released a white version of their Aston Martin V8, originally produced for the Bond series cars. As soon as I saw it I was again struck by the resemblence to the '67 Ford Mustang fastback. As i thought about this i remembered that JL had also done this car in white and it seemed an obvious photo op.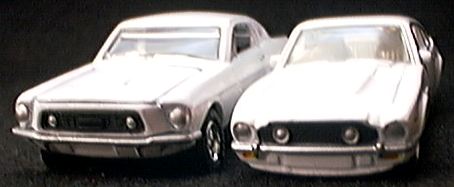 The AM V8 came after the Mustang so perhaps AM was influenced by America's pony car. Even the grills and tails are very close. Both cars came with powerful V8
motors and yet there was one major difference. The Aston Martin V8 was one of the most expensive GT cars while the Mustang was one of the least. One other difference, James Bond did not drive a Mustang.