Import Tuners by Funline
T02-01 - '00 Honda Civic HB
T02-02 - '01 Ford FR200
T02-03 - '02 Acura RSX Type S
T02-04 - '01 Subaru WRX (above)
T02-05 - '00 Nissan Skyline GTR
T02-06 - '97 Toyota Supra
---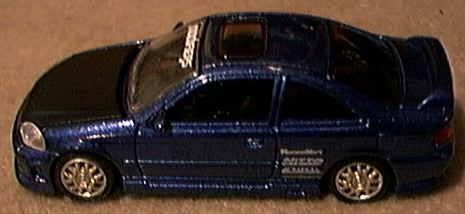 Modifiers by XConcepts
1999 Honda Civic Si (above)
1999 Mitsubishi Eclipse GSX
2000 Acura Integra Type R
2000 Cadillac Escalade
1999 Honda Accord Coupe EX
2000 Ford F150 XLT
---

Car Chains Century Collection by Tack Cheung Plastics Ltd.
1955 Ford Thunderbird (above)
1964 Ford Mustang
1969 Ford Torino Talladega
1970 Ford Mustang Boss 302
1999 Ford Explorer
1999 Pontiac Firebird TransAm
---
This past month, I found products from three new 1:64 scale diecast companies. In the past several years, over a dozen new toy car manufacturers have joined the battle for my diecast dollars. The new models are listed to the left.

Funline, best known for their cartoon-like Muscle Machines, has now offered the Import Tuner series. While the package identifies the model as 1:64 scale, they are actually about 1:58. The detail is excellent and at $2.99 each, the price is fair. XConcepts is also offering 'Tuner' cars and they are in 1:64 scale. Much like Revell's import models, XConcept's Modifiers are closer to actual production models than those of Funline. Lastly, Tack Cheung Plastic Mfg. Ltd. has offered Car Chains. The Century Collection features six models from a 1955 Thunderbird to a 1999 Firebird. A key chain is screwed to the base but easily removed.

A bonanza of new products from established diecast producers continue to appear with Hot Wheels already releasing some models from their 2003 line. While other industries seem to taking a more conservative approach to current economic trends, the diecast industry is in one of the biggest growth spurts in it's history. Why is this the case?

First, demographics are working in favor of toy car producers. The baby boomlet is in full swing with the children of Baby Boomers adding to the population curve. In 2007, the United States will have it's largest high school graduating class in history, surpassing 1976. At the same time, diecast collecting is still on the up-swing with many middle-aged collectors spending more discretionary income on toy cars. More kids and adults are buying more product and the market is responding.

On the production side, Asian diecast factories have gained great skill in producing excellent toy cars for very low prices. Most basic models are produced for $.10 to $.25 cents each. High-end collector models can be produced for $.50 to .75 each. By the time these reach retail they are priced at four times production cost and can still sell in the $1-$4 range, leaving plenty of profit to go to the manufacturer, wholesaler and retailer. Low volume manufacturers have tighter profit margins. Simply put, toy cars are a win for consumers and a win for the industry.

Welcome aboard to these new kids on the 1:64 scale diecast block. We hope you are around for a long time to come.
Import Tuners by Funline
Modifiers by XConcepts
Car Chains by Tack Cheung Ltd.