"Hi, I noticed your article "Speedy by Mercury", and I have some pics from Speedy cars which I sold last days on eBay. Here they are - you may post them if you like. I also have 4 different variations of the Speedy Ford GT 40 (not pictured yet, but if you like I can do - pls let me know!) Best regards from Germany,"
Volker, Germany

Editor's Reply: Thanks for the interesting images.

---

"Doug, I've enjoyed reading your articles in Tales of Toy Cars Magazine, and wondered if you could answer a question for me. Recently I've discovered Maisto's line of 1/64 vehicles. I find them to be superior in detail, price, and subject matter to the bigger name brands. I've found them under the Tonka, Road & Track, and Kid Connection name brands at Walmart. My question is, where else are these great toys sold in my area? There are many different sets available online, but I want to buy certain individual vehicles. I live North of Boston, MA and would like to begin a collection of this line, but notice that only the same few seem to appear on the shelves. Any ideas? Any information you could provide would be a great help. Regards,"

Jim Apitz

Editor's Reply: Both Kay Bee Toys and Longs Drugs have provided individual Maisto models for me.
---

"I remember getting a race track set of cigar box cars that came with two cars and a hot wheels like track, for a birthday gift.. I remember the track had been folded in the box and was bent so bad it was not usable. I kept the cars and trashed the box and track. I still have the cars in my die cast collection. The 1967 ford and the 63 Riviera. I also have a 63 Riviera in a light blue color from around the same time. It was the late 60's or very early 70's. The blue Riviera has rubber wheels. I had not thought about these cars in years, or have I ever seen anything written about them. Thanks."

Bruce Vicars

Editor's Reply: Bruce, You are lucky to still have your toy cars. I have been looking for the '63 Riviera for many years but no luck yet. Our next issue of Tales of Toy Cars will feature small-scale Riviera models.
---
"Hello! My name is Anthony Nguyen, and I am from California, USA. I recently came across your website showcasing your scale-sized Supra/Celica collection. I have to admit that you have a very impressive collection and I am personally envious of your status! You are a true collector. However, the reason I am emailing you is to make a personal request - I have searched almost everywhere I can, including online, to find a scale model of the 5th Generation Toyota Celica, year 1990-1993, otherwise known as the ST185 and the more powerful turbo version called the All-Trac and GT-Four. I was wondering if you could find another one of "Guisval - Celica Turbo 4WD" or even "Yat Ming - Celica #805" - infact, I would appreciate it if you could find both for me. If you can, and are willing, then I will pay you for the Shipping cost, the price of the die-cast model(s), AND the same cost of the die-cast models for your troubles. If you could do this for me, I would be very grateful and happy - please email me back with your thoughts, thank you very much!"

Anthony Nguyen

Editor's Reply: Anthony, Both the Yat Ming and Guisval models are still in production but hard to find. I do not have duplicates. The Yat Ming only comes in a 20 car set for $10. I saw them at Longs Drugs. The Guisval models are not sold in the US.
---
"Doug Always a great read ! With regard to Woody Wagons Tomica produced in 1982-1984 Honda Civic EB2 4D Woody Station Wagon I have it in my collection . It is yellow with simulated brown woody plastic panels scale was about 1/58 . If had a digital camera I would have sent you a copy. Keep up the good work! Look forward to future issues Cheers"

Julian

Julian,

Editor's Reply: Yes, several reraders wrote to mwntion the Tomica Honda woody, thanks.
---
"Hi Doug, I stumbled upon your Tales of Toy Cars a month or so back, and I would like to tell you that I really enjoy your work. The articles have been a source of fascinating information, as I too, collect many diecast vehicles that are relatively obscure in the U.S. diecast scene. For some cars, the only information that I have been able to find is in your articles. So my sincerest thanks for producing an informative and entertaining publication.

Your Aurora Cigarbox/Speedline article from December 2000 was especially enjoyable. In the article, you presented a list of models. Attached are some photos of two additional models that could be added to your list, if you have not already done so. I think that the Charger, # 6154, and the Ford Torino, # 6155, share the charming qualities that make these Auroras so appealing to me. They are also quite difficult to find, in my experience.

Another article was interesting for a different reason. "Tintoy & Tins Toy, the Sequel" by Kimmo Sahakangas offered the first clues regarding some cars in my collection for which I have not been able to find ANY information. I purchased these cars at a market in Thailand. They were manufactured by a Hong Kong company, identified on the packaging, as D.T.C. On the back of the package is a list of models and model numbers, some of which appear to be very similar to a few of the "T" models identified in Mr. Sahakanga's article. The graphics on the front and the package design appear to have been influenced by the early success of Mattel's Hot Wheels. Any information about these cars would be greatly appreciated. I will be in Thailand in the near future and hope to find more of these cars. I will also submit information on the diecast scene over there, if it would be of interest to you.

Well, thanks again, and I can't wait to read the next issue of Tales of Toy Cars!"

Matt Ryder

Editor's Reply: Glad TofTC is of value to you.

Ferrari 250LM by Speedy


Porsche Carrera 6 by Speedy


Dino 206 Competition by Speedy


Chaparral GT by Speedy


Ferrari 330P by Speedy


Sigma GP car by Speedy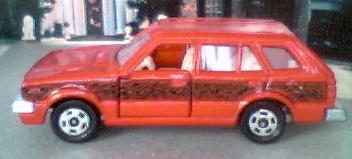 Honda Civic Wagon by Tomica,
courtesy of Dean McManus