SPONSORED BY


Found in the Letterbox
The following are e-mail responses to 'Tales of Toy Cars' and The Breithaupt Miniature Motorcar Museum. Your letters are welcome and may be submitted via the 'Guest Book'.
---
"Doug, Had a little time to scope the net today and did an unrelated search which brought me to your 1970 Isuzu 117 coupe of all things! Well, I have a 2000 piece collection of 1/60 scale cars and so I ventured further. Have loved cars since I was a little tyke. Still good at identifying them (back to 1948 especially).) Initially, my comments are 1)love your site, 2)am writing this before I have gone through all the parts, but that's okay because I am sure to email you again, if you oblige, and 3) on quick review of some of your postings in your collection, I found that I have VERY much the same items in mine.

Also, the Mercedes Benz 300SL by Siku is a delight!!!

My collection attempts to cover major body-style changes of American-sold makes. Later on, I would like to discuss other issues with you because we have a lot in common. Read some of your article on Citroen and Toronado and surmised you are in Pacific NW (while I am in Atlantic NE) so my planning to visit your remarkable "toy room" will have to wait a bit. I do have duplicates which would really help us both perhaps...

Anyway, I will be sure to be in touch. It is a pleasure to come across someone with VERY similar interests."

Woody Smyth, New York, NY

Editor's response: It is always nice to meet a kindred spirit.

---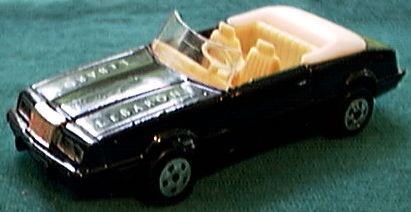 "Have been looking for a Dodge 600 or Lebaron conv toy. If you know where I can get one please e-mail me!! Thanks,"

Blaine, Canada

Editor's response: In 1:64 scale, there is only one, the Lebaron Convertible by Road Champs. It came in several colors, I have a black one. The unique feature was a removable convertible top or top cover. The top-up option was a bit funny looking but overall, the model is a decent example of car that is unlikely to ever be done by anyone else.
---





"Hi, Great page about ambulance models. I'm a Norwegian Ambulance model collector. And I have around 270 different models in my collection. Are you intrested in a Norwegian ambulance for your collection? Take care."

Roar Kalrud, Norway

Editor's response: A Norwegian Ambulance, now that is something different!

---

"Hi Doug, I first want to give you credit on your web site. nicely put together. I am not sure if you can help me, but my dad past away and left my mom with boxes on boxes of diecast cars. He was never really a collector but more like a kid at heart that just enjoyed the challenge of seen what he could collect. I've spent months trying to sort them out, and have found anything from redlines to tintoys. Alot in good shape but maybe not mint. Now the problem is mom want to get rid of some at a garage sale or something silly like that and I volunteer to find some prices. Now being from a small northern town, the access to any pricing code is limited. Can you contact me by mail or email and let me know the best way to do this. I've tried using prices on the net but everything seem to be talking about numbers on the cars and my hotwheels don't have any numbers on them just type of car and date made.We also have alot of corgi,britain car france made cars and Iam not sure if there is a book out there that covers these and mini cars. Ive never contacted anyone else about this but I was really taken by you site and was hoping you could give me some advice or direct me in the right direction. Hope this is not being out of line but you know I have to start somewhere. Thanks for your time and hope to hear from you!!"

Barb Belfry, Ontario, Canada

Editor's response: I was happy to give Barb some good advice and help her avoid some of the less-desirable elements of our hobby.
---