"Doug,
I will get out my digicam and get some shots of what I think is a Facel Vega. There are a couple of other cars in this AHI series of 1/87 (apx) die cast cars that I can not identify; I will shoot them too. I will send you several e-mails with one photo (only) attached to each e-mail.
If you ever see the English magazine "Model Auto Review" you will see some of my photos in that publication. I have been an enthusiastic reader since the beginning (1982 or so). It covers mainly 1/43, but does not shun any area. It is mostly for European/British readers but then my interests are more along the lines of those readers in that I prefer 1/43. I send photos of the kinds of stuff that they are not likely to see over there - Yat Ming 1/43, Johnny Lightning, Jada, Team Caliber 1/43 race cars.
I will send you photos soon. Happy New Year"

John Whitehead - Cheyenne, Wyoming

Editor's Response: Thanks for the images John. These are very small models but clearly represent cars seldom seen in any scale. I agree with the Facel Vega and Daimler identifications. Is the Italian car perhaps a Lancia?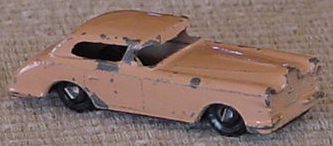 AHI - Facel Vega?


AHI Daimler?


AHI - Lancia?