---

"Hey Doug,

I'm a long-time reader and consider your monthly e-mag indispensable as a collecting tool. Being the Porsche fan that I am, I really enjoyed the May article on the Tiger Wheels 911 GT2. Tiger Wheels won't produce it unless collectors show a desire to buy the car?! Whom do we beg/bribe/threaten/extort? To my knowledge, the only time this car has been made was by Hongwell in 1/72 scale. If you have the ear of Tiger Wheels, please pass along my desire for this beautiful car.

Brad Smith

Editors' Reply: I will pass on your comments and thanks.
---

"Hello Doug,

My name is Jerome. I am a Mechanical Engineer from the Philippines, and like you I am an avid collector of miniature die-cast vehicles. I mainly collect Ferraris and Volkswagens, but not limited to those brands. I also like purpose-built race cars (Formula 1, Sports-Prototype cars) as well as Movie cars. I also have my share of Mercedes-Benzes, BMWs, Lamborghinis, Jaguars, Lotuses, Toyotas, Hondas, etc. Basically I get copies of most of significant cars I bump into. The only type of cars I don't collect are Muscle Cars & Trucks. (I regards SUVs, Jeeps, and those alike as trucks). My collection is now around 700+ cars, including those I played with when I was a kid. While the bulk of my collection falls under the 1:64 category (92%), I also have a few 1:43, 1:24, and 1:18 scale cars.

As for diecast manufacturer preference, I don't have any. Whether Hotwheels, Matchbox, Tomica, Majorette, Johnny Lightning, or whatever, as long as the quality is good, I like it. I also wrote because I noticed that you guys over there don't have direct access to Tomicas. We have them over here in abundance, and they have this line called Tomica Limited, some pictures of which I attached in this e-mail."

Jerome - Philippines

Editor's Reply: Jerome, thanks for the images of the new Tomica Limited models. These look great. I wonder if they are in response to the new Kyosho 1:64 models?

---
"Hi Doug,

I want to say again thank you very much for your wonderful webzine. Often I find there many interesting for me, especially about old brands. Would be addition to Guisval`s list. It`s a Fiat Abarth 2000 with a metal base and Schuco wheels. Bye and wish you all best

Serge - Moscow

Editor's Reply: Thank you Serge for this addition.

---
"Hi I'm in a 1:64 scale die cast collection and I'm just surfin around looking for an Mitsu Eclipse hotwheels which I found on your site. Would you happen to know where I can get one? I'm making some cars that was included in the Movie, the fast and the furious. Here what I already made. Supra (Tomica) sparco seat were installed, hotwheel magwheels,left hand drive dashboard and the corvis type spoiler. RX-7 series 3 (Tomica) image 63. S2000 (Tomica) I also modified the Porsche Spyder 550. I'll send some more pix I modified as soon as I get finished with all the others. others are. WRX with Graphix, RED Evo IV, BMW M3 Red (majorette) By the way, TOMICA is everywhere availble here in Manila. Thanks for your reply, MikeHeres a pix of the WRX I made. The toy car was a Tomica. I took a Maisto dashboard and tomica Evo Lancer for hte meantime looking for gold. Same with the RX-7."

Mike - Manila, Philippines

Editor's Reply: Mike is doing some nice work. The image of his before and after Suburu WRX rally car by Tomica is shown here. The only Mitsubishi Eclipse by Hot Wheels is their version of the current model for McDonalds Happy Meals.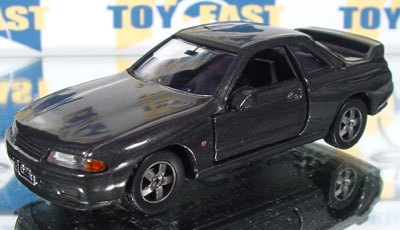 Tomica Limited - Nissan Skyline


Tomica Limited - Nissan


Tomica Limited - Datsun

---