Found in the Letterbox

The following are e-mail responses to 'Tales of Toy Cars' and The Breithaupt Miniature Motorcar Museum. Your letters are welcome and may be submitted via the 'Guest Book'.
---
"Great site Doug! At last a site with topics other than Hot Wheels (which I also collect). It is nice to see all the rest of the diecast out there. Keep up the great job.

Peter Modaffari, Seal Beach, CA

Editor's response: I sometimes wonder if any Hot Wheels minutia remains un-discovered, but then do we really care?
---
"Doug, I recently reread your article on the 37 Cord from Racing Champions. My RC Cord has a problem, the hood will not close down all the way. Does your have this problem? Thanks,"

Virgil Fulton

Editor's response: The two Cord models I have (red and yellow) both have hoods that close reasonably well. Here is an example.

---
"Hello, Doug, I send my list of best small vehicles in my small collection.

Corgi Juniors, Jensen Interceptor #46
Schuco 1/66, Opel Commodore GS
Faller (hit-cars ser), Mercedes-Benz 280 SL
Siku. Jaguar E V294
Matchbox, Austin A55 Cambridge #29 RW
Tomica, Toyota 2000GT 1\60 #5
Husky, Ford 350 telescopic tower #12
Guisval, Datsun pair pick-up
Mira , SEAT 131E #148
Zylmex, Ferrari F1 D 34
EFSI, Porsche 911s police
Majorette, Autobianchi A112 1/53 270
Hot Wheels, Maserati Mistral 1969
Yatming, Ford Thunderbird #1008
Mini Jet-Norev, Trapeze Bertone 306976
Polistil, Citroen Ami 8 RJ 40

I find two cars (Bertone Carabo and I don't know another, seems about 70-th) - #TF-305, TF-306. What is it ? I do not (know) this manufacturer."

Thanks for your Webzine

Serge, Moscow

Editor's response: Serge, you have an excellent start on a collection. While it is small, You do have four models that I do not, the Ferrari F1 from Zylmex, the Opel Commodore from Schuco, the 280SL from Faller (I don't know this manufacturer) and the Polistil Citroen Ami. The Bertone Carabo was an Alfa Romeo-based show car produced in the late 1960's be Bertone, the Italian automotive design house. It was never put into production. I'm not sure who 'TF' is.


---
"Doug:

I enjoyed your list of favorites in this month's issue. Here's my list of favorites--or maybe we should call it "The Good, The Bad and The Ugly"!


Budgie 19 Rover 105 Rovermatic (There's no more English of a car than the "Auntie Rover"--a distinguished model that typifies Budgie's classy competitors to Matchbox)
Guisval 1 Mercedes-Benz 350SLC (A difficult model to get right and this little Spanish company got it almost perfectly)
Ertl 1685 Jaguar XJ6 (Just a nice, stately model of one of my all-time favorite "saloon cars")
Husky 22-B Aston Martin DB6 (I've already sung the praises of this model in my Aston article some months back; the best of British)
Johnny Lightning 654 Toyota 2000GT (just a great model of a car that never quite looks right in miniature--this one does)
Kidco Datsun 280Z (simply one of the best Z car models around)
Impy 19 Volvo P1800 (opening bonnet, doors and boot--a marvel in miniature with jeweled headlamps and an accurate body shape; one of my all-time favorite models irrespective of brand)
Majorette 235 BMW 3.0 CSi (accuracy not often approached by Majorette; discards the notion that all models from this brand have to appear toy-like in their proportions)
Maisto 8451 Ford Granada 2.8GL (an odd choice, perhaps, though it captures the look and style of the real car so well--the only problem is the awkward tampo on the hood)
Matchbox 12-C Safari Land-Rover (an obvious one here, though here's why I selected it: Matchbox has never been a flashy brand in my mind. It's always been about dignity and class [except for those years under Tyco we won't mention] and this model very much sums up the hard working and accurate models that Lesney produced during it's heyday. Matchbox will always be the "country gentleman" of diecasts in my book.)
Norev Mini Jets 431 Peugeot 505 (Viva la France! A car that I feel typifies this very French brand of diecasts)
Novacar (pre-Majorette) 117 Honda NSX (a reserved model of a brash and brazen car that has a lot of class and proves that the little companies can make great models, too)
Playart 7174 BMW Spicup (not a beautiful model [and you know I'm an ardent Bimmerhead], though nothing quite sums up the unique and sometimes off-the-wall models that this outfit did better than this BMW show car that is difficult to even find a picture of in a BMW history book--as you and I have often said, no one else except Playart did a model of "car X" and this is a perfect example)
Racing Champions Police 103 1950 Ford Kentucky State Police (this is a sharp model of a sharp police cruiser--I like this series of models, sometimes better than the street cars and this accurate little car is a winner as proven by the fact that it sold out immediately in this state. I wish I could find another for my friend who is a retired KSP officer.)
Real Toy BMW 325i (a great model that proves that low cost does not always equal low quality--count all the different paint applications this model undergoes; simply outstanding for four bits!)
Schuco 834 Ford Capri XL Rallye (I love this one and it's another all-time favorite--the proportions are perfect it makes me wish I could jump in it and drive it. The black trim proves that detail work didn't have to be sloppy in the days before laser printing. And I didn't just pick this one because it's fresh on my mind!)
Siku 1316 Porsche 911 Turbo Polizei (this models conveys the delights of Germany and this very German brand of diecast better than any other--where else do cops get to drive BMWs and Porsches as patrol cars?)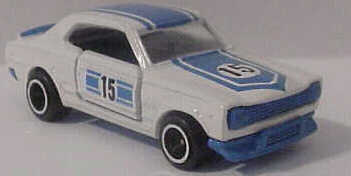 Tomica 21-B Nissan Skyline HT 2000 GT-R Racing (nothing says Tomica to me more than this, their first Skyline race car. Accurate, a bit cocky and mean, cool as Steve McQueen, just a great model from one of the world's premier brands. And as with so many other Tomicas, that long model name is part of the fun!)
Zylmex P319 Datsun Pickup (one of their best models--it looks just like the one my uncle drove when I was a kid. It brings back memories of me, my dad and my uncle heading off on fishing trips to the lake, towing the Boston Whaler and all three of us crammed into the tiny cab of that equally tiny, yet bullet-proof, truck)
Well, that's it. Hope you enjoyed it and I look forward to your comments. As you said about your list, it's very subjective.
Brian Willoughby, Murray, KY
Editor's Note: Brian has an outstanding collection and it is great fun to see his list of favorites.

---