Found in the Letterbox
The following are responses to 'Tales of Toy Cars'. Your letters are welcome and may be submitted via e-mail
---
"How did you get that Playart DAF? It's a Model "Daffodil" 32. For the record: As far as I know, with the Best-box (I have a spare one) it's the only DAF in die-cast scale. The Best-box is a 600. That's the first DAF. DAF (Or better: Hub van Doorne) started in 1928 in a small workshop, producing metal shelves and such. Not many years later, it produced trailers, hence the name DAF: Van Doorne's Aanhangwagen Fabriek (Van Doorne's Trailer Factory). It also produced a conversionkit for a normal (in those days) 4-wheel, 2 rear wheel-driven car to a 6-wheeler, 4rear wheel-driven car. In the WWII DAF was already thinking of producing after the war. One if it's finest examples is the DAF "raincoat". It was small enough to fit into the doorway of the Van Doorne's. After the war, many trucks were neccesary, so Van Doorne began producing trucks, with more and more parts produced by DAF itself. The name was changed into "Van Doorne's Automobiel Fabriek" or Van Doorne's Car Factory and his brother Wim accompanied him in the works. In about 1956 he saw his factory and saw everything driven by belts. This gave him the inspiration for the drive of a small passenger car. In those days, the Lloys LP was a popular car, and with that car he experimented. The output was in the end the Variomatic, a name later re-called "CVT" by Volvo. They started experimenting with a complete new car, which was called Junior, so it would not attrect suspision. Still, Autovisie (the magazin which invented "Car of the Year", maybe something for you, Doug? (miniature-car of the year?) tried to get pictures, but they did not succeed. In 1958, to soon for production, but in time for the bi-annual "AutoRAI" show, the introduced the 600. It was a sensation. People stood on Volvo's (ehh) to get a view of the new car. Immediately, 4000 others were made. So in 1959 the first production DAF's where made. But DAF riders on vacation complained about to little power, going uphill on the hills (sometimes even with caravans), so DAF introduced a 750. This car had a bigger engine and can be seen by the bigger grille. The next car was the Daffodil, which DAF thought funny, but did not sell that well. It was the factory type 30. The next car was the 31, advertised still al Daffodil. When 100.000 DAF's were made, a golden version of this DAF stood on the plant. Also, Lion Car, the national DAF miniaturemaker, made also a golden version (I have one, as well as all the models produced by Lion). Then the 32 came. For some reason, a lot of miniature manufacturers liked the car, as a Norev, Lion, Playart and a Dinky version was avaiable. Still, this car was known as "Daffodil". The Norev is plastic, the Dinky has a lady in it. But DAF was trying to get into the "middleclass" of cars, so dealers could sell their DAF better. (DAF made for a relative small factory a lot of prototypes, at least 30 are known) this would be the 44. To suit their new "Daffodil" better to this car, they renamed the 32 into 33. The 44 was avaiable with a two-cylinder boxerengine, It's "bigger" brother 55 had a four-cylinder renault engine. One of the reasons DAF failed, was that this 55 was not different enough. By now, it's the beginning of the seventies and DAF is in big problems. They introduce the 66, which is more clearly a different car, but it was not enough. Volvo took over the DAF company and with it the 343. If DAF had just struggled for a few years more, maybe they could have succeeded to, as the 343 family sold 1.4 million. The last DAF passengercar was the 46, with a single belt: It was the less-beloved DAF. Also, at least two version of a military DAF have been made, one at the 55 base (proto) and on on the 66 base. Now miniatures have been made. Now it's a much sought after model (IRL). Corgi made on of the many DAF prototypes (in 1:43), with the OSI DAF Citycar. How DO I get such a Playart? I would love to have it (DAF collector aye)."
Jan Clevering - Holland

Editor's Response: Jan, it's clear you know your DAF models. I was very happy to finally get the Playart model and I'm still looking for the Best Box.
---
"Hello Doug, You may remember I sent you pics of the Audi R8R by Norev a while ago. Last week, I went to France, and saw some new Norev models, including new Peugeots and 2 more Audis, an A4 3.0 litre wagon (yellow) and an A4 convertible (burgundy with black soft-top)!
Also, I read your article on Porsches 911 and was surprised by this "The GT2 shown here is a prototype done by Tiger Wheels but never released for sale. It represents the 993 GT2 and the casting was made by Anson.Well, I bought a 993 GT2, very similar to that one, for half a Euro some months ago in Belgium. The - Chinese - manufacturer was called "Matel"( ! ) and, besides the GT2, other cars were clearly re-casted from Siku models (Mercedes Sprinter van, Renault Scénic...) They are called "Mini Gear" by Matel Evolution and are made for the Dutch discount store chain Zeeman. Quality is below average, but the windows have tampo-printed surroundings, and the tires & wheels are separate. Have you heard of these cars before?
Keep up the good job at ToTC."
Olivier Dath - Holland

Editors Response: I had not seen these models from Matel before, thanks.
---
"Hello there, This is a neat and very well written site! I'm from the UK and it is interesting reading articles form a US perspective, I often read the articles and feel that you are the equivalent of 'Road and Track' and I mean that in the most sincerely compliment, as R&T tend to have a sympathetic view on European models. After reading your thoughts about some of the lesser known models to the UK like MC toys or Yatming or even the more recent castings like Welly and Zylmex , I'm quite curious to find out more info about them. They were sent here in small amounts but the collectors market for such brands are limited, and therefore hard to find but at least not expensive - shame really because some casting are very nice. OddlyMajorette who used to have an excellent sales distribution in the UK, have largely disappeared. The seventies models are among my favourites, due to the utilary nature of the cars, and not some obscene dragster casting with a over sized engine. (stand up matchbox!) However I have found a local shop which has plenty of current Siku's, again my preference are the seventies and particular eighties castings. As might tell, I tend to collect the 'ordinary' road cars (especially Datsun), and because of the current availability of scale, 1/43 models tend to cover my needs, but I also have a health amount of smaller scale models. However you must have a look at Vanguard models. Reasonably cheap and some have jewelled lights! Of course the idea is reproduce some of the British 'mundane' road cars, and there seems to be a very healthy market for them.

I've been reading your site, and I have to share many of your thoughts regarding many of the models. Designed as toys perhaps, but the accuracy and detailing that went into many of them before they became collectors models is to be celebrated. I really wish I had the time to empty my mind of all the info I've picked up, but I have below a run down of my favourite types:
1/43 Toner-gram I, II and III Solido - very modestly priced European cars (mostly French, Italian and German), and still can be bought fairly cheaply. As for many seventies dies cast 'toys' colours where gaudy and sometimes the use of plastic overwhelming, but as you know the wheels make the difference. But even though most of the proportions are perfect the quality of some cast where shockingly poor, some models having cracks, imperfections and over spray in some cases.
Until the second series of rather nasty re-casts that appeared in the mid eighties (with cheap large plastic wheels, and one piece plastic interior and baseplates, the wheels on the earlier cars looked just right - some even using rubber tyres for many of the models until 1981. Of the first series of Solido (I won't mention the sixties stuff - mainly because its way way out of price league and are scarce - but equally as accurate as the lovely French Dinky's of the time)


I have a fondness for the #196 Renault 17TS, a superb model of an attractive car. The Citroen GS is a nice austere car of the times and Solido made a fine version of their saloon. The Matra Bagehrea which boasts pop up light, open rear hatch and doors, is also a nicely executed model. Other stand out cars include the Renault 30, Citroen CX and Peugeot 604 but not all are successful - the Peugeot 504 Break (estate) is a bit inaccurate from the front, and suffers from a most unfrench like trait - uneven suspension! The other odd thing about this car is that it is a totally different casting to the Saloon/sedan version which is a much nicer model. Even some of the mid and late seventies models (by which point the cast quality varied from reasonable to factory reject), such as the Peugeot 305, Renault 18 and my favourite the Toyota Celica Rally all had a weighty feel and accuracy to them. They released many racing and rally cars and much of the range had accurate and detailed decals. One point about the Toyota is the relative lateness of Solido's first Japanese car. The cast was released in 1980, yet the actual car had been out of production for almost 2 years.
By this time though these range of model cars in their distinctive blue, orange or black boxes were phased out and an altogether cheaper set of casting of some of the pervious models where launched. Some of the dies to survive, were the BMW 530, Alfa Sud and GTV. All nice castings but re-released without the accurate decals and paper based cheap silly stickers applied. The looked rather aggressive too, as they were all originally made without bumpers/fenders! The wheels of the time where quite nice too - finished in a multispoke wheel style not unlike the early eighties BBS style wheels. New castings, were still being released, the Nissan Prairie, Talbot Tagora (rare to find) and Ford Escort III being some nice examples. It then started to go downhill, as the models lost their opening features and gained ugly plastic wheels - not unlike the Hot wheel/ late dinky 1/43 type wheels (e.g. Citroen Visa).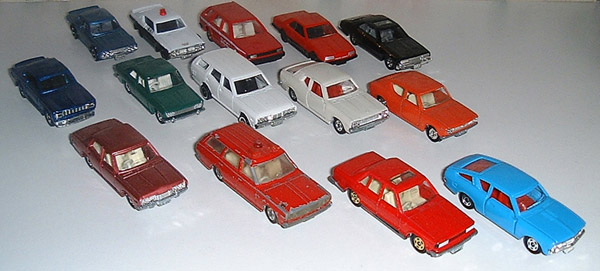 Due to the incestuous nature of the casts, Dinky in the final years (1979-80) used some of these dies but where rather poor models and today's prices are reflected by this. I never saw any of these Solidos on sale after the late eighties because asides from the 'less toy like' and more expensive hi-fi type models, Solido's 1/43 presence in the toy market had all but disappeared. Curious that Solido never manufactured small scale 1/64 models, yet managed to survive the tricky years. Verem and indeed Solido still use their casts today, a point proven when my subscription of a monthly binder set of 'A century of Cars' yielded a recasted Fiat X1/9 and Citroen CV15! What makes this little collection unique is the fact that both Solido and Corgi have joined together to release models for this periodical. This obviously covers a huge amount of cars, including a crude recast of the early seventies 1/43 Corgi Cortina, Mach 1 Mustang (a la james bond) and even a lledo release of the Model T. Very odd and very much a gamble on quality, but I donít have many of the models issued (I never buy MG's, Jaguars, Ferraris' etc as my interest is in the mundane). The best however casting for accuracy and detail, is a neat little 70's MG midget by solido. This one was not a solido recast, but a new casting too.
While I'm here I also share you appreciation of the 1/18 scale cars by Solido, the 1/18 market today is absolutely beweilding! There was time when Burago and perhaps Revell dominated the 1/18 law, but today there's quite a choice, my particular favourites being Minichamsp and Auto art. I have quite a few 1/18 scale Solido, including a mini, red and white 2CV6, a silver 1989 XM - the box has no reference to Solido at all but has Citroen XM subtly displayed. A superb model too. I also have two (red and silver) Peugeot 605. Big french cars generally don't sell too good outside of France (except for our local Taxi rank companies - they cruise in 406's and 605's) so the rarity of these cars are evident. Solido also released the even more unlovable Renault Savranne but finding one is troublesome. They also released a normal road version of the Citroen ZX (the rally version being comparatively easy to find). I actaully drive a 1997 Peugeot 106 Rallye - quite a torquey fast little car, with the handling and zest of the 205 GTI.
I will briefly mention the joy I also get from Schabak castings - very accurate and great value too. The 1/43 VW Jetta MK2 ('85) with its well proportioned lines, wheels and actually metallic blue colour is my favourite. I have many German cars, which were too cheap to pass, including some neat 1/24 scale Sierra's, Fiesta's and escorts - dull dull cars, but deadly accurate).
Polistil (especially the neat 1/66 and 1/24 models - check out the 1/24 Peugeot 504 and Volvo 164 for solidity) mebetoys, plastic Norevs, Diapet, 1/66 and 1/43 Schuco, Tomica Dandy and 1/64 (I have about 30 different non Z Datsuns!) One curio I have is a nice 1/24 Ford Granada by Mattel. As well as a Finnish plastic 1/20 casting of a 1982 Corolla saloon, a portuguese tin plated Renault 17 and some lovely little Takara 1/80 scale 80's japanese sports cars.
I could harp on for hours, I really could. If its ok, I'll put together a little article for some of my faves. Oh, one point if I may correct you is regarding the European Estate car/shooting break/Station wagon article - There is a model of a Fiat Tipo by Majorette, this car was actually marketed as a medium sized Hatchback - VW Golf and GM Astra/Kadett competitor and not an estate car. You could be forgiven for thinking it was, as the proportions are very angular.
Additionally I have one more car to add to your black bonneted collection - the early seventies NSU RO80 made by corgi. I have a version in Burgundy with a black bonnet. The car itself was of a huge interest to the motoring press as it was the first European production car to be released with a Wankel engine. The styling too was revolutionary for 1968 - many styling cues are evident in many eighties Audi's. The car was unfortunately besieged with unreliability but it didn't stop the toy makers making some nice examples. The Corgi version is quite crude - the proportions are a bit short, with the whizz wheels making the car look a little too high, but the 1/43 Dinky version was really neat - they gave it working battery operated lights! Not surpisingly Minichamps have recently done the best version. Citroen also ventured into the wankel direction with the GS Birotor, but very few where sold. I have quite a few GS models, but none of the Birotr (distinguishable by its wheels and slightly flared wheel arches)
Ok, thanks for your time!"
Darren Rungasamy, United Kingdom

Editors Response: You covered a lot of ground here. While my collection does focus on 1:64 scale, I do collect 1:18, 1:24, 1;32, 1:36, 1:43 and even a few 1:87. Still my scale of choice is 1:64. I have a variety of Solido 1:43 scale models and have enjoyed these castings for over 15 years. I have about 300 1:18 scale models and find these too good to resist. Your point on the Fiat Tipo by Majorette is a good one. I also have the Corgi NSU but mine is all blue. We have good sources of Siku models here but thanks for the offer. I have not seen a commprehensive Edocar list but do have all the Maisto castings of cars. Thanks fo rthe images from your Datsun/Nissan collection.
---
"Dear Mr. Breithaupt, This is Simon C. Lau, and I am writing to thank you for posting our products, Tins' Toys, on your website. I found your website has our company's products accidentaly, and it brought up all our company's long ago history. Thank You! And now, our production line has been moved to China since 1988. It will be more than happy if you can have a chance to visit our website at www.tinstoys.com for more our information.
Please let me know if you have any comments about our products.
PS. Actually, I am a fan of diecast car, but compare my collection to yours, seems that I am only a baby, : )!"
Simon Lau, Tins' Toys - China
Editors Response: I have forwarded Simon's commentsa on to Kimmo Sahakangas, author of the Tins' Toys articles and who has sent a response.
---
"Hi Doug, I enjoy your webzine and have learned a lot from your articles. I have been collecting for about thirty years and like you wonder why the twelve year olds who run HW must customize everything. My hobby is trying to de-customized their cars. Here are pictures of HW A-ta-tude, Vary-8, 65 Impala and a Jada 47 Caddy. Hope you enjoy."

Doug Glover

Editors Response: Wow, these look great! I wish I could do that.
---

"Hi Doug, Haven't looked at the site for quite a while, so imagine my joy when I came across the article on Mazdas in the Feb edition. I am also a keen collector of Mazda rotary models in all scales. In addition to all the Tomica models listed in the article Tomy are now releasing a range of Tomica Limited Edition models to a much higher level of detail aimed at the collector market. Mazdas to date include Cosmo 110S, Rx 7 Series 1, Rx 7 FC3S & RX 7 FD3S.
I have attached some photos of other Mazdas that have been missed in the article. My apologies for the quality as I did not take any of them. The RX 2's are by Zylmax and show one of the three versions I have heard about of this model. The three versions are
1. Street - Gold
2. Rally - White with non racing decals
3. Police - Black and White with central bubble light on roof.
The other photo shows a model that I have seen twice on eBay advertised as a Playart Mazda. It bears a close resemblance to a R100 ( well close for a toy in the sub $1 bracket).
I also enjoyed the Article on the Cobra Blues in the Aug 03 issue.
Keep up the good work."
Lee Tracey

Editors Response: Thanks for the images and kind words.
| | |
| --- | --- |
| HOME>> | |