Recent Additions
---

All of the cars shown on the left were received in a recent trade with a fellow collector in Australia. The Adams Probe, Dodge Challenger and Charger Daytona were also part of the trade. The new Hot Wheels offer a variety of interesting models and it is nice to see the '37 Bugatti again.

The additions from Galgo of Argentina and Luso of Portugal are especially welcome as they represent interesting cars from little-known diecast producers. Values for these cars are difficult as they are rarely seen in the U.S, markets. A value of $5-10 depending on condition would seem appropriate. Kidco diecast are also seldom seen today. Look for a story on Kidco in the future.
---

Lancia Stratos GT Racer by Galgo
Galgo of Argentina did a variety of rare 1970 GT cars.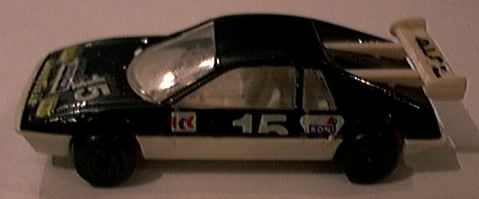 Ferrari 512BB GT racer by Galgo
While this appears to by the 512BB, it has two back seats!


Alfa Romeo 33TT12 GT racer by Galgo
A rare race car and nice addition to the Alfa collection.


Porsche 917 GT/CanAm racer by Galgo
Galgo is seldom mentioned in diecast guides but deserves more.


Alpine Renault A441 Le Mans by Luso
Luso of Portugal is another little known manufacturer of diecast.


Alfa Romeo 33TT12 Le Mans by Luso
Alfa GT cars ran at Le Mans in the late 1970's

Matra Simca 680 Le Mans by Luso
This two-time Le Mans winner has rarely been done in 1:64 scale.
Recent Additions
---

Adams Probe 16 by Corgi
There must be a story behind this car, can anyone help?

1937 Bugatti # 1098 by Hot Wheels - $.98
This casting has not been seen for a while and the new colors are nice.


Phaeton hot rod #916 by Hot Wheels - $.98
A good choice for a Hot Wheels casting, nice color too.


Porsche 911GT1-98 #676 by Hot Wheels - $.98
The '98 Porsche 911GT1 was the Le Mans winner, bad wheel choice.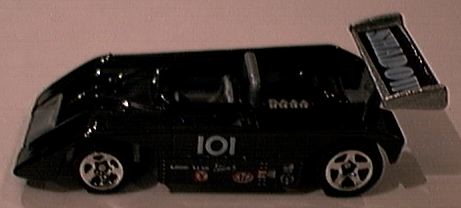 Shadow Mk. IIa CanAm racer #925 by Hot Wheels - $.98
It is super to see some of the rare CanAm cars being done again.


1999 Toyota Tacoma Pike's Peak racer #924 by Hot Wheels - $.98
For the 2nd year running, Hot Wheels has offered the Pike's Peak winner.


1969 Dodge Charger Daytona by Kidco
Here is a good one from Kidco featuring engine detail.


1970 Dodge Challenger by Playart
It's always fun to add another Playart to the collection.