REVELL

Honda Civic Si - $4.50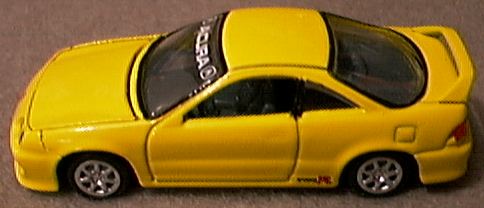 Acura Integra Type-R - $4.50
---
MATCHBOX

VW Bus - $.92


1955 Cadillac Fleetwood (50th) $4.49


1955 Chevrolet Bel Air Convert. (50th) $4.49
---
HOT WHEELS


GT40 Treasure Hunt


Tantrum - $.84


Overbored 454 $.84
CAR OF THE MONTH

1970 Porsche 917 Le Mans winner - Hot Wheels $7.99

---

Recent Additions
Sometimes it's hard to find new models during the Christmas rush but this year was quite good. Even the after-Christmas sales turned up new items. Perhaps the recession left more on the shelves or manufacturers were left with additional stock.

Another Porsche is in the spotlight for December. The 1970 Porsche 917 Le Mans winner by Hot Wheels is no steal at $7.99 but I did not hesitate on this one. This is a replica of the actual winning car and represents the first Le Mans win for Porsche and the first of many wind for the amazing 917. With the engine cover up, the flat, air-cooled V12 is well-presented. The black wheels are also correct. If Racing Champions, Revell or Johnny Lightning produced this model it would be just as good and half the price.

Revell has been quietly making an impression on the diecast industry. Their latest models are stock versions of the earlier hot hatch series. The Honda Civic and Acura Integra Type-R are two of the most desirable hot rods for the twenty-something crowd. Both have engine detail. The price is a bit high but these models are really very nice.

Matchbox provided several new models. I finally found a VW Bus on the pegs. The two 50th anniversary models are nicely painted and at $4.50 each, a reasonable value. It is nice to get the '55 Cadillac without the Elvis trappings.

I found my first Treasure Hunt in a bin for $.99 and it is actually a decent car, the GT40. Now, do I keep it or trade it? The Tantrum and Overbored 454 are new 2002 models. The inspiration for the 454 is clearly the '70 Chevelle SS.

Some time ago I received a nice Corgi Mercedes-Benz 250 in trade but forgot to show it. Maisto's new '57 Chevy appeared on sale for $1 in the Showcase Collection. Welly's Land Rover Freelander is a quality casting and for just $.50.

Tiger Wheels has offered several early castings including the VW Bus shown here. This is quite heavy like all TW models. The yellow color without additional tampos is very limited.

Johnny Lightning is continuing their re-creation of the Spoilers under the name of Rebel Rods. These are clearly intended to tweak Hot Wheels and my only suggestion is to add the great red-line tires shown on the Mercury Cyclone. The Cyclone is slightly revised from the earlier blue release with no rear deck spoiler and covered headlights.

The new Imperial models finally began showing up at local Rite-Aid stores. The only catch is that I had to but a transporter as well as the two models shown, all for $4.99. Both models are good castings and represent items rarely done in small-scale.
CORGI


Mercedes 240D - trade

---

MAISTO


'57 Corvette - $1

---
WELLY

Land Rover Freelander - $.50

---
TIGER WHEELS

VW Bus - promo
---
JOHNNY LIGHTNING

1969 Plymouth GTX - $2.99


1969 Chevy Nova - $2.99


1970 Mercury Cyclone - $2.99

---
IMPERIAL


1953 Chevrolet 1300 Pick-up - $1


1967 Chevrolet Corvette Convertible - $1