Recent Additions
---

1996 Mercedes-Benz C-Class by Real Toys $.49
Originally done as a touring series car. Real Toy has done a semi-stock version with excellent paint detail.

1996 BMW 3 Series by Real Toys $.49
For diecast and BMW lovers, here is a great little toy car that is far better than many models that cost ten times more. It may not be licensed but who cares.

Recent Additions
---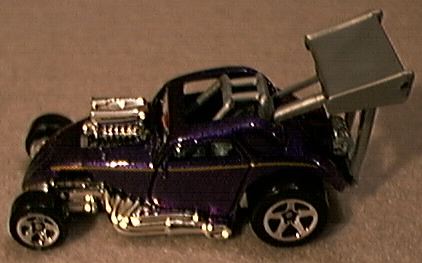 Fiat 500C dragster by Hot Wheels $.99
With the addition of the Fiat Topolino as a dragster, Hot Wheels has continued the micro-car/dragster theme, following the BMW Isetta dragster and to be followed by a Nash Metropolitan dragster in 2000.


1999 Mercedes-Benz CLK Convertible by Matchbox $.99
Another Matchbox Mercedes and a nice one.


1999 Chevrolet Impala Police by Matchbox $.99
One casting, a hundred paint jobs.
Recent Additions
---

1999 VW Beetle by Maisto $.49
The wheels are the best Maisto has done. Let's hope this is the start of a new trend. Now, can we have the interior back too? Compare this model to the Real Toy BMW. Both cost the same, you decide.


1970 VW Camper Van by Maisto $.49
I must admit to being confused by the popularity of the VW Van. This one's a bit on the crude side but I'm sure it will be popular too.