Recent Additions
---

Thomassima 3 #2K070 by Hot Wheel $.99
The base reads 'designed by Tom Meade', great car!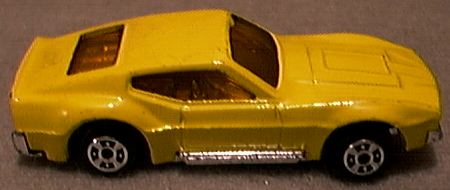 1972 Ford Boss Mustang #1024 by Yat Ming (trade)


1965 Cadillac 'Heavely Hearse' #512
by Johnny Lightning $2.99 (with wing windows!)


1997 BMW 5 -Series wagon by Hongwell (trade)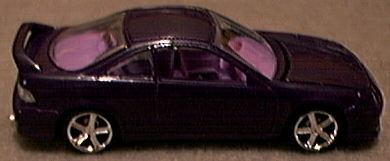 1995 Acura Integra #3317 by Revell $2.99
It's about time this hot hatch was done (engine detail).


1931 Cadillac Cabriolet #249 by Racing Champions $4.99
One of the kings of the classics, with a nice V16.


1975 Citroen CX #301891 by Norev (trade0


1977 VW Golf #1068 by Yat Ming (trade)
April has been a very good month for the collection. From the stores have come new Hot Wheels like the wonderful Thomassima 3 (looks like a Drago bodied Ferrari of the '60's) and the Phantastique (a feast of art deco styling cues). Johnny Lightning's new Frightning Lightnings just keep getting better. The final Racing Champions' Mint Editions are finally added as well. Several recent trades have added some classic diecast from Majorette, Tomica, Yat Ming and Norev. Lastly, a new diecast brand, Hongwell, has provided two new wagons and Revell joins the the 1:64 scale ranks with a very nice Acura Integra hot hatch. Yes, it was a very good month.
---

1947 Packard Ambulance 'Meat Wagon' #511
by Johnny Lightning $2.99


1978 Porsche 930 Turbo #F1 by Tomica (trade)


1977 Porsche 936 Turbo #22 by Tomica (trade)


1999 Porsche Boxter #250 by racing champions $4.99



1968 Chevrolet El Camino #2000-068 by Hot Wheels $.99


Phantastique #2000-069 by Hot Wheels $.99


Pontiac Pro Stock Firebird #2K064 by Hot Wheels
Recent Additions
---

The Munster's Koach #602 by Johnny Lightning $2.99
Another great TV car by George Barris.


1968 Jaguar 'E' type 2+2 #1010 by Yat Ming (trade)


1973 Matra Simca 670 #239 by Majorette (trade)
A fine addition to my Le Mans victory lane collection.


1977 Maserati Merak SS #7 by Tomica (trade)


1979 Mazda RX7 #1069by Yat Ming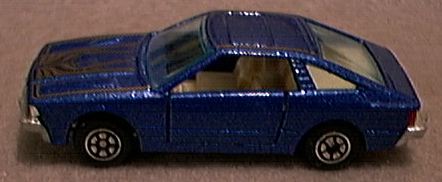 Nissan 2000 ZSE-X by Yat Ming (trade)


1974 Nissan Sunny 1400GX #8 by Tomica (trade)


1995 Volvo 860 Wagon by Hongwell (trade)
Hongwell is a new name to me, I hope to get more of these excellent models.