HOT WHEELS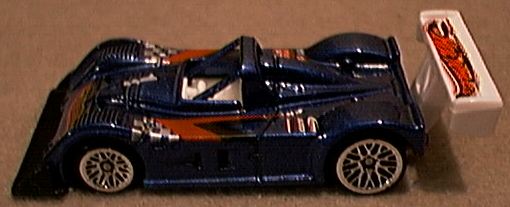 2001 Riley & Scott Mk III - $.75


1998 Porsche 911 GT1 - $.75


1979 (Delorean) - $.33


Hooligan - $.50


1953 Buick 'So Fine' - $.99



1981 Chevrolet Camaro - $.33


La Troca - $.75

---

Sooo Fast - $.75
CARS OF THE MONTH

1968 Dodge Charger #61 and 1968 Ford Mustang #60
Bullitt Series - Revell, $4.99 each
---

Recent Additions

April's additions included some cars from lesser-known manufacturers as well as well-known Hot Wheels. The 'Cars of the Month' are from Revell and feature the two cars featured in the movie Bullitt, staring Steve McQueen, The 1968 Mustang and Charger are excellent castings, both feature engine detail and rubber tires. Even the license plates are correct for the movie. At $4.99 each, these are clearly adult collectibles. Also from Revell is the 1955 Chevy featured from the American Grafitti movie. It also has an opening hood and looks like the mean street machine on which it is modeled.

Hot Wheels provided a variety of models. The new Riley & Scott Ford Mk III GT prototype is very welcome as it represents a car that has been quite successful in GT racing. As a Daytona 24 Hour winner, it helps complete my collection of race winners for this American classic. The 1998 Porsche 911GT1 is in new paint, looking quite realistic.

A recent garage sale provided quite a few models for $.33 each. While they are a bit rough, i found several models not currently in my collection. The Hot Wheel from 1979 was originally intended to be a Delorean but licensing problems forced casting modifications and a generic name. Still, it's inspiration is clear. The Hooligan, La Troca, So Fine and Sooo Fast are more custom hot rods in the Hot Wheels tradition. The 1981 Camaro is curious for it's odd wheels and color.

Blue Box produced a series of diecast cars in the 1980's and here are the VW Golf and Ferrari Testarossa. They are a bit crude but easily identified as the models they represent. These cars have noise-makers that work when the tires are turned.

The Toyota Levin is clearly a Tomica pirate casting. While the base does not indicate the manufacturer, the wheels and style are much like the Welly diecast of the 1980's, many of which were Tomica copies, a practice no longer used by Welly.

My breakfast cereal box provided the Dodge NASCAR model shown. It appears to be an Action-RCCA casting. Lastly, I found this curious 1:50 scale car at a small drug store. The maker is Tins Toy and it represents an NYPD police cruiser. I must admit, I cant tell what the car is from the casting but it appears to be a full-size GM model. Can anyone help?

As always, I'm looking to trade my duplicates with other collectors. If you have a list of duplicate models to send me I'll be happy to do the same for you. Please e-mail me your list.
BLUE BOX
Ferrari Testarossa - $.33


VW Golf - $.33

---
WELLY

Toyota Levin - $.33
---
REVELL

1955 Chevrolet (American Grafitti) - $5.00
---
ACTION-RCCA

2001 Dodge NASCAR - Cheerios promo

---
TINS
TOY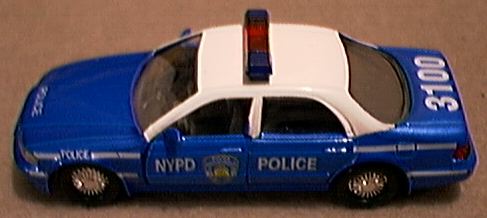 Un-Identified Police Cruiser (1:50) - $1.99