1985 Audi Quattro #8368 by Welly $.99 (came in Tootsietoy 5-pack)


1985 Porsche 930 #8375 by Welly $.99 (came in Tootsietoy 5-pack)


1985 Jaguar XJ-S by Tootsietoy (Speed Wheels) $.99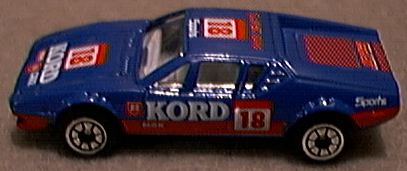 1972 DeTomaso Pantera by Tootsietoy (Speed Wheels) $.99


1989 Mazda RX-7 by Tootsietoy $.99


1934 Ford Hot Rod #50-B by Maisto $.49


1956 Ford Thunderbird #50-A by Maisto $.49
(nice to see something other than '55 or '57 models)


2000 Cadillac DeVille #51-A by Maisto $.49


2000 Honda S2000 #51-B by Maisto $.49


1999 Ford LTD Police Interceptor #53-A by Maisto $.49
Recent Additions

May has brought some interesting cars to the collection. A five-pack from Tootsietoy proved interesting in that it did not include any Tootsietoy cars! Instead it had two re-painted Speed Wheel models, two models from Welly and one of un-clear origins. The Welly models are the first 1:64 scale cars I have seen from this Asian producer better known for their 1:36 scale diecast. Welly is identified on the base and the cars are numbered.

Tomica models, new to my collection were also received in trade. Especially welcome were the first diecast Tomica #01, the Bluebird SSS Coupe and the Land Cruiser in traffic construction guise. The Nissan Cherry and Silvia are also nice models.

A variety of new Maisto models are out. The BMW 328i is nice as is the Cadillac De Ville and Honda S2000. The classic T-Bird is the far less common 1956 model and three more Fords, a police interceptor, '34 hot rod and Escape SUV round out the selections.

Three new 'Classified Classics' from Racing Champions are available. A 1940 Ford Coupe is #13 and it features a hot rod Chevrolet 350 under the hood. The 1965 Lincoln Convertible is very classy in black and represents a model never done before in small-scale. The 1958 Porsche 356 Speedster is a bit odd in metallic gold and the scale is easily 1:55 or larger. At the same time it does feature rare 356 engine detail as do all three of these cars.

Hasbro's Winner's Circle stock cars provide a '56 Ford Victoria and yet one more '57 Chevy, in stock car form of course. Lastly, three new Indy Pace cars from Johnny Lightning were found, the 1996 Viper GTS, 1964 Ford Mustang and 1982 Chevrolet Camaro.

---

1982 Chevrolet Camaro Indy Pace Car #484 by Johnny Lightning $2.99


1996 Dodge Viper GTS Indy Pace Car #188 by Johnny Lightning $2.99


1964 Ford Mustang Indy Pace Car #653 by Johnny Lightning $2.99


2000 Ford Escape #60-A by Maisto $.49


1999 BMW 328i by Maisto $.69

1970 Nissan New Bluebird SSS Coupe #01-1 by Tomica (trade - this is the first casting done by Tomica)


1972 Toyota Land Cruiser - traffic #02-2 by Tomica (trade)


1971 Nissan Cherry X-1 #17 by Tomica (trade)


1989 Nissan Silvia #06 by Tomica (trade)


1940 Ford Coupe #16 by Racing Champions $2.39


1965 Lincoln Convertible #13 by Racing Champions $2.39


1958 Porsche 356 Speedster #14 by Racing Champions $2.39


1956 Ford Victoria Stock Car #55781 by Hasbro $.99
This is Dale Earnhardt's first stock car.


1957 Chevy Bel Air #56047 by Hasbro $.99