CORGI


Volvo P1800 - $.50


Super Stock Car - $.50
---

HOT WHEELS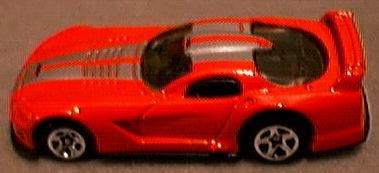 2001 Dodge Viper GTR - $.75


1971 Plymouth GTX - $.75


MS-T Suzuka- $.33
---
JOHNNY LIGHTNING

1970 Plymouth Hemi Cuda - $.60


1970 Dodge Demon - $..60


1932 Ford Hi-Boy - $2.99


T-Bucket - $2.99


1964 Dodge Pick-up - $.60


1950 Mercury Woody (Mod Squad) - $3.99


1968 Chevrolet Camaro Z28 - $2.99
CAR OF THE MONTH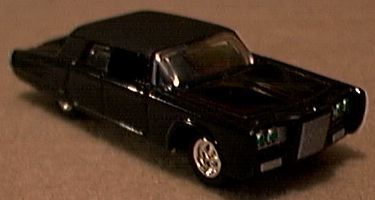 Remember the Green Hornet? Johnny Lightning did.


Known as the 'Black Beauty', this was a George Barris custom.


The actual car was based on a 1965 Imperial. - $3.99

---

Recent Additions

Additions in the month of May include some great toy cars. The 'Car of the Month' is a delight to see. Many Baby-Boomers remember the Green Hornet TV show. The real star for many of us was not the Green Hornet or his side-kick Kato. The Black Beauty was the car used by the Green Hornet, with Kato at the wheel. It featured many super-hero additions like missles and machine guns. The car used in the show was a Barris custom based on a 1965 Imperial Lebaron. Thanks JL!

JL also provided a nince assortment of other vehicles. Two more HW Spoilers knock-offs were found on sale at 10 for $6. What a steel! I now have numbers 1-9. The two hot rods are of JL's expected quality. The Dodge Pick-up in stock form is a delightful oddity. Also from the new JL TV/Movie series is the Mod Squad '50 Mercury Woody. The '68 Camaro Z28 is especially nice with it's red-wall rubber tires.

At the recent toy show I hosted, several interesting models were purchased. The Volvo P1800 by Corgi can be a difficult model to find. I was very happy to add an example to my collection. The Super Stock car by Corgi is a curious racer with British flair.

New Hot Wheels are on the shelves. The Viper GTR-S needs to be done in correct racing livery as well. The '71 Plymouth GTXprovides another muscle car to the basic Hot Wheels line. The MS-T Suzuka is a bit of a mystery to me. Suzuka is the Grand Prix track in Japan and ths is a mid-engined car. Is it based on a real car?

In trade I received three brass era cars that were part of a Reader's Digest promotion. Done by High Speed, these are a bit crude but represent the first Hudson, Essex and Brewster ever done in small-scale.

Ertl's excellent American Muscle series offered a '61 Chevrolet Impala and a '58 Plymouth Belvedere. These are models that few of us ever expected (or requested) in small scale. At the same time, it is much better to see these cars than more muscle cars. I'm still waiting for a '64 Studebaker Avanti and a '63-65 Buick Riviera.

Revell's '47 Chevrolet Fleetmaster may be a lowrider but it is a great model of a car never done before in 1:64. A stock version would be very nice. Two missing Norev models were received in trade. Talbot and Peugeot models are an excellent likeness if a bit lacking in sex appeal. A Citroen Acadiane du Poste was also found at my toy show.

Finally, I have wanted the Matchbox CX Ambulance for some time but this model is notas common in the U.S. Fortunately a trade with a European collector included the CX. This would certainly be my ride of choice to any hospital. I also bought the Matchbox Formula 1 racer from 1970 in purple. I have this in yellow but as it represents a Ferrari, the purple is closer to my all-red collection of Ferrari F1 cars. I could not resist the Dodge Charger Mk III concept car in green. It will be included in a planned story about the Dodge Charger.

As always, I'm looking to trade my duplicates with other collectors. If you have a list of duplicate models to send me I'll be happy to do the same for you. Please e-mail me your list.
---
Hot Wheels Fantasy Five-Pack

Here are five Le Mans prototype race cars from Hot Wheels for a fantasy five-pack. The Porsche 911GT1, Ferrari 333SP, Riley & Scott Mk. III, Cadillac LMP and Panos LMP. The Panos is new for June.
HIGH SPEED (Reader's Digest)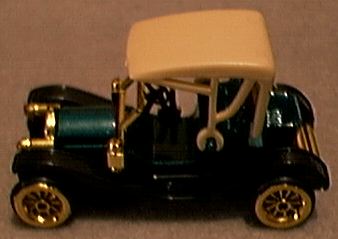 Hudson - trade


Essex - trade


Brewster - trade

---
ERTL


1961 Chevrolet Impala - $4.99


1958 Plymouth Belvedere - $4.99

---
REVELL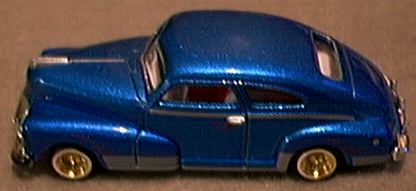 1947 Chevrolet Fleetmaster - $5.00

---
NOREV

Peugeot 504 - trade


Talbot Sedan - trade

---
MATCHBOX


Citroen CX Ambulance - trade


Ferrari Formula 1 1970 - $7.00


Dodge Charger Mk. III concept - $10.00
---
MAJORETTE

Citroen Acadiane du Poste - $1.00