1977 Chevrolet Impala SS #389, Johnny
Lightning - $2.99


1964 Ford Mustang Indy Pace Car #653, Johnny Lightning - $2.99


1967 Chevrolet Camaro Indy Pace Car #535, Johnny Lightning $2.99


1957 Oldsmobile 88 Sedan - Petty stock car #1958, Racing Champions - $1.99


1950 Plymouth Sedan - Petty stock car #1950, Racing Champions - $1.99


1996 Mitsubishi Montero, Real Toy - $.49
Recent Additions

June's additions have been limited but interesting. Top, left is a great variation on a theme by Johnny Lightning. Usually, toy car makers turn their stock sedans into police cars but JL has done the reverse and turned their police cruiser into a stock Impala SS. This was also done with the '74 Torino model.

The latest Indy Pace Car series from Johnny Lightning has provided the 1964 Mustang and 1967 Camaro models. Both are excellent models as we have come to expect from Johnny Lightning. Two more of the Petty family stock cars from Racing Champions were also added. The 1957 Oldsmobile 88 sedan is a decent example of a car never before done in small-scale. The rear wheel cut-outs and rear axle/wheels do not match and ruin the look of car. Was the real race car done this way? The 1950 Plymouth is another car that would never have been modeled if not in this series. While it seems top-heavy and the wheels are undersized, Plymouth fans should be pleased to add this model.

Another Real Toy gem is the Mitsubishi Montero in rally form. Mitsu's version of the Land Cruiser is rarely seen in diecast.

Two late-'80's Siku models joined the collection via a trade. The Peugeot 205CTi is Pug's open hot hatch. The VW Passat wagon is one of those cars done by no other manufacturer.

The best (and most expensive) addition was another unique model from Hot Wheels collector series. The 1957 Cadillac Eldorado is a quality miniature, as it should be for $7.99. The colors are authentic and full engine detail is provided. This is the first time the beautiful '57 Eldorado has been done in 1:64 scale and as a Cadillac owner, I could not resist. Far less expensive were two new Hot Wheels for 2000. The '56 Ford Delivery hot rod will be a favorite and the '32 Deuce Coupe has a charm about it.

The Blue Audi TT Coupe was not found in a toy store, rather I spotted it on the counter at my local hardware store! It is one of Kinsmart's excellent models and features a pull-back motor. The wheels are quite accurate and the head and tail-light lenses add to the quality of this toy car. Kinsmart appears to be ready to make a serious mark in the diecast car market.

1987 Peugeot 205CTi #1071, Siku - trade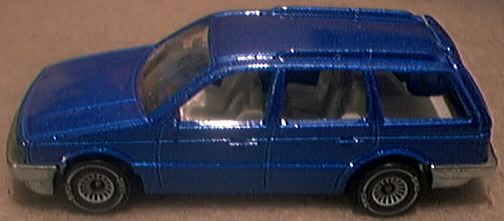 1988 VW Passat Variant GT #1076, Siku - trade


1957 Cadillac Eldorado #26792, Hot Wheels - $7.99


1956 Ford Panel Truck #21074, Hot Wheels - $.99


1932 Ford 'Deuce Coupe' #24389, Hot Wheels - $.99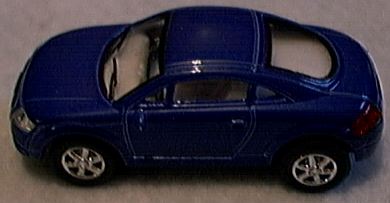 2000 Audi TT Coupe, Kinsmart - $1.99