ROAD RAGERS


1971 Ford XY Falcon GTHO P3 - trade
---
JADA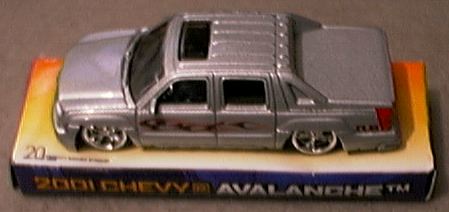 2001 Chevy Avalanche - $2.44


2000 Chevy Suburban - $2.44
---
TOMICA

Honda Vamos #55 - trade


Mazda Luce AP Custom GRII #99- trade


Nissan Gloria Van #47 - trade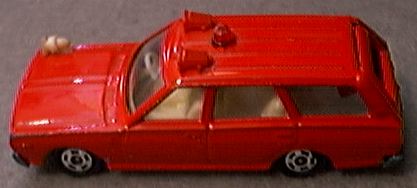 Nissan Cedric Fire Car #47 - $5.00


Toyota EX7 #31 - trade

---
CORGI

AMC Pacer - $8.00
---
CAR OF THE MONTH

Chitty Chitty Bang Bang re-issue by Corgi - trade

---

Recent Additions
What a month! It's an exciting month when I add a new diecast manufacturer to the collection and this month I added two, Road Ragers and Jada. In addition, I received one of Corgi's re-issued classics to welcome this much-loved diecast brand back to the 1:64 scale family.

Who can resist a miniature of one of the best-loved movie cars ever. Chitty Chitty Bang Bang has been re-cast and re-issued by Corgi in 1:64 scale and it is everything it should be. Corgi actually created new dies with some improvements over the original. The bonnet detail is better and the new wheels are excellent. It's great to see Corgi back in the 1:64 field with quality like this.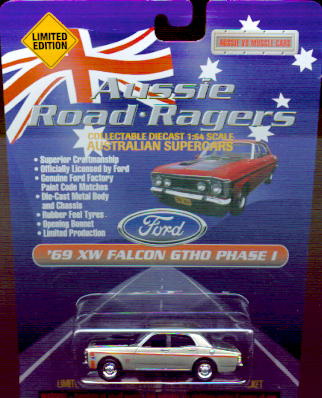 Road Ragers are "Aussie V8 Muscle Cars" according to Cooee Concepts Pty. Ltd. of Australia. The 1971 Ford XY Falcon GTHO P3 shown here is very well done and reminds me of the best models from Johnny Lightning and Tiger Wheels. It is all-diecast with opening bonnet and rubber tires. A 1969 Falcon is also available. The package says the GTHO could do 0-60 in 6.4 seconds with a top speed of 155, not bad for four doors. While I received it in trade, the prices appear to be quite high at $15 each but perhaps that will drop with future models.

Jada is based in Southern California and the models they produce reflect this. Low riders and customized SUV or truck models have been done so far. The two models shown here are quite good but without any opening parts. Rubber tires and chrome wheels are well done. At $2.44 each, these are priced right. These are just the sort of vehicles an NBA star would own, big and flashy.

Tomica models are hard to resist. Five more classic models joined the collection this month. The Honda Vamos is part golf cart, part VW Thing and one wonders how successful it proved in real life.The Mazda Luce is a rare four-door model, never sold in North America. The two Nissan Wagons are welcome additions to my 'estate car' collection. The Toyota EX7 is one of those early 1970's super concepts from Japan.

An older Corgi, the AMC Pacer is a ringer for a car my father owned and too quirky to pass up, even though I have a blue one too. I doubt Corgi will re-release the Pacer.

A local automobilia store received a box of older Hot Wheels and I was able to add some missing models. The 'Maxi Taxi' is in great shape and the HW '69 Olds 442 casting is too rare to resist. The 'Gremlin Grinder' represents another car no one else has done (or is likely to do). For $5, Stagefright was an easy sale. I also found the new '64 Buick Riviera lowrider. With the right wheels and paint, a stock version could be done. Here's my vote.

This shiny Monteverdi Hai by Matchbox replaces my rough example and the Lotus Europa in purple is pretty too. Maisto's Mini Cooper is not as good as the Welly or Majorette models but not bad for $.46. The taxi is not labeled as a Cadillac Seville but the profile is clear. I expect Maisto had the Seville ready to go and Cadillac (and Mattel) pulled the plug. The grill is generic but the rest is Cadillac. A police version is also available.

Johnny Lightning's 1955 and 1993 Indy Pace Cars had passed me by but no more. I really like the '55 Chevy pace car. The graphics are great and it's one of Chevy's best designs. The '93 Camaro is one of the plainer pace cars and the hood won't close tight.
HOT WHEELS

1969 Olds 442 'Maxi Taxi' - $10.00


1970 AMC 'Gremlin Grinder'- $10.00


Stagefright - $5.00


1964 Buick Riviera - $.92

---
MATCHBOX

Monteverdi Hai #3 - trade


Lotus Europa #5 - trade
---
MAISTO

Mini Cooper - $.46


Cadillac Seville Taxi - $.46
---
JOHNNY LIGHTNING

1955 Chevrolet Indy Pace Car - $2.99


1993 Chevy Camaro Indy Pace car - $2.99