CORGI


Ford Escort - $5.00
---
HOT WHEELS
Lamborghini Countach - $2.99
Chevrolet Corvette C6- $2.99
---
TOMICA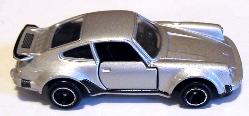 Porsche 930 Turbo - $1.00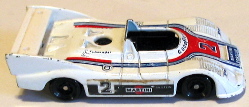 Porsche 936 Turbo - $.50
---
JOHNNY LIGHTNING
1955 Chevrolet 'Badman' - $1.00
---
JADA
1969 Chevrolet Chevelle SS - $2.49
1969 Chevrolet Camaro - $2.49
1970 Plymouth Hemi 'Cuda - $2.49
Mitsubishi Lancer Evo VIII - $2.49
---
MUSCLE MACHINES
Esso Toyota Supra - $3.99
Takata Dome Honda NSX-R - $3.99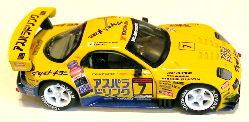 Mazda RX-7 - $3.99
Dajshin Nissan Silvia - $3.99
Mitsubishi Lancer Evo III - $1.98
---
ROAD CHAMPS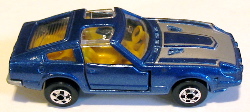 Nissan 280ZX $1.00
Ford Model A - $1.00
---
ZYLMEX
Dodge Charger Funny Car - $1.00
CAR OF THE MONTH

---
Takata Dome Honda NSX-R - Muscle Machines JGTC, $2.99
Takata Dome Honda NSX-R - Muscle Machines JGTC, $3.99
---

There are many models this issue that could be selected for the toy car of the month. I have decided that the Takata Dome Honda NSX is appropriate for several reasons. First, this model and the others from this Japanese GT Championship series are some of the most detailed 1:64 scale models to be produced. Muscle Machines has really done something special with this series. Several details are note-worthy. The NSX-R, Toyota, Mazda and Nissan models shown all have opening doors, a rarity today. The interiors include full racing gear such as detailed fire extinguishers, roll-cages and racing seats. Pieces are assembled like in a plastic model car and individually painted. Wheels and tires are unique for each car and include brake rotors. The spoiler on the NSX-RE is diecast as are all the bodies and bases of these cars. Inset plastic tail-lights and a roof antenna are matched with sharp racing graphics. Note the red tow hook on the front of the car and realistic exhaust tips on the rear. These remind me of the GMP Corvette C5R done last year but at less than half the price. The only thing missing is opening hoods and detailed racing engines.

A recent toy show provided many of the cars this month and most were $1 or less. One that was not is this racing Ford Escort from Corgi. It came MIB and I wanted the car so I think I paid a bit for the box too. I'm not sure if the graphics represent a real race car.

Hot Wheels collector models seem a lot better at $2.99 that earlier prices. I bought the Lamborghini Countach and Corvette C6.

Any decent Tomica for $1 or less is a steal. I found these two Porsche variations that I was missing. I also bought some more duplicates that will soon be on my trading pages.

While I have this 'Badman' Johnny Lightning '55 Chevy, mine has really ugly wheels. I liked these wheels much better and the price was perfect. This is the only racing '55 Chevy I have ever seen in small-scale.

Jada has a new line of American muscle cars and I found three. These are in the 1:55 scale range, perhaps even bigger so they just qualify as 'small-scale.' The model choices are predictable and the low-profile tires seem out of place on these cars but they are very solid with metal bases. I also found a missing Mitsubishi Evo VIII for last month's story. The Muscle machines Evo III was also added for the story but it is a nice addition representing an early version of this popular model.

These two Road Champs models represent colors I did not have and the prices were right. The Nissan 280ZX is really well made and those colors look right for the era. The Ford Model A is a bit more delicate and looks a bit flash in fly yellow.

This Zylmex model of a Dodge Daytona Charger is interesting in that it represents a rare small-scale Mopar funny car. Was it inspired by a real car? With a new Charger due out this year, this odd Charger FC helps fill in the story.

When a vendor at the toy show saw my Citroen WRC team shirt, he insisted I accept this H.O. scale Citroen DS. As the base was un-marked, I had no idea who made it. A bit of checking provided the answers.

I seldom see any Speedy models by Mercury at toy shows and I never see them at this price. The Ferrari P4 was on my 'most wanted' list and I was thrilled to find one, especially for just $2! Sometimes the fates are smiling. I'm so pleased that I included two images.

It is just as rare to find perfect Playart models for $1 and the silver Lancia Fulvia is a favorite. While I have it already in red, I like the silver too. Even more of a shock was finding the Playart Batmobile for $.50 cents. It was on a table of action figures with a just a few other toy cars. One of the other cars was the Tomica Porsche 936 Turbo and I bought both in an instant. The Batmobile is worn but not broken. It likely came with two loose Dynamic Duo figures when new. That's another 'most wanted' found.

Three older matchbox models were found for $1 each. The Mercedes-Benz 500 SEC is mint and I wonder if these cars were actually raced? The Formula 5000 and Unimog are a bit rougher but I don't mind. Does the Unimog have the same wheels and tires used on the Lotus F1 by Matchbox? What is more amazing is that both vehicles look fine this way!

I had passed on the Trend Syndicate 'Motor Works' models until Wal-Mart dropped the price from $2.49 to $1. I do like the wheels with brake rotors but who is 'Greddy?' The number of recent Honda and Acura models has really exploded.

Maisto has finally decided to get serious about 1:64 scale and these new 'Playars' models are very nice. The price seems about right too. Maisto is the first to offer a realistic version of the hot Chrysler 300C 'Hemi' but will certainly not be the last. The Lamborghini Murcielago Roadster is pure eye candy and these metallic colors are some of the best to date. Both Mercedes-Benz models look good and one can even swap out the low-profile tires as the metal bases are screwed-on. It is great to see interior detail form Maisto again and in multi colors!

Motor Max has some new models out but the ones sold by Toys-R-Us can be seriously color-challenged. The VW Nardo W12 is an excellent casting that puts the Matchbox to shame. I hope to find it in normal paint someday. The BMW Z4 also beats the Matchbox and the tampo machine must have been broken, thank you. I have yet to find the new Pagini Zonda model.

The last three models from Kidco were welcome finds. No one needs another '57 Chevy but I am happy to find this missing model from my collection. The Datsun 260Z is especially nice in traditional Nissan racing colors. I was not even aware that Kidco did this model. The 280ZX is in perfect period colors. I remember seeing ones just like this when I was in college. The gold wheels and graphics are so late '70's. Perhaps now I will finish my Kidco article.


---
KADER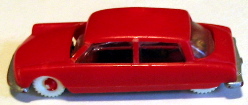 This little H.O. scale Citroen DS was a gift and I have been informed that it is a copy of the old Norev H.O. scale model. This example was made in Hong Kong by Kader and has a plastic body.
HOT WHEELS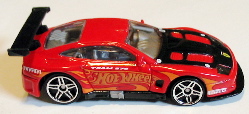 Here is a last-minute addition from Hot Wheels. The Ferrari 575 GTC is the racing version of the 575 street car. Hot Wheels did the Ferrari 550 and this new model for 2005 represents the Ferrari race car that can currently be seen on race tracks in Europe and North America. The quality is decent for a $1 toy car and the wheels look reasonable. Unless HW is really going to sponsor a 575 GTC, putting their name on the car seems a bit much. Some racing numbers would be more appreciated. Still, this may be the best looking version we will see as the first edition HW models are usually the least tampo-challenged.
SPEEDY


Ferrari P4 - $2.00


Ferrari P4 - $2.00

---

PLAYART

Lancia Fulvia - $1.00

Batmobile - $.50
---

MATCHBOX
Formula 5000 - $1.00
Mercedes-Benz 500SEC - $1.00
Mercedes-Benz Unimog - $1.00
---
TREND SYNDICATE LTD.
Honda Civic Si - $1.00
Acura RX type S - $1.00
---
MAISTO
Lamborghini Murcielago Roadster - $2.49
Chrysler 300C 'Hemi' - $2.49
Mercedes-Benz SL55 AMG - $2.49
Mercedes-Benz S-Class - $2.49
---
MOTOR MAX
VW Nardo W12 Concept - $.50
BMW Z4 - $.50
---
KIDCO

1957 Chevrolet Convertible - $1.00
Datsun 260Z - $1.00
Nissan 280ZX - $1.00