1955 Chrysler C300 #141 by Johnny Lightning, $2.99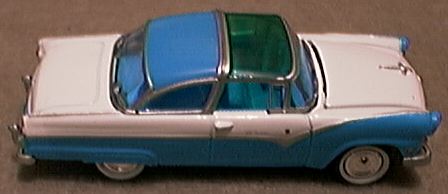 1955 Ford Crown Victoria #142 by Johnny Lightning, $2.99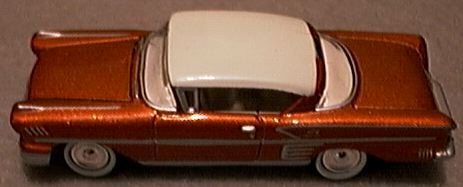 1958 Chevrolet Impala #144 by Johnny Lightning, $2.99


1957 Lincoln Premiere #143 by Johnny Lightning, $2.99


1953 Buick Super Convertible #140 by Johnny Lightning, $2.99


1960 Ford Starliner by Ertl $4.99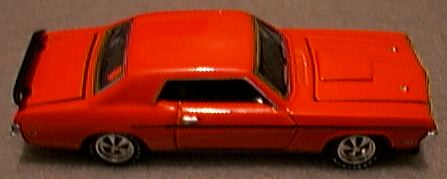 1969 Mercury Cougar Eliminator by Ertl $4.99


1970 Chevrolet Camaro Z-28 by Ertl $4.99


1959 Chevrolet Impala #16 by Revell $2.99


1961 Chevrolet Impala #13 by Revell $2.99


1971 Buick Riviera #14 by Revell $2.99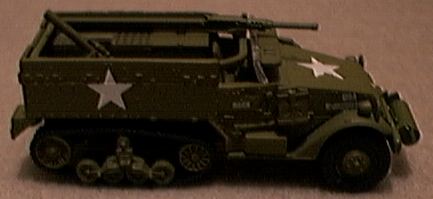 U.S. Army Half-Track by Johnny Lightning $3.99


U.S. Army Jeep by Johnny Lightning $3.99
Recent Additions

It was another big month for the collection. Johnny Lightning's new American Chrome series hit the shelves and is another hit. The 1955 Chrysler C300 is my favorite with the 1953 Buick a bit too narrow. The green tinted roof of the Ford Crown Victoria is a delight, Also from JL are two military vehicles I could not resist, the Jeep and Half-Track models.

Simba, a name used by Hongwell, provided an even dozen new models. These 1:72 scale cars are a bit smaller but the detail is most impressive. Even better, the Simba line includes new Volvo and Saab models, a real rarity in diecast. In addition to the Swedes, four Mercedes-Benz, two VW, one Porsche and one Land Rover round out the selection. The Porsche 550 Spyder and VW Cabriolet are great vintage additions to Hongwell's line. All 12 were received in trade.

Three new Ertl models were found. The 1960 Ford Starliner is a very interesting model from Ford's forgotten year. The 1969 Mercury Cougar Eliminator is a revised casting from the earlier Racing Champions release and includes an opening trunk. The 1970 Chevrolet Camaro is a great model of one of the more stylish GT/pony cars from Detroit.

Revell also provided three new models from their Lowriders series. The '59 and '61 Chevy Impala models are quite nice but the '71 Buick Riviera is my favorite. I hope Revell offers these castings in stock form as well.

Another Playart arrived in a trade. The Ferrari 512BB has not been overdone in 1:64. Hot Wheels and McDonalds teamed up for a crazy Studebaker Station Wagon that is actually quite fun. Matchbox chopped the top on the new VW Beetle although the Cabriolet is a completely different casting than the earlier Concept 1 model. Maisto is the first to provide the popular PT Cruiser by Chrysler in 1:64 scale. New Maisto wheels help but the missing interior does not.

Lastly, a gift arrived from Japan in the form of six Tomica cars packaged in a special (all-Japanese) display box. The box is for a popular Japanese comic book and the cars are featured in the stories. I was especially pleased that the Mitsubishi Lancer Evo IV pro-rally car was part of the set.


1977 Ferrari 512BB by Playart (trade)


Studebaker Station Wagon Hot Rod by Hot Wheels


2000 VW Beetle Cabriolet by Matchbox


2000 Chrysler PT Cruiser by Maisto


Assorted Japanese sport/GT cars by Tomica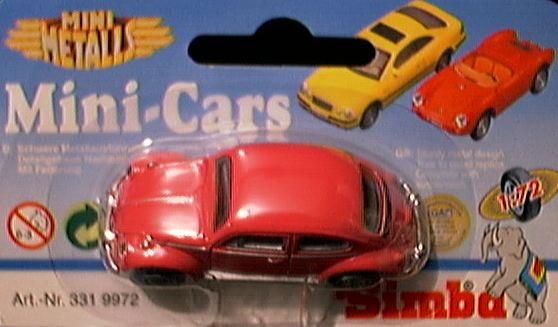 VW Beetle by Simba (Hongwell)


VW Beetle Cabriolet by Simba (Hongwell)

Saab 9-5 by Simba (Hongwell)


Saab 9-3 by Simba (Hongwell)

Volvo C70 Coupe by Simba (Hongwell)


Volvo C70 Cabriolet by Simba (Hongwell)


Land Rover Freelander by Simba (Hongwell)


Porsche 550 Spyder by Simba (Hongwell)


Mercedes-Benz A-Class by Simba


Mercedes-Benz CLK Coupe by Simba


Mercedes-Benz M-Class by Simba


Mercedes-Benz CLK Cabriolet by Simba