HOT WHEELS


'53 Buick 'So Fine' - $.79

---
NOREV


Matra Simca Bagheera #301878 - trade


Mercedes-Benz Ambulance #318977 - trade


Citroen CX #301891 - trade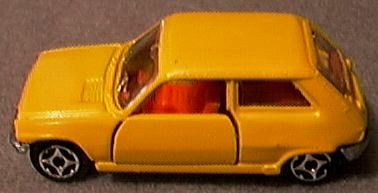 Renault 5 #301871 - trade


Renault 12 #301886 - trade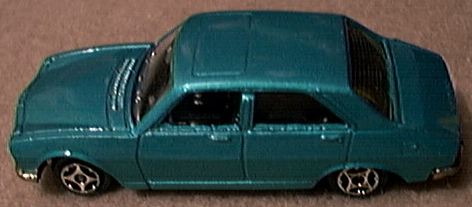 Peugeot 504 #301884 - trade

---
S.P. TOYS

Holden Commodore Taxi - $.20


Jeep CJ5 - $.20


Porsche 911 GT2 - $.20


Lincoln Town Car Limo - $.20


Dodge Ram Tow Truck - $.20
---
MATCHBOX

2000 Thunderbird hardtop (concept) - $5.99
CAR OF THE MONTH

Jaguar XK180 - Welly $.50
---


Recent Additions
November's car of the month is a great model of a great car. The Jaguar XK180 concept car was a show-stopper. Jaguar has hinted that they would be foolish not to make this a production model. Welly has done a fine job on this model. The colors are good, the shape is excellent and the wheels are no better or worse than one has a right to expect on a $.50 cent toy car. It's too bad that Welly models do not get the shelf space they deserve. I predict that will change.

Also from Welly are three more models. The Ford Expedition is well executed. The Chevy Aid Car offers nice paint work and the Military Jeep is a great little vehicle with the added bonus of an opening hood and motor detail.

The biggest surprise is from Imperial. What a jump! Imperial has produced cheap, thin, ugly diecast cars for years. All of the sudden their new cars have quality that puts them in serious competition with Welly, Motor Max, Maisto and Real Toy, not to mention Matchbox, Hot Wheels and Majorette. Take a look at the great 1970 Shelby Mustang or 1956 Ford Pick-up. The '37 and '40 Ford hot rods are sharp too. My only recommendation is for more authentic paint on the stock models. Best of all, the cost is still around $.50 each. At the same time, Imperial still has some cheap looking models. The Corvette C4 and Nissan 300ZX are all plastic and the underside features a sticky wheel that allows them to walk down walls. Still, even these models beat the old Imperial castings.

Siku provides three new models. The Renault Megane Senic RT2.0 #1098 and VW Sharan van #1046, are unlikely to be done by anyone else. The Porsche 911 Cabriolet is classic Siku and as solid as a rock. Just hold a Siku in your hand and you feel the quality.

I found the Matchbox Premier Edition 2000 Ford Thunderbird on sale for $2 off the usual $7.99. It still irritated me to spend even $6 for this model but I did. The new T-Bird is already being called the 'rich guy's girl friend's car' and I admit it does nothing for me. Still, this is the only example in small-scale so far. With the real car finally out, it already looks dated. I keep wanting to poke it and let the air out.

S.P. Toys are not a household name. O.K., before I bought these five for $1, I had never heard of them. All of the models are plastic and painted. The Lincoln Town Car Limo is lame but the other four are quite realistic. With better paint and a metal base, these could be quite nice. The Porsche 911 GT2 is a bit weak in the wheels but the overall shape is not too bad. The Holden, Jeep and Dodge Ram tow truck are al welcome additions.

I think the 'So Fine' Buick from Hot Wheels looks just that in green.

The best has been saved for last. In a trade I will remember for a long time, I received a box of 13 MIB Norev models. They even came in a Norev display box. Six of the 13 models were ones i did not have while all the rest were different colors from those I already had. The Matra Simca Bagheera #301878 is my third model of this car. The other two are by Majorette and Guisval. I saw one of these cars in the flesh recently and they are truly unique. Three seats up front and mid-engine give them the same layout as the McLaren F1.

The Mercedes-Benz Ambulance #318977 is a model unique to Norev. I like the color on the Citroen CX #301891. The Renault 5 #301871 is another example of 'Le Car' and has an authentic, stock look. The Renault 12 #301886 and the Peugeot 504 #301884 are so very French and have that 'Je ne sais quoi'.

Norev is back producing cars and I have heard that new 1:64 scale models are available in Europe. I hope they have the charm of the originals and that a few of them end up state-side.


LATE ARRIVALS

Just in time for November, Two more winners from Johnny Lightning. The 1971 Plymouth 'Cuda Convertible is stock right down to the steel wheels. This is still my favorite JL casting. The '71 El Camino is offered in orange and black.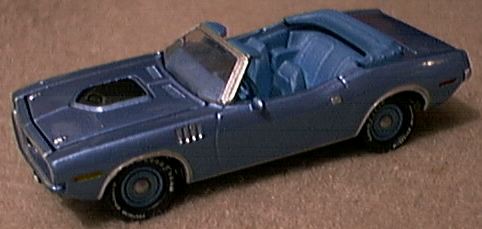 1971 Plymouth 'Cuda Convertible

1971 Chevrolet El Camino
SIKU

Renault Megane Senic RT2.0 #1098 - $1.95


Porsche 911 Cabrio #0854 - $1.95


VW Sharan van #1046 - $1.95

---
IMPERIAL

1940 Ford Hot Rod - trade


1937 Ford Hot Rod - trade


1956 Ford PU - trade


1970 Shelby Mustang - trade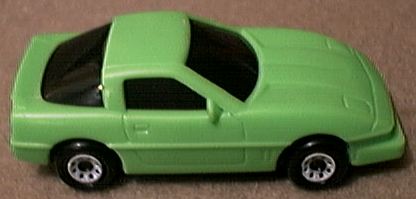 Chevrolet Corvette C4 - $.50


Nissan 300ZX - $.50
---
WELLY

1998 Ford Expedition - $.50


Chevy Aid Car #2222 - $.50


Military Jeep - $.50