RACING CHAMPIONS

1970 Chevrolet Camaro ('Cooter') - $2.99
---
TOMICA

Nissan Bluebird U #62 - $10.00
---
EFSI

191 Ford Model T Ambulance - $2.00
---
KENNER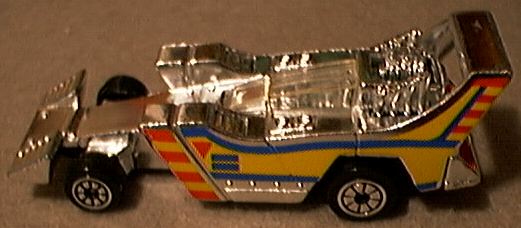 Pipe 'N Hot Fast 111 - $.25
---
LARAMI

Porsche 924 - $.50 (for both)
---
W.T.

B.R.M. P154 Can Am #704 - $.33

---
JOHNNY LIGHTNING

1962 Ford Thunderbird Roadster - $2.99


1966 Shelby 350H - free

---
PLAYART

1970 Dodge Challenger - $.33


1968 Chevrolet Corvette - $.33
---
SOMA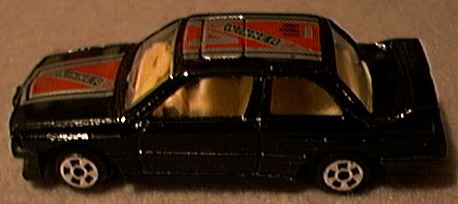 BMW M3 - $.25
---
YAT MING

Rolls Royce Phantom VI #1051 - $2.00
---
SUMMER

Renault-Alpine A110 - $.25
---
MIDGETOY

1971 Ford Mustang - $.33
CARS OF THE MONTH

VW W12, Matchbox - trade


Toyota Land Cruiser #2 - Tomica $4.00
---

Recent Additions

The two feature cars represent the right and wrong way to do toy cars. The Toyota Land Cruiser was found at a recent toy show. I had wanted this great Tomica models for years. With opening doors, great detail and charm to spare, this model represents everything that has made Tomica a favorite for more than 30 years. The new VW W12 by Matchbox was received in a trade with a British collector. It's great that Matchbox even did VW's new supercar. At the same time the quality that Matchbox has had for many years is missing. Notice the flash in the front wheel-well, lack of side windows and plastic front spoiler. In addition the solid black top is simply cheap and nasty. Not offered in North America, the VW W12 deserves better.

Racing Champions has found another use for their fine '70 Camaro casting. It appears as Cooter's car from the 'Dukes of Hazzard'. A recent toy show brought many new/old models. i had to dig deep but could not resist a perfect original Tomica Nissan Bluebird U for $10. From the same show, yet another variation of Efsi's 1919 Model T, this time as an ambulance. Another Fast 111 from Kenner was too wild to pass up. For $.25 the Pipe N' Hot is a hoot.

This pair of Larami Porsche 924 models were a bargain and they can keep your pencils sharp. A W.T. B.R.M. P154 Can Am car was one of 24 models I purchased for $8 and it included a vintage Hot Wheels carrying case! Johnny Lightning's '62 Ford T-Bird Roadster is my favorite from this series. The fiberglass roadster accessory covered the two rear seats and JL has captured it to perfection. The Shelby 350H Mustang was a free gift to Seattle Toy Show entrants and is a promo-edition model.

Two more Playart models came in the 24 car collection. The '70 Dodge Challenger and Corvette Sting Ray are favorites and not easy to find. A curious BMW M3 was found. It is a reduced copy of the Corgi casting and appears to be a Soma casting but shows no manufacturer. The missing Rolls Royce Phantom VI from Yat Ming was found. While it is a Tomica copy is is a very good one. Summer copied Playart's Alpine A110 and I am still amazed that these are the only examples of this famous rally car. Midgetoy's '71 Mustang has seen too much of a silver spray can but it may clean off.

AUTOart is simply producing winners and the new Subaru and Mitsubishi models are no exception. These cars will appeal to rally enthusiasts and tuners alike. Note the great detail on the wheels and perfect tampos. You can order these direct via: Lisa@gatewayglobal-la.com.

Five more Hot Wheels include the re-priced Buick Elwoody, a great hot rod, the '67 Camaro 'Heavy Chevy' in perfect colors, the Super Tsunami a Celica/Eclipse-like tuner, the VW Beetle Super Cup (a gift from visiting Kimmo Sahakangas) and a rough but ready Torino Stocker from the 24 car collection. In contrast, Corgi's Ford Torino was a better casting and I will attempt to replace the white stripe that made this the 'Starsky & Hutch' TV car. Also from Corgi are the lovely Porsche 917, Mercedes-Benz C111 and Cougar XR7 Fire Chief car, all on the cheap. I just love getting missing models this way, even if they have a bit of play-wear.

Matchbox did the Ferrari 360 Spider and Lotus Elise for collectors outside of N. America. The Ferrari is too stubby with a big windshield but it's the first non-Hot Wheels Ferrari in many years. The Elise is a much better casting. A $.25 Pantera was too good to pass up while the Pontiac Piranha concept is actually a decent model.

Kimmo also brought me another missing Tintoy model. The '80 Cadillac Seville is the third copy of Tomica's casting. Yat Ming and Welly also paid Tomica the ultimate compliment.

---

VW Bus - Impy Lone Star $.33
A rough example of a rare model is always welcome. It's missing some doors too but somehow for a VW Bus, that seems fine.
---
BEFORE - Leapin' Limo, Topper $.33

AFTER - Leapin' Limo, Topper $.33


Also in the 24 car collection was this original Topper/Johnny Lightning model. As the 'before' image shows, this Leapin' Limo saw some serious play time. I decided to give it a bare-metal look with my Dremel and I like the result. The wheels still spin well and I bet this could be a serious gravity track contender.
AUTOart

2002 Subaru Impreza STi - promo


2002 Mitsubishi Lancer EVO VII - promo

---
HOT WHEELS


1950 Buick 'Elwoody' (custom) - $2.99


1967 Camaro (Heavy Chevy) - $2.99


Super Tsunami - $.69


VW New Beetle Cup - gift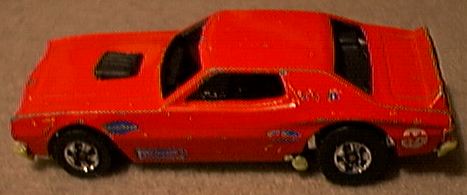 Ford Torino Stocker - $.33
---
CORGI

Ford Torino (Starsky & Hutch) - $.25


Porsche 917 - $.33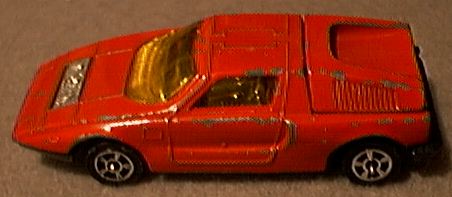 Mercedes-Benz C111 - $.33


Mercury Cougar XR7 Fire Chief - $.33

---
MATCHBOX

Ferrari 360 Spider - trade


Lotus Elise - trade


DeTomaso Pantera - $.25


Pontiac Piranha concept - $.82
---
TINTOYS

1980 Cadillac Seville - gift