NOREV

Audi S4 Avant - trade


Citroen C2 - trade

---
MUSCLE MACHINES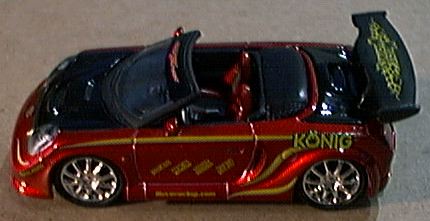 Toyota MR2 - $2.49
---
RACING CHAMPIONS

Corvette Mako Shark - $.99

---
MICROCHAMPS

1992 Ferrari F1 - trade

---
KINSMART

Mini Cooper - $1.25
---
JOHNNY LIGHTNING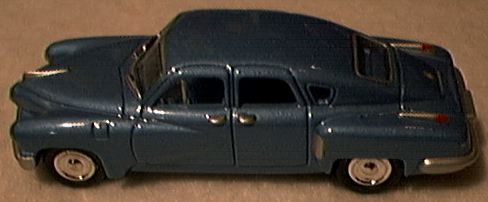 1948 Tucker Torpedo #846 - $2.66


1974 AMC Hornet #013 - $3.99


1969 Corvette Convertible #393 - $2.99


1971 Corvette Coupe - $2.66


1980 Corvette #P169 - $2.66


1996 Corvette Convertible #394 - $2.66


1996 Corvette Gran Sport #394 - $2.99


1968 Plymouth Barracuda #260 - $2.66



1971 Plymouth Hemi 'Cuda - $2.66

---
GUISVAL

1989 Benatton - trade


1989 Ferrari - trade


1989 McLaren - trade
---
MAISTO

2003 Ford Street Ka - $.49
CARS OF THE MONTH



Renault R202 F1 - Renault Toys, trade
---


1966 Oldsmobile Toronado - Siku, trade
---

1957 Nash Metropolitan - Johnny Lightning, $2.99
---
ADDITIONS THIS MONTH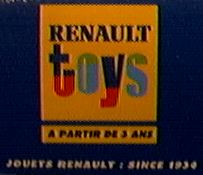 It is not often that real car manufacturers decide to do toy cars as well. One of the first to do this was Citroen in the 1920's and today, Renault carries on that French tradition. Courtesy of a fellow French collector, I have received Renault's R202 F1 model, by Renault Toys. It features excellent styling including tires with the correct manufacturer name and number of grooves. It also has a pull-back motor.

The Renault shares 'Car of the Month' honors with the return of an old favorite. Courtesy of Remco Natrop, Siku's second version of the 1966 Oldsmobile Toronado is back in my collection. A previous example sent off for restoration had been lost. and Remco was very kind to help me replace it. This second version with speed wheels was only offered in a twin-pack and unlike the original version, has lowered headlights for a much improved look.

I cannot leave Johnny Lightning's fine Metropolitan off the 'Car of the Month' list. For years this model has been on the wanted list of many collectors and JL finally did it proud. My wife even made me buy her one!

Norev just keeps turning out great new cars! The Audi A4 Avant is a perfect toy car. It is realistic, well-built for play value, an excellent likeness and priced right. Mine came in trade along with Citroen's new C2 compact. I just one year, Norev has provided Europe with another 'Siku-quality' toy car source and our hobby is better for it.

The Toyota MR2 from Muscle Machines is far from stock but how many version of this car will ever be done? The quality is excellent with good detail.

Racing Champions is the third company to do the Corvette Mako Shark (Motor Max and Playart did it to), and this is a very nice model. The selection of Corvette concept cars has grown dramatically in the last few years.

The Microchamps 1992 Ferrari F1 model is everything one expects from Paul's Model Art and a great addition. Too bad these models are so hard to find.

It has been a big month for Johnny Lightning models. In addition to the Metropolitan already mentioned, the long-awaited Tucker finally arrived. For me, these two cars represent the best of the Jeff Koch years at JL. Mac Ragan, his successor, will surely build on this success. Also from JL is the '74 AMC Hornet from the Bond series. This is a car doomed to obscurity if it had not made movie history. What a treat to see it done so well. Corvettes from '69, '71, '80 and '96 were all found on sale. The '96 Gran Sport is especially nice. Two Plymouths were added. The new '68 Barracuda is fine except I don't care for the hood scoop. A pretty blue '71 Hemi 'Cuda was too cool to resist.

Three Guisval F1 cars came my way in trade. The Benatton has lost it's wing but is otherwise complete. The Ferrari and McLaren date from the 1989 year as well and are welcome additions to my growing F1 collection.

Maisto's new Ford Street Ka is an excellent model, especially for the price. As a convertible, it has a full interior. Maisto seems to be ready to compete with Real Toy, Welly and Motor Max and that is a good thing.

The Toyota Yaris from Majorette is also a unique model. Built in France, the Yaris is part of a new generation of European-made compacts like the Citroen C2 and Ford Ka. The hood opens to show the motor.

My recent trade for Siku models brought in several other older castings, long missing from my collection. The Ford Granada Estate is another fun Euro-wagon from the 1980's. The Maserati Boomerang is a great Bora-based concept car. This version has the motor clearly visible and is one of the few concept cars done by Siku. I really like it. The Audi 100 Avant makes such a nice companion car to the new Norev Avant that I had to do a story on new and old wagons for this issue. The Suzuki and VW vehicles are everything a Siku should be. The VW Pick-up is especially fun as my father had one just like this (but blue) when I was 8 years old.

Last issue I showed the IROC Pontiac Firebird by Action but this is it's official welcome. I seldom buy models by Action as their NASCAR do little for me. The quality is good and I like this particular color.

Hot Wheels has many 2004 models out now and I have found a few to buy. The excessive use of tampos and cartoon-car castings have limited my interest. I did get the two Ferrari 'car-toon' cars for a story done last month. The new Lamborghini Murcilage from 2003 is a decent model free of un-wanted graphics. The Dodge Charger, Chevy Impala and Chevy Nove models are over-tampoed too but this may be as clean as they ever get! The Mustang funny car joins Corvette, Camaro and Firebird funny cars from Hot Wheels.

From the collector models, the Ford GT40 that won Le Mans in 1966 was an easy choice although at $4.89, the price is on the high side. It is very nice to see these models given accurate racing graphics from historic cars. The 1970 Ford Mustang/1969 Chevrolet Camaro Trans Am set has been one I wanted for some time but at $20, could not justify. When I found it on sale for $8, that made all the difference. I have actually seen both of these vintage cars at historic races. The Corvette C5 is a nice model and $3 was fair. The same can be said for the Corvette SR2 and the Plymouth Road Runner Superbird.
---
HOT WHEELS


1966 Ford GT40 - $4.89


1970 Ford Mustang Boss 302 T/A - $3.94


1969 Chevrolot Camaro T/A - $3.94


1969 Dodge Charger - $.92


1964 Chevrolet Impala - $.92


Chevrolet Corvette C5 - $2.99


Enzo Ferrari - $.62


Ferrari 360 - $.62


Mustang Funny Car - $.92


1968 Chevy Nova - $.62


Lamborghini Murcilago - $.62


Corvette SR2 - $2.99


1970 Plymouth Superbird - $2.99

---
ACTION

1999 Pontiac Firebird Trans Am - $4.49

---
SIKU


VW Pick-up - trade


Suzuki - trade


Audi 100 Avant - trade


Maserati Boomerang concept - trade


Ford Granada Estate - trade

---
MAJORETTE

Toyota Yaris - trade