REAL TOY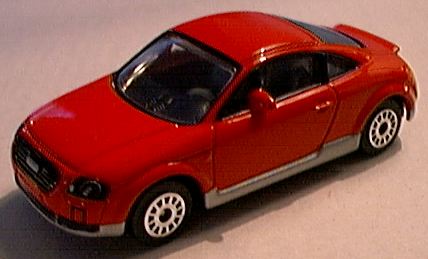 Audi TT Coupe - $.64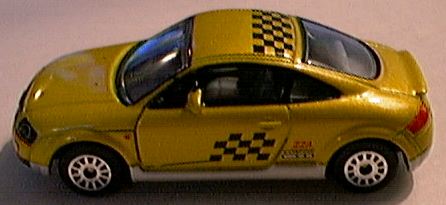 Audi TT Coupe - $.64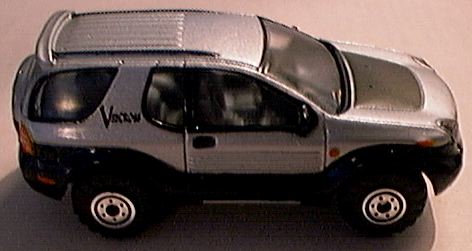 Isuzu VehiCROSS - $.64


Jaguar 'S' type - $.64


Land Rover Rally - $.64


Ford Crown Victoria Taxi - $.64
---
MOTOR MAX

Porsche Boxter - $.64


Corvette Roadster - $.64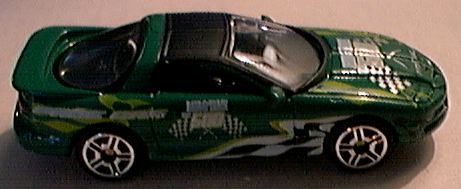 Pontiac Firebird - $.64


Mazda RX7 - $.64


Honda NSX-R - $.64


Mercedes-Benz 450SL - $1.00


Mazda RX7 - $1.00

---
JOHNNY LIGHTNING

1969 Shelby Mustang GT500 - $2.99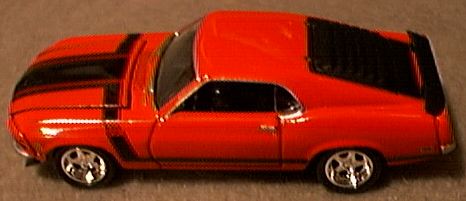 1970 Ford Mustang - $2.99


1971 Ford Mustang Cvt. - $2.99
CAR OF THE MONTH

Citroen Xsara FIA Rally Car by Guisval - gift
---

Recent Additions

The month of November provided an amazing number of new models, including 14 from Hot Wheels alone! The car of the month was a wonderful surprise gift from a fellow Spanish collector. As a Citroen SM owner and vintage ralliest, any Citroen rally car is a must for my collection. Guisval's Citroen Xsara is well made and other than the curious and now dated 'Ultra' wheels, is a very good casting. The authentic Citroen rally graphics are a big plus.

A recent trip to Canada produced several new models from Real Toy. The Audi TT Coupe is quite nice in either color. The Isuzu VehiCROSS is superior to the Hot Wheels version. The Jaguar 'S' type in silver is a sharp looking model and the Mitsubishi Montero in cross-country rally trim is a nice addition to this genre. The Ford Crown Victoria as a taxi looks very accurate.

Motor Max has offered some striking re-paints of some of their models. A competition theme is tastefully done with some excellent results. The Honda NSX is particularly good. Two older Zlymex Pacesetter castings were found in display-type packages. The Mercedes-Benz 450SL and Mazda RX7 have good paint and metal bases.

Johnny Lightning tempted me with three new Mustang models. The '69 Shelby GT500 is one of my favorite body styles and this is an excellent example of a model never before done in 1:64. if only the hood would close all the way but I suspect this is not the case on every model. The '70 Mustang is a re-casting of an earlier model offered by JL. It is easy to see the improvement over the older casting. The 1971 Mustang convertible is also the first time this model has appeared in 1:64.

Four models from Jada represent four decades of Chevrolet. These Jada models are sometimes a bit clumsy in execution but I'm sure they will improve in time. The '47, '60 Chevy and '70 Monte Carlo have been done before but the '53 Chevy is a first in 1:64 for this body style. The oversized wheels/tires are unfortunate choices.

This must be a record month for new Hot Wheels castings, with many new 2003 castings out. The '60 Corvette Sting Ray concept car continues for 2003, the HW theme of unique Corvette models. With correct color, this is one of the nicest HW Corvettes ever and a great companion to the SR2 of 2002. The Pontiac Bonneville of 1965 may be a low-rider but is a great '60's cruiser. It could easily be offered as a stock model.

The GT-03 is a bit cartoonish with it's droop nose but continues the theme of retro-ized '60's muscle cars in contemporary bodies. The Pony Up does the same thing.

Two Hyundai models in one month is surely a record. The Tuburon rally car and Spider concept are welcome additions. I do not have an original Side Kick model but this all-metal version is a decent substitute. Pull the exhaust and the door and seat slide out.

Station wagons are finally getting new respect and even though this '55 Ford is far from stock, it is still nice to see it done. This Summer, I actually saw a hot rod Jaguar Mk. X so the HW version is not such a wild idea. I especially like the colors. The 1/4 Mile Coupe is classic Hot Wheel with all the styling that has made HW the king of the customs and rods. Speaking of custom, Syd Mead's Sentinel 400 Limo is sort of what a Lamborghini limo might look like. This may explain why Lamborghini does not do limos.

The '70 Hemi 'Cuda has been done in many colors but this green and black is one of the best mixes. At $2.95 these collector models are a good value. The Viper GTS is a model never offered in the regular HW line. This must bring the total of GTS castings from all manufacturers to about a dozen or so. The Mercury Cougar in tuner form is much better than the basic model of this car. As it is the last Cougar, at least for now, I could not resist. That rear wing would make parking a challenge.
JADA

1947 Chevrolet Aerosedan Fleetline - $3.19


1953 Chevrolet Bel Air - $3.19



1960 Chevrolet Impala - $3.19


1970 Chevrolet Monte Carlo - $3.19
---
HOT WHEELS

1960 Corvette Sting Ray - $.80


1965 Pontiac Bonneville - $1.00

GT-O3 - $1.00


Hyundai Tiburon Rally - $1.00


Hyundai Spider Concept - $1.00


Pony Up - $.79


Side Kick - $.79


8 Crate ('55 Ford Wagon) - $.66


Fish & Chipped (Jaguar Mk. X) - $.66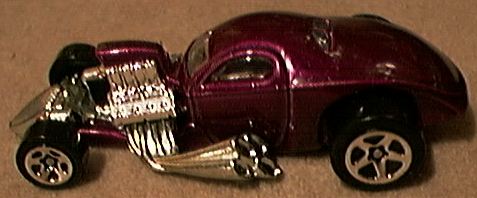 1/4 Mile Coupe - $.66


Syd Mead's Sentinel 400 Limo - $.66



1970 Plymouth Hemi 'Cuda - $2.95


Dodge Viper GTS - $2.95


Mercury Cougar - $2.95