YAT MING

Chevrolet Camaro - $.50

---
TOMICA

Mazda Cosmos - $.25


Honda Accord - $3.00

---
HOT WHEELS

Da'Kar - $.69
---
MATCHBOX


Dune Buggy - $.50


Ford/Merkur - $.50


Mini Cooper - Matchbox $.94


Pontiac Vibe - Matchbox - $.94

---
TOOTSIETOY

1960 Ford Falcon - $2.00

---
UNIVERSAL

VW Beetle - $.25
---
WELLY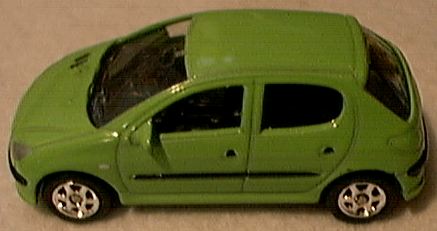 Peugeot 206 Sedan - trade
---
JOHNNY LIGHTNING

1973 Chevrolet Camaro - $2.99


1968 AMC Javelin - $2.99


1969 Ford Torino Cobra - $2.99
---
KENNER FAST 111's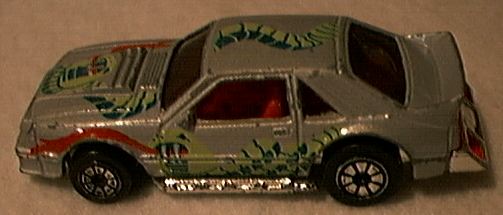 1982 Ford Mustang $.50
---
TOY GALAXIE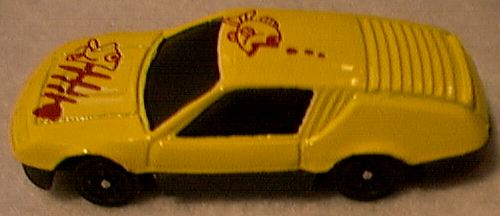 Alpine-Renault A310 - $.15
CAR OF THE MONTH


Holden Monaro HT GTS 350 - Biante, gift


ADDITIONS THIS MONTH

Biante is one of the new names in diecast from Down Under. Their raison d'etre is to produce the many fine cars exclusive to Australia from Holden and Ford. Thanks to an early Christmas present from Rob Gras, I now have a Biante model in my collection. (David, I'm saving your cars for January). The 'Car of the Month' is a Holden Monaro HT GTS 350 and looks like an Aussie Chevy Nova The detail is excellent., including red-line tires. The quality of Biante's models is much like that of Racing Champions.

At a recent toy show, I found a variety of interesting models at budget prices. A Yat Ming Camaro filled a missing hole in the collection. These castings are solid, all-metal and under-rated. A curious Tomica Mazda Cosmo with a pull-back motor seems little-known by collectors. The Honda Accord is far better-known and appreciated. I was very happy to find this much-wanted model.

The Hot Wheels Da'Kar is clearly intended to be a Paris-Dakar buggy and while generic, it is the first in small-scale. Two older Matchbox models were found. The Dune Buggy is just so 1970's and the price was right. The Ford/Merkur is refreshingly clean of Tampos. Two new Matchbox models actually represent real cars! The Mini Cooper is modest at best and by my count the 13th new Mini in small-scale. I like the flag on the roof. The Pontiac Vibe may be the regular-line best Matchbox of the year and yet it is a pale shadow of what Matchbox represented before being smothered by Mattel.

Who can resist a fine little Tootsietoy Ford Falcon for just $2? Not me. The VW Beetle by Universal is rough but for a quarter, who cares? Welly's Peugeot 206 Sedan is ample evidence that the spirit of Matchbox has passed to a new generation of toy car makers.

Three more muscle cars from Johnny Lightning are as good as ever. JL seem intent to offer every muscle car built between 1964 and 1973. I can't resist them but prefer the new non-muscle themes. The Ford Mustang from Kenner's Fast 111's was such a good casting that it became a Matchbox after Universal's buyout of MB. The Alpine-Renault A310 is far from common so even a crude example is worth notice. The price was fair.

Any missing Playart is welcome and David Cook sent these two F1 cars my way in trade. The McLaren is rather sober in color and the black car sports Viceroy graphics but no clue to the car represented.

Mega Speed from Polyfect is the current king of truly cheap toy cars. Every dollar store seems to have some. Recent finds seem to be copies of Matchbox and others. The '70 Ford Mustang and Chevy Camaro could look decent with better paint. The Buick Grand National, Toyota Sedan and Pontiac Firebird are also decent castings.

Four more gems from Norev arrived and it just keeps getting better. I've lost count of the number of new Norev castings in 2003 but it is impressive! How about the Citroen Xsara WRC rally car that just won the Manufacturer's Championship. The Peugeot 206 WRC car from 2003 makes a perfect pair. Easily the most curious and unique model from Norev is the Peugeot H20 fire vehicle concept. This is not a fantasy vehicle. The top on the Peugeot 206CC is removable and 20 years from now will be a hard-to-find piece.

The French revival in diecast continues with Majorette. It appears that Norev is causing Majorette to re-think what the market wants. The Peugeot 206 WRC comes in both 2002 and 2003 colors. The tampos are accurate but both cars lack interiors. The Nissan Micra has an interior and is a reminder of the Majorette of old. More models like this will bring kids and collectors running. The Peugeot 206CC is clearly not at the level of the Norev casting but it is half the price and with correct colors deserves respect. When was the last time we had this many new French car castings in a single year? This month alone I added 8 new Peugeot models (thanks Francois)!

A trip to Canada brought two of the new Real Toy models and now I want to find the rest. Real Toy is the real thing and is challenging Welly for heir to the Matchbox crown. The Mercedes-Benz C-Class is as good as any toy car available for less than $1. The paint and tampos put many collector models to shame. The BMW M3 is just as good and only the wheels are keeping these models from 1st class. If Real Toy were to use wheels like shown on the Welly Peugeot, they could claim to be the best of their class. It would be nice to see some more creative choices in models represented.

---
PLAYART


McLaren F1 - Playart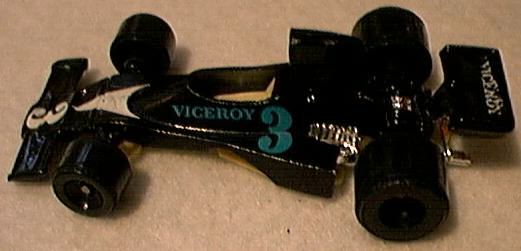 Viceroy F1 - Playart

---
MEGA SPEED - POLYFECT


Buick Grand National - $.20


1970 Ford Mustang - $.20


1970 Chevrolet Camaro - $.20


1982 Pontiac Firebird - $.20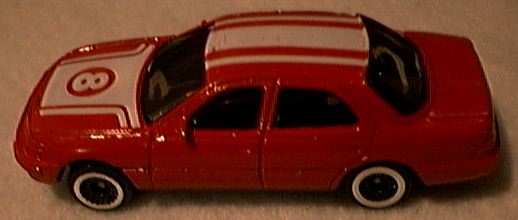 Toyota Sedan - $.20
---
NOREV

2003 Citroen Xsara WRC - trade


2003 Peugeot 206 WRC - trade


Peugeot H2O concept - trade


Peugeot 206CC - trade

---
MAJORETTE

2002 Peugeot 206 WRC - trade


2003 Peugeot 206 WRC - trade


Nissan Micra - trade


Peugeot 206CC - trade
---
REAL TOY

Mercedes-Benz C-Class - $.59


BMW M1 - $.59