MATCHBOX

Mazda RX500 - $5.00


Porsche Turbo #3 - $5.00


1957 Lincoln Premier (BJ) - $3.99


1956 Ford Sunliner (BJ) - $3.99


1970 Ford Mustang Boss 302 (BJ) - $3.99


1970 Pontiac GTO (BJ) - $3.99


Plymouth Prowler (BJ) - $3.99

---
HOT WHEELS

'64 Ford Mustang - $2.99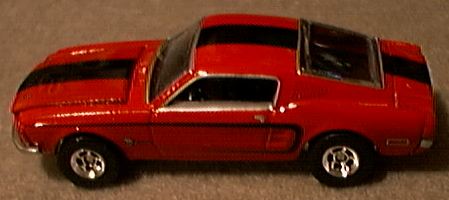 '68 Ford Mustang - $2.99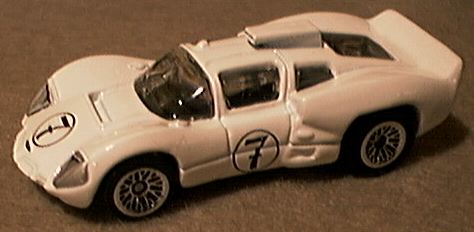 Chaparral 2D - $.69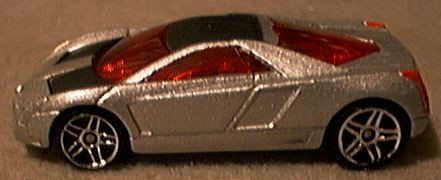 Cadillac Cien Concept - $69


1958 Chevrolet Corvette - $2.99


1965 Corvair Corsa 'Vairy 8' - $.69


Switchback - $.69
---
XCONCEPTS

1999 Mitsubishi Eclipse - $3.99


1999 Honda Accord - $3.99
CAR OF THE MONTH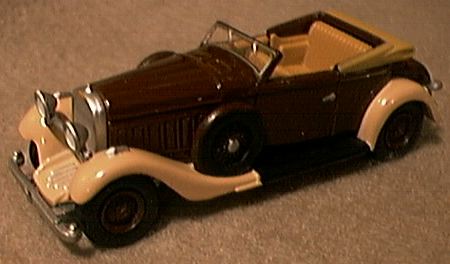 Hispano Suiza Convertible, Johnny Lightning - $2.50
---


Recent Additions

It's difficult to select a 'car of the month' as there are several unique models that would qualify. Certainly the most interesting for 1:64 scale is the Hispano Suiza convertible by Johnny Lightning. One of the new Bond castings, this model is well-done and represents both a car and a marque, never offered in this scale. The colors are not the most flattering but they are intended to represent the car used in the Bond film. With different colors and detailed wheels, this would be a stunning model. Even so, it's great to add this classic to the limited selection of pre-war European cars available in 1:64 scale.

Also from Johnny Lightning is their 'now and then' Ford Crown Victoria set. On sale after Christmas for half price, I picked up this, the Monte Carlo, Jaguar, Camaro and Corvette sets. I especially like the blue '61 Jaguar 'E' type, even though it has appeared in other colors. A 1967 Plymouth GTX Convertible caught my eye from the Ragtops series. I understand that JL's 'now and then' series will continue, good news indeed.

Two Superfast models from the '70's were found at the toy show for $5 each, boxed. I liked the racing graphics on the Mazda RX500, even though I know this concept car never saw a race track. The first Porsche Turbo was offered in 1979 and is an evergreen model. It's always nice to have a crisp, early casting. Five of the six new Barret-Jackson series were also found. The Mustang, GTO and Prowler are old castings but the '57 Lincoln Premier and '56 Ford Sunliner are new for me. The Sunliner is well done but is listed at 1:72 scale! The actual scale measures out closer to 1:75 and I can't figure why Matchbox made this model so small. The Lincoln is 1:64 scale. I'm still looking for the new Shelby Cobra 427.

Hot Wheels and Mustang have a long association. These collector models offer a fancy version of the main-line '64 'Stang and a nice, beefy-tired '68 Mustang that appears to be a re-issue of the original Custom Mustang. The base is dated 1968 but this is far more detailed than the original or the 1992 re-issue, which is still in use in the regular line. Like the recent Camaro, Cougar and Barracuda, this is a 'retro-issue' in the spirit of the original. New 2003 castings of the Chaparral 2D, Cadillac Cien concept, Corvair Corsa 'Vairy 8' and 'Switchback' pick-up were also found. The Chaparral is a nice continuation of the historic racers from HW. A nice collector version of the '58 Chevy Corvette was also found.

Again from the toy show is the Aurora Cigar Box 1966 Oldsmobile Toronado. I could not resist this model in turquoise as it has been on my 'wanted' list for a long time. The top is not quite like the real car but this is a vintage model so why be too critical.

New Welly models are arriving in Walgreen's Drug Stores and I found the Lamborghini Diablo #2064 and the Alfa Romeo Spider #2065. The Alfa is especially welcome as until now, only Yat Ming had bothered to do this car, but with top up. While these models have been in Europe for some time, it's nice to get them state-side. Two muscle cars, the '65 Pontiac GTO and '71 Chevy Chevelle convertible were also found.

Racing Champions has jumped on the 'tuner' bandwagon and here are four of the first series. The plan appears to be to offer stock and custom models of four different cars. A quick change of rear spoilers and wheels seems to suffice. The Honda and Acura are nor common models but the Mitsubishi and Mazda less common and welcome additions. It's a good bet that any diecast manufacturer without tuner models in their line are rushing them to market as we speak. I expect Siku may be the only one to not be tempted by this latest fad. Tuners are today's street rods and at least we get a break from more low-rider and SUV models. Will Hot Wheels be doing 'retro-issues' of tuner models 35 years from now?

XConcepts missing models finally appeared and I added the Mitsubishi Eclipse and Honda Accord Coupe. These models come with many extra parts including tinted windows, red seats, actual springs for suspension, four extra tires and replacement screws. I decided to put the red seats into the Mitsubishi. This required full dis-assembly and the detail is amazing. my big fingers had a hard time getting the tiny pieces back where they belonged. The springs for each wheel are a great idea but tough to position. I see why extra screws and springs are included! I decided to leave the Accord the way it came.

Jada has produced three vintage Cadillac models and while they are 'tuned' customs, they are still helping to fill in some gaps in Cadillac's history. The '53 Series 62 Coupe and '62 Series '62 Convertible are firsts in 1:64 scale. Hot Wheels did the '59 Eldorado Seville. These Jada models are not as accurate or detailed as some of their competition but this may improve with time. With minor changes to wheels, stock versions could be produced in realistic colors, a smart use of these castings.

All told, this month was a great month for new toy cars, a rarity in January when shelves are often emptied after holiday shopping. I expect the slow economy has pushed manufacturers to get new products out earlier than usual.
AURORA CIGAR BOX

1966 Oldsmobile Toronado - $10.00
---
WELLY


Lamborghini Diablo - $.50


Alfa Romeo Spider - $.50


1965 Pontiac GTO - $.50


1971 Chevrolet Chevelle Convertible - $.50

---
RACING CHAMPIONS


Honda Civic (custom) - $2.50


Honda Civic - $2.50


1995 Mitsubishi Eclipse - $2.50


Mazda RX-7 - $2.50
---
JADA

1953 Cadillac Series 62 Coupe - $2.49


1959 Cadillac Eldorado Seville - $2.49


1962 Cadillac Series 62 Convertible - $2.49
---
JOHNNY LIGHTNING

1997 Ford Crown Victoria - $2.00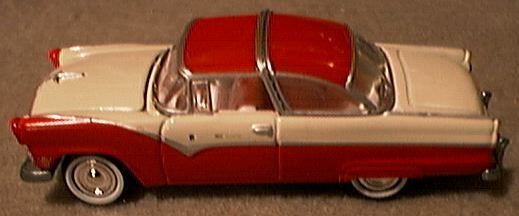 1955 Ford Crown Victoria - $2.00


1961 Jaguar 'E' type - $2.00


Jaguar XK8 Convertible - $2.00


1967 Plymouth GTX Convertible - $2.99


1953 Chevrolet Corvette - $2.00