CORGI


Aston Martin DBS - trade
---
YAT MING
Honda Civic - Ranier Sliwinski
---
TOMICA

Honda Element - trade
Mazda Demio - trade
Mitsubishi Grandis - trade
Toyota Harrier - trade
Toyota Crown - trade
---
GIODI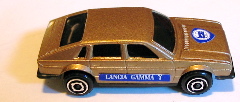 Lancia Gamma - trade
BMW 520 - trade
Rover 2600 - trade
Volvo 760 - trade
Renault 30 - trade
---
JOHNNY LIGHTNING
2004 Pontiac GTO - $2.00
2004 Nissan 350Z - $2.00
1967 Chevrolet Camaro Z28 - $2.00
1970 Dodge Challenger - $2.00
1965 Ford Mustang - $2.00
---
HONGWELL
Mercedes-Benz CLK320 Cabriolet - $1.99
CAR OF THE MONTH

---
Austin Mini - Guisval, trade
Austin Mini - Guisval, trade
---

There are some models of toy cars that just seem to be an ideal miniature of the real car. They are not necessarily the most detailed or most accurate model. This month's Car of the month is one of those. When I first saw the Austin Mini by Guisval, it just looked right. It is clearly a toy and not a precision model but that's just fine. The colors, the plastic skis on top, the opening doors and 'old school' wheels just work for me. This model came in a trade with another local collector who visited the toy room. He revived a Porsche 928 by Guisval and we both traded duplicates to end up with new models.

Another trade was for the Aston Martin DBS Corgi Rocket. I have the Whizzwheels version in lime green but this blue Rocket was too tempting. I am still missing a few Yat Ming models and the Honda Civic is one of those. This green example belongs to Rainer Sliwinski and is on the way to Germany so I'm still looking

Courtesy of a collector friend in Indonesia, I received five new Tomica models. All are quite good but I'm not a big fan of these solid back windows now being used. Only the Toyota Crown has a clear back window and while I understand that this makes it easier for Tomica to offer opening rear doors, it still looks cheap. The Element and Grandis offer very different ideas for van-like vehicles while the Demio and Harrier are small wagons.

Also in trade, I received five more Giodi models. These were reviewed by Chris Whyte recently for TofTC and he sent these on to me. While they are very basic in detail, they are still accurate examples of real cars and represent some models not seen in small-scale. Three of the models (Lancia, Rover and Renault) all use the same base and clearly were selected with this in mind. I like the car logo on the hood.

A five-car set from Johnny Lightning called 'Weekend Warriors' provided some new variations of old castings. Each model represents a car that might be a weekend racer in SCCA or other local racing activity. I like the simple colors and numbers on each car. The three classic pony cars might have been Trans Am cars from that era. The JL Camaro is shown below with the Penske Trans Am model from Hot Wheels and it is easy to see the connection. The 350Z and Pontiac GTO represent modern cars that could be seen at tracks today.

---

Trans-Am Camaros by Hot Wheels and Johnny Lightning

---

Shock Stocker- Dome O by Kenner
Rainer Sliwinski


TR Terrific - TR7 by Kenner
Rainer Sliwinski

The two Kenner Fast III models above are going to Germany but show what the packaging looked like for this series. The Shock Stocker is new to me and appears to be based on the Japanese Dome-O (done by Tomica).

Hongwell's Mercedes-Benz CLK320 Cabrio is another excellent model from this manufacturer. It is in 1:72 scale.

Two Zylmex models are shown. The DeTomaso Mangusta has far fewer examples than the more popular Pantera. The Rolls Royce Silver Shadow Coupe is a bit crude but it was an early casting for Zylmex.

The Honda and Mercedes-Benz models by Playart are in different colors than the ones in my collection. The Z GS must be about 1:50 scale.

Thanks to a fellow collector, the new Superfast Mercury Cougar by Matchbox has joined the collection. I like this casting and the retro wheels. Ertl's Pontiac Firebird from the mid-1970's has 'Bandit' on the door so we can assume it was intended to be a tie-in with the Burt Reynolds movies. The wheels are smaller than usual Ertl wheels of this period.

The second volume of Konami models was found and arrived from Japan. The price shown does not include the postage which would double the cost. These are some of the most detailed models available in 1:64 scale and continue to represent rarely seen Japanese classics. I think the Isuzu Bellett 1600GTR is my favorite from this series but they are all great models.

Maisto's '63 Chevrolet Corvette was found and while few could argue that we need another '63 Vette, it is a decent casting. The wheels are simply ugly and would not look good on any model. I could not resist the new Chrysler 300C Hemi in green but a wheel swap may be in order.

Any new model from Buby or Pilen is always welcome. The Renault Fuego is in the exact same colors as that of a friend of mine in Vancouver, B.C., although his interior is tan. The wheels are not original and were donated by Yat Ming. The Pilen Seat 131 Familiar Ambulance is very welcome as it represents a rare Euro-estate and a Seat to boot. The doors open. A Pilen story is planned in the near future.

The BMW 6 Series by Tootsietoy is a decent little car and with new models from Tootsietoy in 1:64 scale on the way, serves as a reminder that this company is still active in small-scale toy cars.

ZYLMEX


DeTomaso Mangusta - Rainer Sliwinski


Rolls Royce Silver Shadow Coupe - trade

---

PLAYART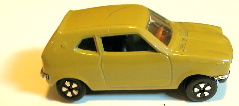 Honda Z GS - Rainer Sliwinski
Mercedes-Benz C111 - Rainer Sliwinski
---

MATCHBOX
1967 Mercury Cougar - trade
---
ERTL
Pontiac Firebird 'Bandit' - trade
---
KONAMI.
1972 Toyota Corolla Levin - $3.30
1969 Nissan Fairlady Z432 - $3.30
1965 Toyota Sport S800 - $3.30
1968 Mazda Familia Rotary Coupe- $3.30
1969 Isuzu Bellett 1600GTR - $3.30
1974 Honda Civic 1200RS - $3.30
---
MAISTO
1963 Chevrolet Corvette - $.49
Chrysler 300C 'Hemi' - $2.49
---
BUBY
Renault Fuego - trade
---
PILEN

Seat 131 Familiar - trade
---
TOOTSIETOY

BMW 633CSi - Rainer Sliwinski