SCHUCO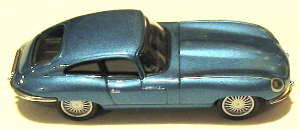 Jaguar 'E' type Coupe - Schuco - trade


Shelby Cobra 427 - trade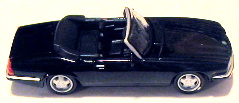 Jaguar XJ-S Cabriolet - trade
---
PLAYART

Mercedes-Benz C111 - trade

---
REAL TOY

Audi A8 - $.50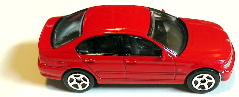 BMW 3 Series- $.50



BMW 7 Series - $.50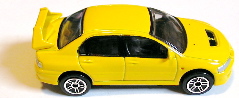 Mitsubishi Lancer EVO VIII - $.50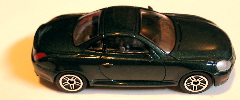 Lexus - $.50


Mercedes-Benz S-Class - $.50


Mazda RX8 - $.50


Porsche Cayenne Turbo - $.50


Porsche 911 GT3 - $.50

---
NOREV


1956 Renault Dauphine - trade


1964 Renault 4L - trade


2004 Renault Fluence concept - trade


2004 Renault Wind concept - trade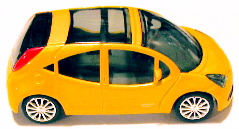 2003 Renault Be Bop concept - trade


Peugeot 307 - trade


Peugeot 307 CC - trade


Peugeot 307 SW - trade


Peugeot Coupe 407- trade


VW Passat Variant - trade


Citroen C6- trade

---
CHAMPION

Ferrari P4 - trade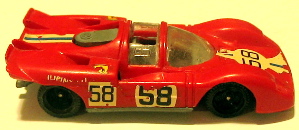 Ferrari 512S - trade
---
MICROCHAMPS

2005 Toyota F1 - trade
---
DARDA

Audi Quattro - trade



Chevrolet Camaro - trade


Ferrari F40 - trade
CARS OF THE MONTH
---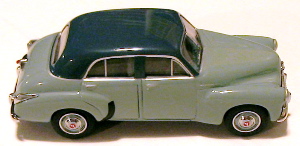 Holden FJ - AUTOart/Biante- trade
Alfa Romeo B.A.T. 9 - Hot Wheels - $.99
1946 Renault 4 - Norev - trade
Alfa Romeo Spider - trade
Mercedes-Benz 220 - Grell - trade
Porsche Carrera GT3 RS - Real Toy - $.50
Vauxhall Firenza - Impy - trade
---

Once I opened the door to more than one 'car of the month' this was bound to happen. Seven selections for car of the month indicates that my ability to choose a favorite model was hopeless. First, every one of these models is unique in small-scale diecast. Second, each car represents a model that is of significant historical interest. The Holden FJ is a classic Australian car and this cooperative effort between Biante and AUTOart is a milestone for collectors on several levels. It has all the quality these two companies have come to represent. The Alfa Romeo B.A.T. 9 by Hot Wheels is one of the most interesting classics to appear as a $1 toy car. Norev's classic Renault series is just what we needed and the 1946 Renault is another milestone car, neglected up to this point in small-scale. Schuco and High Speed have finally filled a huge hole in the small-scale history of Alfa Romeo with their new Spider. The quality of this new series is excellent. Grell has moved beyond E. German cars and the Mercedes-Benz 220 is another of those missing milestones. Siku did it in plastic 50 years ago but a true diecast version is a wonderful present to collectors. Real Toy simply keeps getting better and the quality of their models is amazing for the prices. The Porsche Carrera GT3 RS is collector quality for kid prices. Note the change in rear spoiler with the red GT3 to the left. Lastly, a fellow collector was very kind to trade one of two Vauxhall Firenza models by Impy that he found. This rare casting is unique and a key model in the Vauxhall story. I am very pleases to mark it off my 'wanted' list.

Many of the rest of the models shown here are just as great as the seven just reviewed. Let's start with the other Schuco/High Speed castings. The Jaguar 'E' type has been offered as a toy car many times since it's introduction in 1961. Recent versions by Johnny Lightning and Hot Wheels have raised the bar in terms of quality. The High Speed casting for Schuco meets that new standard. The same can be said of their versions of the classic Shelby Cobra and the somewhat surprising selection of the Jaguar XJSC. The XJS is very well represented although the cabriolet version was only done by Majorette in their Deluxe series. Most of the new Schuco models are current models and few are unique to small-scale. It would be interesting to know how the model choices were made.

Playart's Mercedes-Benz C111 came in trade and is a reminder of the quality of these 'budget' models from the 1970's. It compares well to the Hot Wheels version of the same car although these later wheels were very basic.

Anyone who yearns for the prices seen in the 'golden age of toy cars', some 40 years back, should take a closer look at Real Toy today. These may be the best quality models for their price available today, perhaps ever. The paint work is better than most collector models at 3-5 times the price and the castings are spot-on. They can be found for less than $1 in many locations world-wide and may be badged as Corgi, Polistil or a variety of house-brand names. The focus is on current vehicles in realistic colors. All these models came in two five-packs.

Norev has risen from the ashes to become a major player in the toy car industry. Their 1:43 and 1:18 scale lines have included a variety of classic models but until recently, their small-scale cars were limited to the most recent vehicles. Now the first of a classic series have appeared. The Renault marque is the first recipient of classic additions and all three are wonderful additions. The Renault 4 and Dauphine had never been done in this scale and the 4L had seldom been seen. Norev had done a 4L in their old Mini-Jet line but the new version is of much higher quality. Curiously, all three classic models are identified on the base as 1:64 scale. In reality, they are at least 1:55 scale or perhaps bigger. This is the first time I have seen Norev identify the scale on the base. Meanwhile, their offerings of new model cars has not slowed. Both production and concept cars keep coming from Norev and the high quality is not slipping a bit. Three Renault concept cars from recent years are here. The Fluence is a sleek coupe with fast-back style. The Wind is a roadster with a wrap-around windshield. The Be Bop is... hopefully never seriously considered for production. The VW Passat Variant is a lovely Euro-wagon. The wheels are especially nice. Three Peugeot 307 variations, including an interesting wagon/van with a half glass top are included. The Peugeot Coupe 407 very stylish and with a two-tone brown and black interior, a beautiful model. With the addition of the Citroen C6, Norev has now produced all the C1-C6 models. Citroen's luxury C6 has the look of the big DS, CX and XM executive sedans and clearly shows that Citroen is ready to compete with other European sedans in the high priced market. With Norev now moving to American and Japanese models as well, how long can it be before these are seen in North American retail locations?

A story on the wonderful racing cars made by Champion is not far off. Thanks to a recent trade, I have added two more. These two Ferrari models have appeared in recent stories of their own and both are very accurate for models of their day. This line has been neglected by most collectors due to the plastic bodies. Fortunately this has kept prices in check for the collectors who really value the quality of Champion models.

There is more to the story of the 2005 Toyota F1 model by Minichamps. This casting is very much like a casting of the 2004 Renault F1 racer, sold as a 'Renault Toys' model, right down to the pull-back motor and grooved rubber tires. This model is far more toy-like than Minichamps usual castings. It would be interesting to know who actually produced these castings. The Toyota is a welcome addition in small-scale and the first example of their F1 racer to appear. It was received in trade.

Darda models have always been somewhere between slot-cars and diecast cars for toy car collectors. They are plastic and are designed for track racing. At the same time, they can represent some unique models. These three here are not unique but are welcome additions. The Audi and Camaro were a gift and the F40 came in trade. Perhaps a Darda story would be of interest in future.

Like Norev, Grell has expanded their line. What started as the cars of the former East Germany, has now grown to include other West German models as well. The cross-promotion with beer companies continues but the cars are getting newer. In a little over a year, we now have three small-scale VW Karmann Ghia models from Johnny Lightning, Hot Wheels and now Grell. The Ford Taunus 17 is another great addition and begs comparison to other international Fords of this era. Grell continues to produce the little-known Wartburg models and we now have a Zwickau in 1:64 diecast. They even did a holiday model (below) of the Wartburg Combi with a festive tree filled trailer and a rather large, beer drinking German. It is both charming and absolutely unique. This is far more creative than the overpriced, chromed, holiday cars from other toy car makers.

---

Wartburg 311 Combi with holiday trailer
---

Two interesting concept cars from Maisto are both unique. The Chevrolet SS concept is along the lines of the Dodge Charger concept. Is it just me or does the idea of retro-themed American muscle cars as four-door sedans seem wrong in so many ways? Even so, I doubt this model will be done by anyone else. The Saab concept is far more interesting as so few Saabs ever make it to small-scale. This is the first Saab concept ever done in 1:64 and it is quite good. This particular concept reminds me of the classic Volvo P1800ES, another two-door wagon from Sweden and a model too long missing in our favorite size.

Matchbox did something rare with their Dodge Magnum Wagon. They did the police version first. Usually, the police or taxi or fire versions follow the stock version. I like this idea as it separates the Matchbox from the rest of the many Magnum models currently produced. There are more castings of the Magnum in it's first year than any other station wagon has ever seen (Maisto, Jada, Yat Ming and now Matchbox). More are on the way and I'm sure Matchbox has plans for a stock version soon. The blue Ford GT came from Canada and was worth the extra cost. I like these classic colors. The Mitsubishi Eclipse also came from Canada. I like the new Superfast wheels so much better. The blue TVR was just too pretty to resist.

The selection of Hot Wheels models shown here are a mix of new color or different wheels that I found in Canada. The exception is the yellow Lotus Elite racer that came by way of Australia. These light-up Happy Meal cars were green in North America but it seems came in other colors elsewhere. My camera was a bit confused by the red lights! The Saleen S7 has already establish it's racing credentials but until now, the Hot Wheels and Motor Max versions were all street cars. Hot Wheels has now done one with racing graphics but in flat paint. This is a curious choice for a race car where air flow over gloss paint would be required. The pair of 1969 models, Plymouth Superbird and Pontiac GTO are new and show that American Muscle cars are still popular with Hot Wheels.

The grapevine noted that Majorette models could be found at Canadian Sears stores. During my recent trip I stopped at one to see if it was true. New Majorette models were available although the selection was quite limited by the time I visited. I did find the two models shown here, Peugeot 206 and Renault Megane II. Prices were a bit high but they were on sale and with the exchange rate, not too bad. These are the first new Majorette models I have found in North America in many years. The quality of these new Majorette models is good with opening doors and hoods.

Marx toy cars are a rare find today but a Marx model of Ferrari's 206 Dino F2 of 1966 is even more interesting. This may be the only small-scale 206 Dino F2 even done. It is clearly a sturdy example as it has seen plenty of play time without damage to the wheels or axles. It would be easy to do a repaint in red but I'm not sure if i should. What would you do? The V6 engines were built by Fiat.

I could not resist putting the new gold version of the '57 Studebaker Golden Hawk on a gold background for the image seen here. While I had found this in black and white before, a Golden Hawk seems so right in gold. Johnny Lightning has done a wonderful job with this model. We have not seen the AMC Hornet in any color but the red of the James Bond version until now. This new, baby blue '73 Hornet sports special wheels and rubber tires. Who but Johnny Lightning would bother with these early '70's American compact cars. Now we need a Ford Pinto and Dodge Colt to complete the set (the new JL Chevy Vega will appear in next month's additions).
GRELL


Wartburg Limousine - trade


Taunus 17 - trade


VW Karmann Ghia - trade


Zwickau - trade

---
MAISTO


Chevrolet SS concept - $.50


Saab concept - $.50

---
MATCHBOX

Dodge Magnum Wagon Police - $.99


Ford GT40 - $3.00


Mitsubishi Eclipse - $3.00


TVR - $.89

---
HOT WHEELS


Ferrari 360 - $.99


Chevrolet Corvette roadster - $.99


1958 Ford Thunderbird - $.99


B Engineering Edonis - $.99


Lotus (Aussie HW Happy Meal) - trade


Maserati MC12 - $.99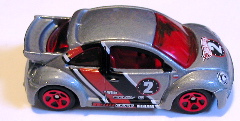 VW Beetle Cup Racer - $.99


1965 Pontiac Bonneville - $.99




1969 Pontiac GTO - $.99


1971 Plymouth GTX - $.99


1969 Plymouth Superbird - $.99


Peugeot 307 WRC - $1.99


Saleen S7 - $.99


Shelby Cobra concept - $.99


Ford Thunderbolt - $.99


Toyota Trueno AE6 - $.99


'40 Ford - $.99

---
MAJORETTE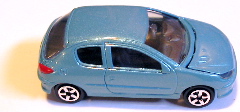 Peugeot 206 - $2.00


Renault Megane II - $2.00
---
MARX

1966 206 Dino F2 - trade
---
JOHNNY LIGHTNING


1957 Studebaker Golden Hawk - $2.99


1973 AMC Hornet - $2.99