SCHUCO (Hongwell)

BMW 5-Series Wagon police - $1.99
---

NOREV

Citroen C3 - $3.50


Citroen C8 - $3.50


Peugeot 307 - $3.50


Peugeot 807 - $3.50

---
MATCHBOX

Mini - trade


Chevrolet Stocker - trade


Clipper - trade


Mercedes-Benz Ambulance - trade


BMW Z8 - $.79


Ferrari 360 Cabriolet - $.79


Porsche 911 Turbo - $.79


VW Microbus concept - $.79

---
CORGI

Renault 5 Turbo - trade


Formula 1 (1972 BRM?) - trade


Volvo 245 DL Wagon - trade

---
GUISVAL

Citroen Xsara Rally - trade


VW Golf III Rally - trade

---
REVELL

1995 Mitsubishi Eclipse - $2.49
CAR OF THE MONTH

Mercedes-Benz 300 SLR Carrera Panamericana - Schuco, $2.25
---
Recent Additions

Certainly, February was a major month for the collection. It's difficult to select a 'Car of the Month' but I've given the honor to Schuco's lovely 1:72 scale Mercedes-Benz 300 SLR, winner of the 1953 Carrera Panamericana of Mexico. This is the first small-scale model of this historic car. Even though Hongwell made the model for Schuco, I suspect that Schuco had some say in the choice of this famous German racer. The detail is wonderful and I only wish it was in 1:64 scale.

Also from Schuco is a very nice German Police version of Hongwell's BMW 5-Series wagon. I don't mind paying a bit more for these exclusive Schuco variations.

Four new Norev models arrived and are profiled in the Norev article this month. It's great to welcome Norev back to the land of the living. These models are sold in European Peugeot, Citroen and Renault car dealerships and are in 1:55 scale.

Matchbox old and new came my way this month. A trade brought some missing models and colors. The Mini, Chevy Stocker, Clipper and Mercedes Ambulance are child-tested and welcome as such. Four new Matchbox models/colors were also found. The BMWZ8 and Ferrari 360 Spider are not as good as they should be but for $.79, they're mine. The new Porsche 911 Turbo is of equal quality (see Porsche article this issue). The VW Microbus concept is the best of the new models in detail and paint. It's also a rare 'first in 1:64' from Matchbox these days.

Some interesting Corgi models also came in trade. The Renault 5 Turbo looks good in Renault yellow. The Formula 1 car may be a BRM. I have wanted the Volvo 245 DL wagon for a long time and a few 'badges of playtime honor' don't hurt.

My Spanish trading partner sent two more new Guisval models. Both are WRC 'style' rally cars. The Citroen Xsara is nice in French racing blue. The VW Golf III is a nice addition as well. and in German racing silver. I like the realistic tampos used by Guisval. I am happy to send Johnny Lightning models to Spain in exchange.

Revell has a new model of the past generation of Mitsubishi Eclipse. Do tuners not like the current Eclipse model? I prefer the new model myself. This becomes the third 1995 Eclipse to be done (Racing Champions and XConcepts).

Siku models are welcome anytime and I have been waiting to find the new Mini Cooper. It was worth the wait and is the best new Mini to date in my book. I also could not resist Siku's Mercedes-Benz F1 Safety Car. It joins four F1 models that are clearly intended to represent Ferrari, Williams-BMW, McLaren-Mercedes and Jordan. It's a shame that Siku could not afford the licensing fees to make this whole series look realistic. Still, the castings are excellent and I bet German 5-year old racers don't care.

Johnny Lightning just gets better. The '72 Buick Riviera in the same yellow as my real '72 Buick Sportwagon was a must. White-walls have replaced the red-walls in this series, as they should. I did not have a '54 Corvette and I like the blue. The '55 Chevy is from the 'American Grafitti' series. Wit black paint and rubber tires, it is a major improvement over the previous use of this casting. The '76 Olds Cutlass and '71 Plymouth Duster fill in a few more diecast blanks.

Hot Wheels is also on a roll these days with some very nice models. The Ferrari 355 Challenge is my 22nd HW Ferrari casting in red ( a personal obsession). It comes from a new (and welcome) Ferrari five-pack. The new Bugatti Veyron is excellent, especially the wheels. It look good in a 'then and now' match with the '37 Bugatti from HW (below). The Golden Arrow is not a real car but does have a bit of Alfa Romeo and Mercedes-Benz in it's design. I bought the Whip Creamer II to see if the wheels turned the turbine (they don't), but for $.68, I don't feel too bad.

While collector priced, the Cadillac LMP , Shelby Cobra 427 and Ferrari P4 are clear examples of how good a basic HW casting can look with the right wheels and paint. At this price, I left the other offerings in this series on the pegs but I knew I would regret it if I left these. The Dodge Viper in red was a sale item I could also not resist.

---
Hot Wheels - Then and Now

1937 and 2003 Bugatti
---


More trade items came in the form of Majorette models. The Renault 5 is just so French! The Alfa Guiletta provides a stock version to go with my police version. New colors of the BMW Z Coupe and Mercedes-Benz CLK-GTR were nice additions too.

Racing Champions has done some of their tuner models in decent colors without over-done graphics. The Toyota Supra in yellow with black and yellow interior is one of my favorites. The orange Mazda RX-7, sans spoiler and shown last month is another.
SIKU


Mini Cooper - $2.25


Mercedes-Benz F1 Safety car - $1.99
---

JOHNNY LIGHTNING


1972 Buick Riviera - $2.99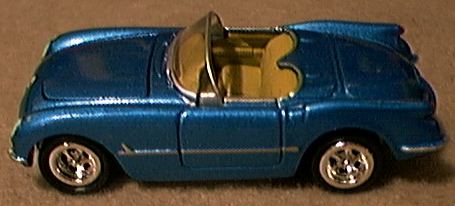 1954 Chevrolet Corvette - $1.66


1955 Chevrolet - $1.66


1976 Oldsmobile Cutlass - $2.99



1971 Plymouth Duster - $2.99

---
HOT WHEELS

Ferrari 355 Challenge - $.99


Bugatti Veyron - $.68


Golden Arrow - $.68


Whip Creamer II - $.68


Cadillac LMR (Milestone) - $4.49


Ferrari P4 (Milestones) - $4.49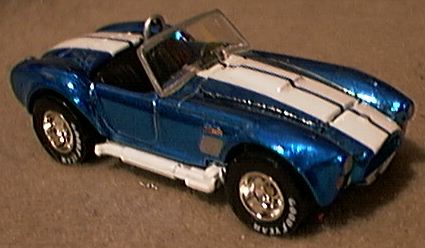 Shelby Cobra 427 (Legends) - $4.49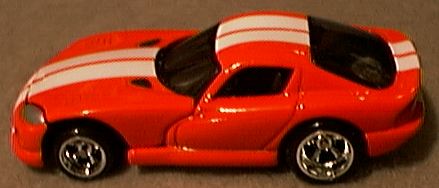 Dodge Viper GTS - $2.31

---
MAJORETTE

Renault 5 - trade


Alfa Romeo Guiletta - trade


BMW Z Coupe - trade


Mercedes-Benz CLK GTR - trade
---
RACING CHAMPIONS

Toyota Supra - $2.99