MATCHBOX

1964 1/2 Ford Mustang - $3.99


Jeep Willys concept - $.79


1970 Pontiac GTO - $3.99


Chrysler PT Cruiser Convertible - $.79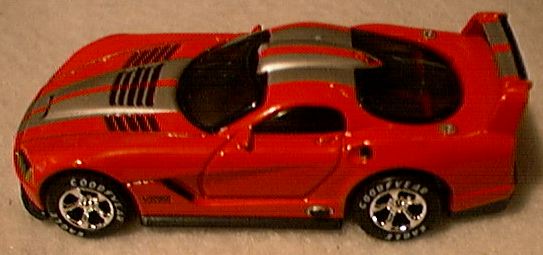 Dodge Viper - $3.99
---
MOTOR MAX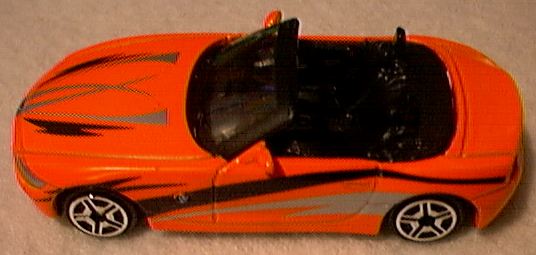 BMW Z4 - $.49


Chrysler Crossfire- $.49

---
POLISTIL/PENNY


Osi Bisiluro - trade


Fiat 124 - (Rainer Sliwinski)
---
JADA

Lexus SC430 - $2.49

---
MAISTO


Subaru WRX - trade


Honda RSX - trade


Honda NSX- trade


Mazda RX-7 - trade

---
REAL TOY


Mercedes-Benz 500SL- trade

---
TOMICA

Rolls Royce Phantom VI - $1.00
---
MUSCLE MACHINES


Nissan 350Z - $2.49
---
SUMMER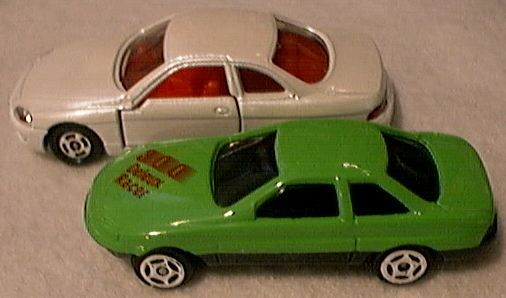 Toyota Soarer - $.50


1991 Dodge Stealth - $.50
---
SIKU

VW new Beetle police - $2.95
CAR OF THE MONTH


1952 Hudson Hornet stocker - Team Caliber
---

ADDITIONS THIS MONTH

Some of the models shown here for March, actually arrived in February, I just ran out of space last month! The Car of the Month came courtesy of contributor, Dave Weber. Team Caliber produced this great 1952 Hudson Hornet stock car. In the early 1950's, the Hudson Hornet was the car to beat in stock car racing. While Racing Champions has done the '51 Hudson Hornet in street clothes, it's great to have a racing version as well. Team Caliber also did a '36 Ford and a '55 Chrysler C300 that are just as nice.

Matchbox has not offered much to tempt me of late but that changed with their new 2004 Premier models The '64 1/2 Mustang, '70 GTO and new Dodge Viper GTS are overpriced at $4 each but I bought them anyway. The Jeep Willys concept and PT Cruiser Convertible from the regular line were easier on the wallet and tampos.

Two new Motor Max castings were found in Toys-R-Us 'Fast Lane' packaging. The BMW Z4 and Chrysler Crossfire are good castings but it appears that TRU decided these cars need idiotic colors and tampos to sell. Let's hope we can find these MM models in regular paint soon.

The Osi Bisiluro from Penny was shown last month but here is the official welcome. This is easily one of the strangest and most interesting concept cars ever built. Rainer Sliwinski is a contributor to TofTC and I have been helping him combine shipping costs on his US purchases. The bonus is that I get to see and photograph any models not in my collection. The Fiat 124 from Polistil is shown here. These second generation Polistil models are a challenge to find.

Jada's Lexus SC430 looks like a water bug in tuner form. Perhaps they will give us a stock version someday.

Maisto has joined the Tuner frenzy with four new models. I like these castings which feature manufacturer logos and names. The Honda NSX is my favorite but all four are good castings. Maisto has not bowed to pressure to add interiors and seems happy with that decision.

The Real Toy Mercedes-Benz 500SL also missed an official welcome so here it is. Compare this model to the new Matchbox or Maisto castings and it is easy to see who comes out ahead. If only they were easier to find.

A Tomica toy show find was a surprise, especially for just $1! The Rolls Royce Phantom VI seems a bit gaudy in red but it is such a lovely model. Perhaps this is Tomica's rock star version.

Muscle Machines continues with the classic tuners, offering a Datsun 240Z. This Z-Car on steroids is fun and well made. I have yet to see one like this in real life.

Two new Summer models are interesting. I have shown them with a second example of the same model to help with identification. No one ever accused Summer of excessive detail. The Dodge Stealth is an interesting choice as the real car has been out of production for many years. Matchbox did a Stealth prototype for the still-born Viper TV show. The show bombed and the model was canceled. Tyco did however release a Stealth slot car shown here, the only other small scale example. The Toyota Soarer is a Lexus outside of Japan and shown with the Tomica version.

Who can resist a new VW Beetle police car by Siku. Not me. I am not sure who the red and white colors represent but I bet someone will tell me.

Hot Wheels got more of my money for their collector versions. The Cadillac Cien concept is fine except for the huge rear wheels. I don't understand the wheels but I like the green color. The 1968 Dodge Dart is a bit of a surprise and represents a famous quarter mile racer. The Porsche 911 GT3 is stock colors is welcome and the same goes for the 1965 Pontiac Bonneville. It seems the HW has finally figured out that collectors and silly tampos are a bad mix.

Racing Champions have offered several twin-packs of their tuners and American muscle cars. I bought this one because it offered two new models. The Mitsubishi Eclipse Spyder is the first open top version of this car. The 1970 Dodge Challenger is actually labeled as an Ertl and continues the American Muscle series. This series has had few new models lately so it is nice to see that it may continue. The GM Terradyne is also from RC and it's Hummeresque design is clear to see. The last RC is a hot rod version of the '50 Mercury from the 'Street Wheels' castings.

I discovered my first Joy City castings at a local store. These models are much like the 1:72 scale castings from Hongwell and Yat Ming. The Joy City models are not of the same level of quality but they are quite good. The BMW X5 is in police colors and I like the wheels. The Mercedes-Benz C-Class looks good in black.

Four new Johnny Lightning models were added on sale. The Honda Accord is very nice in blue but the yellow wheels are odd. Even in modest tuner form, this popular sedan is welcome. The '53 Chevrolet Corvair concept is very interesting. Along with the '53 Nomad concept and the actual Corvette production model, JL has now offered all three body styles. Two custom Fords from '27 and '32 offer classic American hot rods. The delicate exhaust and big motors are very well done.

Universal copied many of Ertl's early castings. This Datsun Gloria Hardtop 2000GX is rough but a rather rare model. I do not have the Ertl example for comparison. Another model destined for Rainer Sliwinski is an interesting yellow Rolls Royce Cabriolet. This model was offered in a 'Richie Rich' series.

Three models from Schuco will also head to Germany and Rainer Sliwinski. The Opel Ascona Voyage is a very interesting Euro-wagon. This 2-door estate demonstrates why these Schuco models are highly collected. High quality and unique models make any Schuco a great find. The Opel Admiral 2800 E was also done by Yat Ming but this is the one to find. The Ford 20 M is another rarely seen German car.
HOT WHEELS

Cadillac Cien concept - 3.99


1968 Dodge Dart drag racer - $2.99


Porsche 911 GT3 - $2.99


1965 Pontiac Bonneville - $2.99
---
RACING CHAMPIONS/ERTL

2002 Mitsubishi Eclipse Spider - $2.50


1970 Dodge Challenger - $2.50


1950 Mercury hot rod - trade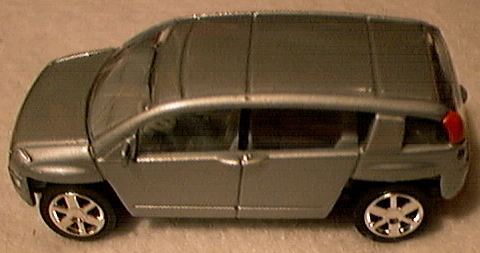 GMC Terradyne - $.99
---
JOY CITY

BMW X5 - $1.00


Mercedes-Benz C-Class - $1.00
---
TEAM CALIBER

1955 Chrysler C300 - $1.66


1936 Ford Stocker - $1.66
---
JOHNNY LIGHTNING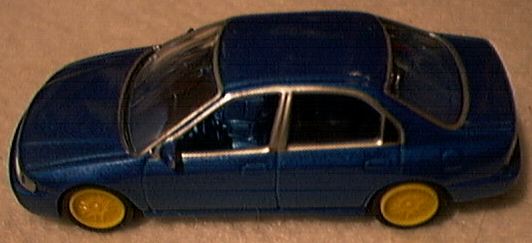 Honda Accord - $1.99


'32 Ford Roadster - $1.99


'27 Ford Roadster - $1.99


1953 Chevrolet Corvair concept - $1.99

---
UNIVERSAL

Datsun Gloria Hardtop 2000GX - $.50


Rolls Royce Cabriolet - (Rainer Sliwinski)

---
SCHUCO


Opel Ascona Voyage #846 - (Rainer Sliwinski)


Opel Admiral 2800 E #819 - (Rainer Sliwinski)


Ford 20 M #807 - (Rainer Sliwinski)