MATCHBOX

2004 Ford Mustang concept - $3.99


Mini Cooper - $3.99


Ford Cortina - $1.00


Aston Martin DB-7 - $1.00


Mazda RX-7 - $1.00
---
JOHNNY LIGHTNING

Chevrolet SSR '03 Indy Pace Truck - $2.99


Mitsubishi Lancer Evo VIII - $2.99


2004 Pontiac GTO - $2.99


2004 Nissan Z350 - $2.99


2004 Cadillac Escalade - $2.99


1979 Pontiac Firebird Anniversary - $2.99


Dune Buggy - $2.99


Honda NSX - $2.99

---
KIDCO

1980 Chevrolet Camaro Indy 500 Pace Car - $1.00
---
PLAYART

1968 Chevrolet Corvette - $2.00

---
SUMMER

Ford Model 'A' - $.20


Ford Model 'A' - $.20


1928 Mercedes-Benz SSK - $.20

---
SCZ TOY

Bugatti Royale - $.25
---
ZYLMEX

Gurney Eagle - $2.00
CAR OF THE MONTH



1966 Oldsmobile Toronado - Johnny Lightning

---

ADDITIONS THIS MONTH

The decision on the Car of the Month was easy. Johnny Lightning's 1966 Oldsmobile Toronado is something special. I have a soft spot for the Toronado anyway as regular readers already know. This model is however, one of the best castings JL has ever done. First, the look is almost perfect. It is a challenge to translate a real car into a three-inch example and get it to look well balanced. The top and muscled fender flares are just as they should be. An effort to replicate actual Toronado wheels and hub caps is another success. The motor is full of detail and color with the correct blue n the air cleaner. The copper metallic color is perfect for this 1966 model and an actual color. In fact, this is the same color as the real 1966 Toronado owned by Tom Lowe, founder of Playing Mantis/Johnny Lightning. Seeing this model reminds me how good the real car looks.

Matchbox is first to the post with the new Ford Mustang, albeit the 2004 concept version. Still, first is not a word associated with Matchbox recently and this is a nice casting. The new Mini Cooper is much improved in premier trim and tires but at $4 the price is premium too. Far better prices were found for vintage Matchbox at a recent toy show. The Ford Cortina, Aston Martin DB7 in blue and the Mazda RX-7 were fortunate finds for just $1 each.

New Johnny Lightning models have been appearing and the first five are from their new '2004' series, representing vehicles not at dealerships. The Chevrolet SSR will pace the Indy 500 this year and continues the JL line of these models. A Mitsubishi Lancer EVO VIII will certainly end up with tuner treatment so get this clean one while you can. The new Pontiac GTO/nee Holden Monaro does not have the new Mustang's looks but at least the GTO is back. The Nissan 350Z is another tuner candidate so get this lovely blue example quick. The Cadillac Escalade has become a diecast favorite of late and JL has done it very well. If you like two huge boxes on wheels, this Cadillac is for you. From the Firebird series, JL has done the 1979 Anniversary model. Kidco did this same model years ago. The Dune Buggy was first seen as a James Bond car but looks much better in these colors. The Honda NSX is actually a 1996 casting, long delayed due to licensing problems. It is still welcome and a reminder of how far JL has come in eight years.

In a curious twist, I found a 1980 Chevrolet Camaro Indy 500 Pace car at the toy show, a model more recently done by Johnny Lightning. These Kidco models were quite good for their day. The Kidco/JL connection twice in one month, what fun.

I almost did not buy the green '68 Corvette by Playart. The paint on the wheels is almost gone but on the car it is quite good. One wonders hot this happened? The seller wanted $3 but took $2 and I simply liked the color. Playart prices have really jumped so $2 is not so bad.

Prices for Summer models have remained in the bargain basement and I could not resist three of their old-timer models for $.20 cents each. The first two appear to be Ford Model 'A' variations although these are very generic. The third has a Mercedes-Benz SSK look.

SCZ Toy is an obscure manufacturer and their clone of the Tomica Bugatti Royale is interesting. The price was fine too.

Zylmex did a variety of open-wheel race cars early in their history. The castings were very close to the ones produced in Polistil's Penny line. Watch for a story on these next month. I found this Gurney Eagle un nice condition.

Majorette models arrived from several sources this month. I found the Alpine Renault A310 at the toy show. A collector of police vehicles was selling his collection. Majorette's new 'Champions' series arrived from France in trade. I really like this idea of putting correct racing graphics on these models. While some like the Porsche 911 are clearly production cars with race tampos, the Mercedes-Benz CLK GTR and Mitsubishi Pajero are the correct models for Paris-Dakar or Le Mans.

Rainer Sliwinski, a German collector continues to have me collect and re-route his auction purchases and he has found some very nice models. The famous Dodge Pick-up by Majorette is another of their unique hand-dipped models of the 1970's. Three Husky models also arrived for Rainer. I have the Buick and Citroen but not in this condition. I still need to find the Lancia.

Motor Max has done a nice police version of their Ford Crown Victoria. It is offered in the Toys-R-Us 'Fast Lane' series.

Four missing Norev Mini-Jet models in one month is a real cause for celebration. The Talbot Horizon was a Plymouth model in North America. The Ford Escort, VW Golf and Peugeot 305 round out the selection. These models were found for me at Retromobile in Paris this year. It is efforts like this by fellow collectors that are the very best part of our hobby. Someday I will attend Retromobile in person. The Renault Laguna Gendarmere by Norev is everything we now expect from this company and makes for a nice 'then and now' with the Majorette Alpine Renault above.

Rainer Sliwinski also bought a set of Hot Wheel hot rods shown here. The middle one looks like an Oldsmobile custom to me. It is a very long model. The most interesting is the Tucker custom.

Another Retromobile find was this Guisval Matra-Simca Bagheera. This model cleaned-up to almost mint-condition. I really like the Guisval models of this period.

The last model for this month is a vintage Tootsietoy Triumph TR3. This is one of the older, larger Tootsietoy models (perhaps 1:55 scale) and the playwear just adds to the charm. Found in the $.50 cent box at the toy show, it was mine in an instant. These models pre-dated my childhood so it is fun to discover them for the first time. How many miles of table top and floor has this one covered? Ah, the stories it could tell.


---
TOOTSIETOY

Triumph TR3 - $.50
MAJORETTE


Alpine Renault A310 police - $2.00


BMW Z Coupe (Champions) - trade


Porsche 911 (Champions) - trade


Porsche 911 (Champions) - trade


Mercedes-Benz CLK GTR (Champions) - trade


Mitsubishi Pajero - trade


Dodge Pick-up - (Rainer Sliwinski)
---

HUSKY

1959 Buick Electra police - (Rainer Sliwinski)


Citroen Safari Wagon - (Rainer Sliwinski)


Lancia Flamina - (Rainer Sliwinski)
---
MOTOR MAX

Ford Crown Victoria police - $.50

---
NOREV

Talbot Horizon - trade


Ford Escort - trade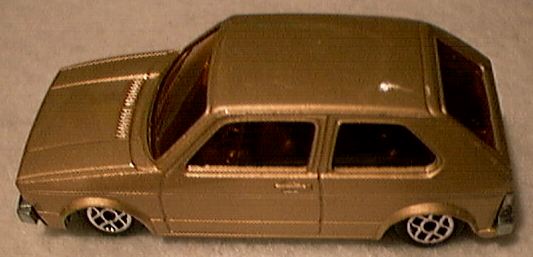 VW Golf - trade


Peugeot 305 - trade


Renault Laguna Gendarmere - trade

---
HOT WHEELS

'40 Ford custom - (Rainer Sliwinski)



Oldsmobile custom - (Rainer Sliwinski)


Tucker custom - (Rainer Sliwinski)
---
GUISVAL

Matra Simca Bagheera - trade