MATCHBOX


1957 Chevrolet Corvette - $1.99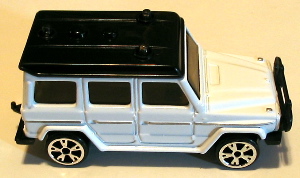 Mercedes-Benz 280GE - $1.99


Nissan 350Z - $2


TVR Tuscan S racer - $2


VW W12 - $2
---
SIKU
BMW 5 Series - trade
---
RACING CHAMPIONS
Nissan 350Z racer - $1.99
CAR OF THE MONTH

---
1957 Studebaker Golden Hawk - Johnny Lightning - $2.99
---

It has taken me quite a while to find the choice for 'car of the month'. It has become more difficult for me to find the new Johnny Lightning models. There were three good sources for JL models in my area and now they have shrunk to just one. I hope JL can find more stores to offer their great models. The Studebaker Golden Hawk of 1957 has been out for almost a year but the only examples I had seen were covered with silly tampos from some of my least-favorite JL series. Finally I found this single black example. It looks very classy in black with white fins and white-wall tires. Now I need to find several more for some trades that have been waiting.

Several more new Matchbox Superfast models were found. The '57 Corvette has a hardtop and actually sports vintage-style Superfast wheels! The Mercedes-Benz G-Wagon looks good in street colors although it still has emergency lights. I bought a set of five MB models in order to get the three you see here. I like the Nissan 350Z in green and the VW W12 concept in silver. The best model however is the TVR Tuscan S in racing colors. Too bad all the windows have such a dark tint. I wonder why this was done as all three have interiors.

The BMW 5 Series sedan by Siku arrived some time back but I forgot to show it here. The 5 Series models are seldom seen in small-scale and this is a very nice example.

Racing Champions has done a very nice Nissan 350Z drift racer in full racing colors. The quality is quite good and it is nice to see a new small-scale series from RC.

Johnny Lightning provided two more models that I really like. I found the Acura NSX in red and in black at a store that features old stock. These were Special Edition models. I like the wheels and rubber tires along with the simple colors. The 1965 Chevy Pick-up is just like one my family owned (see my editorial). I like the wheels and tires on this one too.

A local independent toy store has finally been able to get a few of the new Welly models. I was able to get the Dodge Viper Convertible, Toyota Celica and Nissan 350Z. I also bought the '71 Chevy Chevelle cvt. because I like the red and white colors.

On rare occasions, I buy Darda models. The McLaren F1 has been done by MiniChamps and Pioneer but that is it and it is a shame that more examples are not available in diecast. This is one of the most impressive cars of the 1990's and a Le Mans winner. I expect that licensing costs were the problem. The Darda model is quite good but it is plastic. The oversized wheels allow it to work on the Darda track but do not help the look of the car. This one was on sale and I could not resist. Now we need someone to do the Le Mans racing version.
JOHNNY LIGHTNING


Acura NSX - $1.99


1965 Chevrolet Pick-up - $2.99

---

WELLY

Dodge Viper Convertible - $1.29
1971 Chevrolet Chevelle cvt.- $1.29
Toyota Celica - $1.29
Nissan 350Z - $1.29
---

DARDA
McLaren F1. - $4.49