LLEDO
Rolls Royce Silver Cloud - $5.00
---
HOT WHEELS

1959 Chevrolet El Camino - $2.99


1970 Chevrolet El Camino - $2.99


Flight 03 - $.79


Swoop Coupe - $.79


24/Seven - $.79
---
SOHBI/POLYFECT

Ferrari 348tb - $.50


Ferrari Testarossa - $.50

---
JADA

1953 Cadillac Series 62 - $2.44


1959 Cadillac Eldorado Seville - $2.44


1962 Cadillac Series 62 cvt. - $2.44


1959 Chevrolet El Camino - $2.44



1960 Chevrolet Bel Air - $2.44
CAR OF THE MONTH

Land Rover Defender (Lara Croft - Tomb Raider)
Racing Champions, $2.99


ADDITIONS THIS MONTH

The Car of the Month for April is Lara Croft's modified Land Rover Defender by Racing Champions. The level of detail on this model is amazing. Even the mud flaps are correct with the Land Rover logo. Weave seen this level of casting from RC before but this is another great job.

You may be wondering at the inclusion of a Lledo Rolls Royce in this review. The Silver Cloud is actually 1:61 scale. It is from a special RR/Bentley series and is only marred by it's lack of windows.

Hot Wheels provided two El Camino ('50 and '70) models in their collectors series. A stylized Honda Civic (Flight 03), '37 Ford Coupe (Swoop Coupe) and Mazda RX-7 (24/Seven) were also found.

Two more of the Polyfect/Sohbi models were found at Wal-Mart. Both Ferrari models are decent examples and join two Porsches found earlier. These are unique castings, not copies of Maisto or others.

Jada is now offering better colors on their models and I added three more Cadillacs to the all-black trio previously purchased. The 1960 Chevy differs from an earlier example in that the continental tire kit has been removed. The El Camino from '59 is new for me.

Matchbox provided the Ford 100th Anniversary version of the retro-cast 1964 Ford Mustang. This is the new casting based on the original Ford Mustang casting from the 1960's. The Opel Speedster appeared several days after the April issue came out and I added the image to our Opel article.

Muscle Machines' tuner series now includes the Mitsubishi Evo IV and the Honda S2000. The S2000 is the first open car in the series.

Speaking of tuners, Racing Champions is offering the 1995 VW Jetta, a Euro-tuner. RC is also beginning to make the most of their new Tomica connection by offering Tomica's Mitsubishi Lancer Evo IV in RC packaging (see story this issue).


Thanks to a trade with a collector in Australia, a new producer, Dragon Toys is shown. Four models are produced and each comes with a spring-loaded launcher that fits in through the back of the car. The Alfa Romeo 155 is my favorite but all four are well done. The 155, Stratos, Skyline and Celica are all unique castings. All have opening doors but not much interior as the launching system fills each car. Opening doors seem un-necessary as a result.


Land Rover Defender (Lara Croft - Tomb Raider)

MATCHBOX

1965 Ford Mustang (100th) - $3.99


Opel Speedster - $.89

---
MUSCLE MACHINES

Mitsubishi Evo IV - $2.49


Honda S2000 - $2.49
---
RACING CHAMPIONS

1995 VW Jetta - $2.49
---
TOMICA/RACING CHAMPIONS

Mitsubishi Lancer Evo IV #104 - $2.49
---
DRAGON TOYS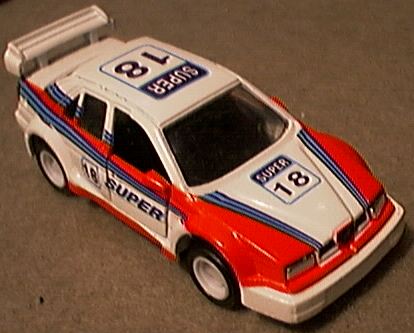 Alfa Romeo 155 #645 - trade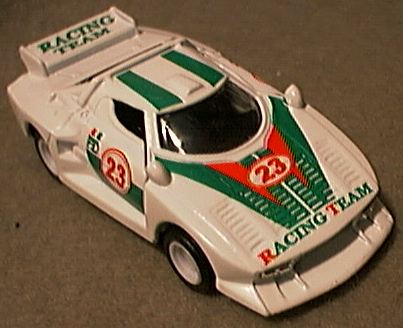 Lancia Stratos #646 - trade


Nissan Skyline #647 - trade


Toyota Celica #648 - trade