MAISTO


Citroen C3 Pluriel - $.50
---
NOREV
Lancia Musa- trade
VW Concept C - trade
VW Concept R - trade
VW Concept T - trader
VW Golf V - trade
VW Race Touraeg Paris-Dakar - trade
---
MATCHBOX
1988 Jaguar XJ6 - $1.99
Land Rover Discovery - $1.99
BMW 850i - $1.99
Mercedes-Benz A Class - $1.99
Mercedes-Benz S500 - $1.99
---

JADA
1970 Ford Mustang. - $2.99
CAR OF THE MONTH


Porsche Carrera GT - Siku - trade
---

While my choice for car of the month should not be a surprise to anyone, it did have some serious competition. Still, who can resist a 200+ mph supercar, especially when it is as well done as the Porsche Carrera GT from Siku. Why it took so long for a licensed model of this exotic from Porsche is anyone's guess. Pioneer did an un-licensed version over a year ago and had their hands slapped by Porsche.

This is one of Siku's best efforts of late and an obvious possibility for 'Toy Car of the Year' nomination. Excellent detail, opening doors, accurate wheels and tires along with visible engine detail make this model a worth miniature of the real car. Some have thought the wheels would look better in chrome. This and other Siku models as well as the Norev, Welly and Majorette models shown this month all came courtesy of my German trading partner, Rainer Sliwinski. Thank you Rainer!

Also from Siku are the new Mercedes-Benz SLK 350 and the Smart ForFour. Siku has clearly stepped up to the challenge from Norev and these models make that clear. Rubber-like tires and accurate wheels are truly appreciated as is the extra painted details now being provided. This is the fourth Smart model from Siku and they now offer the full range of Smart vehicles.

Norev also continues to expand their offerings and the latest models do not disappoint. Any new Lancia is welcome as they are so rarely seen. The Muso is a five-door hatch-back that reflects a popular European body-style. This is also Norev's first Italian model in small-scale since their recent re-birth.

The battle between Norev and Siku heats up with Norev adding VW to their line of automotive marques. Joining Audi, BMW and Mercedes-Benz, Norev now offers a wide variety of German cars that are direct competition for Siku's home-market models. Three VW concept cars show what future products might be. The Concept C is a coupe that looks a bit like a 4-seat Audi TT. The top can be removed. The Concept R is a roadster that begs even closer comparison to the TT Roadster. The Concept T is an interesting baby SUV with sporty looks. The new Golf V is the first example of this fifth-generation VW. The Paris-Dakar Red Bull Race Touraeg continues the series of realistic competition models from Norev. While none of these models have opening features except the removable roof of the Concept C, everyone is a beautiful miniature of the real vehicle.

The second year of Matchbox's new Superfast models have began to appear and I must confess to a dilemma. Price increases from $1.99 to $2.29 are appearing at Toys-R-Us and elsewhere. Matchbox is also reaching far back into the Tyco castings in order to offer new models in this series. The 17 year old Jaguar XJ6 is a good example. Note that the box art for the XJ6 and Discovery models actually show newer versions of these cars. Perhaps MB is a bit embarrassed that they have so few real cars represented in their line from the last several years and wanted to disguise the old wine in a new bottle. This also demonstrates how nice the older Tyco castings were compared to the recent offerings from Mattel. I have become far more selective in choosing which NSF models to buy. I like this series but the increase in price, pathetic wheels and lack of new castings is disappointing.

Another '70 Ford Mustang, this time from Jada, is proof that toy car makers are still trying to catch the American muscle car train. I liked the paint color on this but left others at the store.

Two new Welly models arrived in trade. The Audi A4 Cabriolet provided competition to the Maisto version. The VW Passat Wagon is a nice example of this popular car. Welly is truly the Playart of the current generation of manufacturers except that their models seem harder to find. They are not flashy or wild, just good, basic toy cars that represent what is really on the roads today.

Thanks to regular contributor Kimmo Sahakangas, I now have my own set of Bingo Toy models. Since Kimmo recently did an excellent story on these interesting models, a second review is not necessary. The chance to add three unique Korean cars to my collection, along with a seldom seen Fiat 500, was much appreciated. Thanks Kimmo.

Majorette offered the Renault Scenic II and Volvo XC90 models in 2004 but I did not get them until now. Both are good castings and Majorette is the first to offer the Volvo SUV in small-scale. Competition with companies like Welly, Real Toy, Maisto and Matchbox make it important for Majorette to continue to offer models not seen from other toy car manufacturers. The Volvo is just the sort of model that will do well as it is far less likely to be done by other toy car makers. I wish Majorette would do more classic European cars as it seems that this could really be a niche for them. Forget the '57 T-Bird or Corvette that they recently did. Give us a Volvo Amazon, a Simca Aronde or any Facel Vega and we will beat down their doors to get them. Re-releasing more classic Majorette castings of the 1970's like the BMW Turbo and Porsche 924 that have been done, would be fine too.

Maisto provided a surprise with a very nice Citroen C3 Pluriel Convertible. It took me a while to find one but here it is. Every so often, Maisto does a car like the C3 and proves that they can still do interiors.
---

1961 Chevrolet Biscayne - $2.49

Ford Mustang (Monster Garage) lawn mower - $2

MUSCLE MACHINES

Two interesting models from Muscle Machines came my way. The '61 Biscayne represents Chevy'd base model and the Monster Garage Mustang lawn mower is just to weird to resist. A rear-deck mower unit actually can be lowered! The pipe out the side window is for exhaust.
SIKU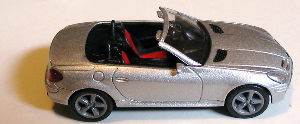 Mercedes-Benz SLK 350 - trade


Smart ForFour - trade
---
WELLY

Audi A4 Cabriolet - trade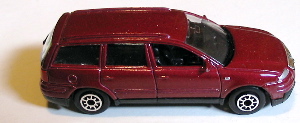 VW Passat Wagon - trade
---

BINGO TOYS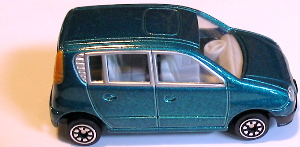 Hyundai Atos - $2.50
Daowoo Lanos.- $2.50
Daowoo Matiz - $2.50
Fiat 500 - $2.50
Mercedes-Benz A Class - $2.50
Mitsubishi - $2.50
Toyota RAV4 - $2.50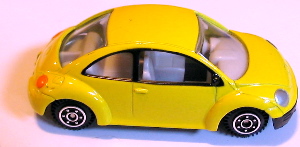 VW Beetle - $2.50
---
MAJORETTE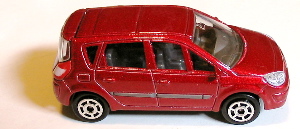 Renault Scenic II - trade
Volvo XC90 - trade