BIANTE


Holden LH Torana SLR5000 L34 - trade


Holden Monaro CV8 - trade

---
KENNER FAST 111's
Dome-O 'Stock Shocker' - $1.00

'55 Chevy ' Shiftin' Chevy' - $1.00

Triumph TR8 'TR Terrific' - $2.00
Corvette C3 ' - $.10
Fun 'E' - $1.00
---
SUMMER
Lancia Delta S4 - $.10
Lotus Esprit - $.10
BMW 3.0CSL - $.10
---
KYOSHO

Ferrari 550 Maranello - $3.50
Ferrari F430- $3.50
BMW M3 - $3.50
BMW Isetta - $3.50
---
BLUE BOX
Peugeot 205 GTi - $1.00
Porsche 918 - $1.00
---
NOREV

Peugeot 207 - trade
---
CORGI
'The Saint' Jaguar XJ-S - $1.00
---
RENAULT TOYS
Dacia Logan - trade
---
FUN HO!
Holden Police Ute - trade
---
MARX

Ford GT40- $.25
---
KIDCO
Chevrolet Camaro Z28 - $1.00
---
RACING CHAMPIONS
1950 Oldsmobile - $3.00
---
TOOTSIETOY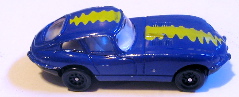 Jaguar 'E' type - $.10
---
MATCHBOX
Ferrari 360 Spider - $.99

Chevrolet Corvette C6 - $.99
Jeep Hurricane concept - $.99
Checker taxi - $.99
---
YAT MING
'BJ and the Bear' Pontiac Firebird - $1.00
---
MUSCLE MACHINES
Subaru WRX - $1.66
Nissan Bluebird SSS - $1.66
Subaru WRX - $1.66
CAR OF THE MONTH
---
1958 BMW 507 - Line Mar - $1.00

1958 BMW 507 - Line Mar - $1.00
1958 BMW 507 - Line Mar - $1.00
---

This 'Car of the Month' represents the single most amazing find in 21 years of collecting. At a local toy show, I cam across this casting sitting with a variety of $1 toy cars. I was stunned to find this ultra-rare Line Mar 1958 BMW 507 at all, let alone for just $1. While the model is in rough condition, it represents a toy car treasure of the first magnitude. First, it is the only small-scale BMW 507 ever produced. The scale is about 1:55. Second, all the Japanese-made Line Mar models are difficult to find and this represents the first example in my collection. While other examples must have survived the last 48 years, no BMW 507 example had surfaced in the extensive collections represented by the Matchbox Collectors Community Forum. This forum represents some of the most impressive and extensive collections world-wide. Several discussions of Line Mar models had only turned up a rough image from package art that did not even confirm if this model was ever produced. To be able to confirm that it exists and actually find one for $1 was simple beyond my imagination.

Several features of the model are of special interest. The body is diecast and the base and hub-caps are tin. The tires are rubber. The windows are attached to the body. Many hairline cracks in the body indicate that the quality of the diecast material was not high. The windshield pillars have broken away but otherwise the car is complete. The base screws on and the rear wheels are friction powered.

Why this model showed up at a toy show in Kent, Washington is a mystery. Perhaps it came from a Japanese collection. it was the only Line Mar model the seller had and he clearly saw it as just a tired old toy car of limited value. The lesson is that any model can appear any time at any price and that is why we all keep looking. Finds like this for a collector are what makes our hobby worthwhile.

While the new schedule for TofTC is easier in many ways, it does result in far more additions of the collection per issue. We begin with two more welcome additions from Biante. The Holden LH Torana SLR5000 L34 is a mouthful and I doubt that few outside Australia could identify it. The quality is excellent, a Biante certainty. This reminds me of a mid-1970's Chevrolet Nova and I really like the emerald green color. The second Holden in a Monaro CV8. This is the car that was re-introduced in the U.S. as the new Pontiac GTO. Frankly, I think the original looks better.

Fast 111 models by Kenner are getting a bit more recognition today. I found five missing models at a recent toy show. The Dome-O based car is easy to identify. Several versions of the real Dome-O were built, including one that raced at Le Mans. The '55 Chevy hot rod is quite well done with just the right 'saturday night' look. The TR8 in blue joins my red version while the Corvette C3 in cream joins my burgundy example. The Fun 'E' model appears to be based on a Pontiac Firebird funny car.

Three Summer models were found in a $.10 box. The first is one I have wanted for some time. Until recently, it was the only small-scale example of the WRC Champion Lancia Delta S4. The Lotus Esprit has rubber rear tires and a wind-up motor. The BMW 3.0 CSL is crude but easy to recognize.

A friend in Japan has been trying to find Kyosho models for me and these were the most recent additions. The Ferrari 550 Maranello and F430 are part of the 42 car Ferrari collection offered by Kyosho. The BMW M3 and Isetta are from the recent BMW series. These Kyosho models are addictive and if I can get them at Japanese retail prices, I'm happy to do so.

Blue Box did a series of cars in the 1980's that made noise when you rotated the wheels. I bought several at Woolworth's years ago. I keep finding them at toy shows. The Peugeot 205 GTi and Porsche 928 were new to me. I bought these from the same dealer who sold me the BMW 507 by Line Mar. My daughter beat me to a Lamborghini Countach by Blue Box that I am missing. She bought it before I could! Perhaps I can do some horse-trading.

Another Norev arrived and here it is. The new Peugeot 207 is a winner.

I have had a decent example of 'The Saint' Jaguar XJ-S by Corgi for many years but this mint version went for just $1 at the toy show. I have the earlier Volvo P1800 in rough form as well.

When I heard about the Dacia Logan model offered through Renault dealers, I alerted my French trading partner. He found it and sent one my direction. The base is blank but the box seems to indicate this is offered via Renault Toys. I do not think this is a Norev casting and the manufacturer is not identified. The trunk opens. This is my first Rumanian car.

My trading partner in Tasmania sent me my first Fun Ho! model. This Holden police vehicle is a bit battle-scarred but that makes it more authentic. These H.O. scale models are very sturdy.

I also keep finding more Marx models. This Ford GT40 is in very good condition and was in a $.25 box. The white-wall tires seem odd on a race car.

This Kidco Camaro is in a color I did not have and the price was right. These can be hard to find in such nice condition.

Somehow, I missed several of the Racing Champions Mint Edition series when they were new. This '50 Oldsmobile Futuramic 88 is beautiful and leaves the '57 Buick as the only remaining car from this series still to be found.

For just a dime, I could not resist this Subway kid's meal promo of Tootsietoy's Jaguar 'E' type. The wheels are much better than the Tootsietoy versions I have. It would be tempting to remove the yellow graphics.

I've had the Matchbox Ferrari 360 Spider in yellow for some time but just opened the package. The Jeep Hurricane, Corvette C6 and Checker Cab were color variations I could not resist.

With a bit if help, I was able to identify the Yat Ming Pontiac Firebird as the car from the 'B.J. and the Bear' TV series of the 1970's. I don't expect the TV car had all that writing on the trunk though.

Muscle Machines have done some great Japanese cars. The two Subaru WRX models are from different years and the Nissan Bluebird SSS is just too cool. They were 3 for $5 at Toy Liquidators.

Thanks to my French trading partner, I have finally added more of the 2005 Majorette models. The Aston Martin DB9 has been very well received and now I see why. First, any new Aston Martin is always welcome but Majorette has really captured the right look. Compared to the latest Hot Wheels Aston Martin, Majorette's AM is the clear winner. The new Peugeot 407 is a sleek new model and continues a long line of great Peugeots from Majorette. I did not know about the Citroen C2 Andros car until it arrived. This is an unexpected additions to my Citroen sport collection and certainly welcome. The Range Stormer has also received a good response from collectors. It looks much more aerodynamic than the old Range Rover.

Two older Majorette models were found at the toy show. The Jeep Cherokee Ambulance was already in my collection with red graphics but I could not resist this second version in white and blue. I have never seen a real version of this vehicle. Where were they used? The bargain bin offered up a TR-7 with regular wheels. my other version has those oversized wheels used by Majorette in the 1990's. It's a bit rough but at this price, who cares.

Another color for the Citroen DS by Johnny Lightning was a very nice surprise. I love it in black and silver. The box is an added bonus. It is wonderful to now have such well-made DS models in small-scale. The Nissan 350Z is from JL's 'Fast and Furious' series. Four more 'Spoiler' series cars were found. I just can't resist trying to find all the numbers, a great marketing idea for JL. Is that a 413 'Wedge Head' in the Plymouth? it should be. The '65 Pontiac GTO adds one of the missing Goats to my JL collection. The Shelby Cobra is not seen as often in racing trim so I had to add another variation. The VW Thing casting is from JL's early days and it shows. Still, every Thing is beautiful, in it's own way. The Ford Maverick has become quite popular recently with this being the third new casting to appear (Motor Max and Tiger Wheels). This is a big improvement on the original Topper Mad Maverick.

I came across a sale on the Hot Wheel Classic models and decided that the '68 Mustang with redline tires and in 'Bullet' green was too nice to leave at the store. Another sale resulted in my buying the re-issued Snake and Mongoose drag-racing set half-price for $12.50. The two cars in original colors came with the set and the kids and I had fun setting it up and watching the drag chutes pop out. I had the same set back in the early 1970's but it never survived childhood.

New colors for the '69 Corvette, Superbird, Eclipse Spider, Dodge Viper and Skyline were added. The re-issue of the 'Mongoose' model as a regular line model was a nice surprise. I may buy another just so I can put the plastic interior bits on some older models that use the same base. The Bugatti Veyron was found with far better (non FTE) wheels.

Jada manages to just keep the new castings rolling out. The '57 Buick is quite nice and I like the metallic blue and white paint. The '63 Lincoln is very big, with even bigger wheels. The top does not look quite right. Vintage racing versions of the '70 Mustang and the '63 Corvette were found on sale so I added them as well. Jada was smart to add a VW Beetle and Bus to their line. These are sure winners with collectors. I like the roof rack on the Bug.

Maisto surprised everyone with their new VW 1500 Square Back. This model was not common in the U.S. although a few made it over. I wonder if someone at Maisto has owned one of these or did at one time. The engine cover opens. The new Mercedes-Benz CLS is well done with wheels that seem to fit with the car. Maisto has done many Mercedes-Benz models over the years and this example is one of their best.
MAJORETTE


Aston Martin DB9 - trade


Peugeot 407 - trade


Citroen C2 Andros - trade



Range Stormer - trade


Jeep Cherokee Ambulance $1.00


Triumph TR-7 $.10

---
JOHNNY LIGHTNING

Citroen DS - $3.25
Nissan 350Z - $2.99
1963 Plymouth 'Spoilers' - $2.99
1968 Ford Torino 'Spoilers' - $2.99
1967 Plymouth GTX 'Spoilers' $3.25
1970 Ford Mustang 'Spoilers' - $3.25
1965 Pontiac GTO - $3.25
Shelby Cobra - $1.66
VW Thing - $1.66
1970 Ford Maverick - $3.25
---
HOT WHEELS

1968 Ford Mustang - $1.99

'Mongoose' '70 Dodge - set
'Snake' '70 Plymouth - set
1969 Chevrolet Corvette - $.99
1970 Plymouth Superbird - $.99
Mitsubishi Eclipse Spider - $.99
Dodge Viper - $.99

Nissan Skyline - $.99


Plymouth Hemi 'Cuda funnycar - $.99


Bugatti Veyron - $.99
---
JADA
1957 Buick - $2.99

1963 Lincoln Continental - $2.99
1970 Ford Mustang - $1.99
1963 Chevrolet Corvette - $1.99
VW Beetle - $2.99
VW Bus - $2.99
---
MAISTO

Mercedes-Benz CLS - $2.97
VW 1500 - $2.97