JOHNNY LIGHTNING


Aston Martin Vanquish (Bond) #014 - $2.66


1966 Cadillac Hearse (Bond) #512 - $2.66


1956 Chevrolet Nomad #243 - $2.50


1964/5 Ford Mustang Conv. #653 - $2.50


1966 Dodge Charger #198 - $2.99


1966 Ford Fairlane #200 - $2.00


1969 Shelby Mustang GT500 #842A $2.00


1969 Shelby Mustang GT500 #842B $2.00
---
RACING CHAMPIONS

1992 Chevrolet Caprice Police - $2.49


1969 Chevrolet Yenko Camaro - $2.49

---
AVIVA

Honda F1 - $.50
CAR OF THE MONTH

1960 Ford Ranch Station Wagon (James Bond Series)
Johnny Lightning, $2.66


ADDITIONS THIS MONTH

The Car of the Month for May was a very difficult choice. I finally setteled on a model that would have never appeared if it had not seen a brief cameo role in the first James Bond film, 'From Russia with Love'. This 1960 Ford Ranch Station Wagon was used by the CIA to pick up Bond. In keeping with the low-key CIA image they did not even use Ford's fancier Country Squire Wagon. How nice the Johnny Lightning decided to do this model. The quality is excellent with only the slightly oversized wheels to register as a minor fault.

Speaking of JL, all their new models suddenly started to appear and I have to once more state that Playing Mantis is continuing to do a great job. Two more Bond cars were found. The latest Bond ride, an Aston Martin Vanquish is so stylish. I love the correct wheels and all it needs is a working ejector seat to be perfect. The 1966 Cadillac Hearse is a clever re-issue which looks fine except for the hot-rod hood. Still, hearses are few and far between so I won't complain. JL loves American classics and the '56 Chevy Nomad was just too tempting in red and black. I also had to get this beautiful blue Mustang Convertible of 1964/5, even though I already had the Nomad and Mustang in other colors. New muscle cars include a fine '66 Dodge Charger, '66 Ford Fairlane with unique paint trim and a pair of 1969 Shelby GT500 Mustangs, coupe and convertible. The '69 GT500 may be the best body ever to appear on a 'Stang' and both versions are a real treat.

Racing Champions provided two more models from their 'Fast and Furious' series. The Miami Police Chevy Caprice will be popular with police cruiser collectors. The '69 Chevy Yenko Camaro is a great variation for this casting. The Yenko cars included Corvette and Corvair models so perhaps we will see these as well someday.

A local 'junk' store find represents a model by Aviva, which used Tomica castings to do a series of 'Peanuts' cars. Snoopy has lost his head but I don't mind as what I wanted was the Honda F1 car. I may attempt a restoration on this one.

After years of wanting one, I finally was able to trade for Minichamps' perfect McLaren F1 street car. One of the great cars of our age, the F1 was a must-find. Even better, Michael Schumacher's Mercedes-Benz C11 of 1989 came in the trade too! Minichamps did some of the best diecast in 1:64 scale and these two are very welcome additions. Too bad Minichamps did not so the Le Mans winning F1 of 1995.

After a bit of hesitation, I bought the '56 Ford Pick-up that Matchbox offers in the Ford 100th Anniversary series. I just like blue.

Maisto has several new models to be found and I bought a 10-car set for $4.99. It included the Chevy Trailblazer SUV and Hummer 2. A motorboat and trailer can be attached to the Trailblazer.

Jada is the latest to go 'tuner' and at least they have done some cars not seen from other manufacturers. A brace of Lexus models is interesting. The IS300 and GS430 are a long ways from stock but at least we get another version of these 4-door sedans. The Mitsubishi Eclipse is the 3rd generation model and is only the second casting of this car after the Mattel McDonalds model. Most of the tuner Eclipse models have been 2nd generation cars, the least attractive Eclipse to my eyes. The 3rd generation models are selling well and this one from Jada is sure to be popular among owners of real cars. The current Toyota MR2 spider is the first I have seen in small-scale. This is another popular car and I bet these will be hard to find models.
MINICHAMPS - PAUL'S MODEL ART

1989 Mercedes-Benz C11 - trade


McLaren F1 - trade

---
MATCHBOX

1956 Ford Pick-up (100th) - $3.99

---
MAISTO

2002 Chevrolet Trailblazer - $.49


Hummer 2 - $.49

---
JADA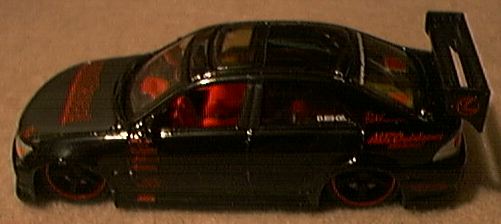 Lexus IS300 - $2.44


Lexus GS430 - $2.44


Mitsubishi Eclipse - $2.44


Toyota MR2 - $2.44