MATCHBOX

Holden 'Brut' Ute - $2.00

---
SIKU

VW 1300 Cabriolet - trade
---
ERTL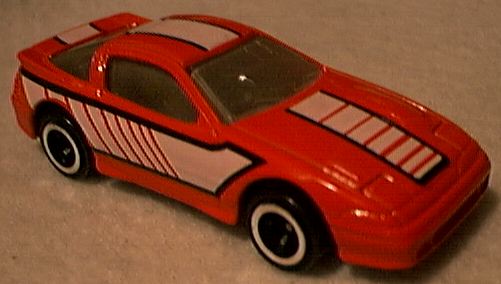 1991 Mitsubishi Eclipse - trade
---
JOHNNY LIGHTNING

1966 Ford Fairlane 500 - $2.99


1970 Chevrolet Malibu - $2.99


1977 Dodge Warlock Pick-up - $2.99


1971 Pontiac Grand Prix - $2.99

---
BIANTE

2004 Holden Monaro (and 2004 Pontiac GTO, Johnny Lightning) - trade

---
HIGH SPEED

1953 Cadillac Eldorado (Rainer Sliwinski)
---
ELDON

1967 Chevrolet Camaro - trade
---
PLAYART


1970 Rover 2000 - trade


US Army Jeep (Rainer Sliwinski)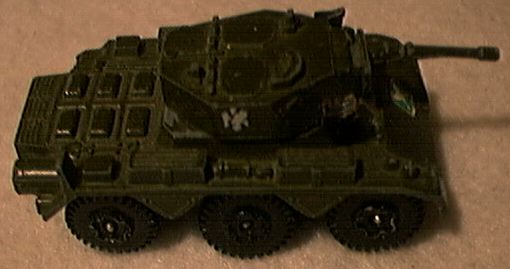 Armored Car (Rainer Sliwinski)

---
SUMMER



Jaguar XJ220 - trade


Mercedes-Benz C-Class - trade


Honda NSX - trade


Ford Sierra XRi - trade


Ferrari 308GTB - trade

---
KEES

The 840bhp 1981 308 GTB Group 5 CARMA - trade (real car below)

---
MOTOR FORCE

Alpine-Renault A110 - $.50


Maserati Merak - $.50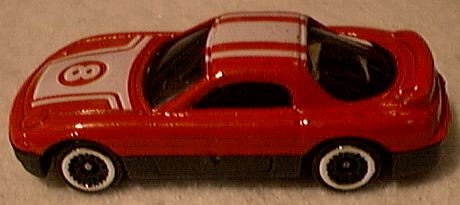 Mazda RX-7 - $.50
CAR OF THE MONTH

---

1991 Honda NSX - Kyosho

---

ADDITIONS THIS MONTH

June's additions more than made up for May's limited models. For quite some time I have wanted to add a Kyosho 1:64 scale models to my collection. Limited distribution and price had kept me from adding a Kyosho model but Rob Gras made me an offer I could not refuse. The silver 1991 Honda NSX is the result. This Kyosho reminds me of the models from AUTOart. It has no opening features but the detail is excellent. The rear light are especially nice. That said, the price for these models exceeds the actual value compared to AUTOart and other high-end manufacturers.

Who could resist the 'Brut' Ute Holden from Matchbox. For the price, not me. Siku's VW Beetle Cabrio looks very nice in wine red and came with other models from Estonia.

For years I have wanted to find Ertl's 1991 Mitsubishi Eclipse from their Speed Strips series. I made a trade with a British collector and now I have a toy car to match my real '91 Eclipse GS.

Johnny Lightning is now owned by Racing Champions and perhaps that will be for the best. RC/Ertl can let JL focus on 1:64 scale while 1:18, NASCAR and farm toys are covered elsewhere. I added a stock version of the '66 Fairlane 500 and lovely black '71 Pontiac Grand Prix. The '70 Chevy Malibu shows that the true muscle cars have all been done and not the junior models are getting the nod. The Dodge Warlock is disappointing. It is missing the wooden side-boards and wooden bed. They simple took the exhaust stacks off the L'il Red Express truck and added different tampos.

Biante's Holden Monaro represents the donor car for Pontiac's new GTO and makes a nice companion piece to JL's GTO. I'm not sure the GTO improved on the look of the Monaro.

High Speed's '53 Cadillac Eldorado is a very appealing model. the color is good and the detail is nice. This one is on the way to Germany for the collection of Rainer Sliwinski. After seeing it I may have to get my own example! Too bad Reader's Digest wants so much for these toy cars.

Have you ever seen an Eldon before? These are very rare toy cars made in Spain in the 1960's. Thanks to a trade with Craig Mueller, I now have the Eldon '67 Camaro. These have plastic bodies with metal bases much like Aurora Cigar Box and Faller Hit Car models.

Playart is the only one to do the Rover 2000 model. It is not one of their best but a nice addition all the same. The U.S. Army Jeep and 6-wheeled tank are also going to Germany.

Ah, Summer is back and I can thank Rob Gras for these beauties. These are TOY cars and prove that even Summer can offer spectraflame colors. The Ford Sierra looks a bit like a limo while the Mercedes-Benz, Jaguar, Honda and Ferrari have everything the has made Summer the darling of discount diecast. I like 'em.

Rob was also kind enough to send me the off Ferrari 308GTB Group 5 racer by Kees. It is based on a real race car that saw very little racing. While the model is crude, after I removed the stickers and added better rear tires, it improved quite a bit. The real car is shown for comparison.

Motor Force is a trade name that graces a variety of cheap castings. The Alpine-Renault A110 and Maserati Merak castings have been offered by Summer as well. The Mazda RX-7 casting is new to me.

A Citroen Camargue concept in stylish black also came from Estonia. I really like Majorette models of this era. Three new Majorette castings also came in trade. The '48 Chevy is offered as a pick-up, tow truck and petrol tanker. A curious choice for a French toycar maker but fun all the same.

Three missing Corgi models from Estonia were very welcome. I did not have the '73 Porsche 911 RS in police trim. The decals are gone so i guess this is now an 'unmarked' car. The Lotus Europa has seen plenty of play time but who cares. The Jeep CJ5 saw many years of production.

The '65 Chevy Malibu Wagon by Muscle Machines was on sale and I overlooked the cartoonish touches for this unique model.

A nice selection of new Norev models came my way from France. The Peugot 407 as a stylish sedan while the Citroen C3 Pluriel harks back to simple 2CV. Sebastian Loeb is the hottest driver in rallying today and Norev's example of his Citroen is a favorite. Renault has found new success in F1 this year with a win at Monaco. This is Norev's first F1 model in small-scale and it is quite good. The Peugeot 307 in street clothes will certainly be followed by a WRC example and it is great to see French cars return to such sporty models. The Peugeot 407 Wagon has a very stylish look and I prefer it over the Renault Laguna Break. The Laguna sedan is a bit odd with that empty back window but then it makes it easy to open. Norev seems to be able to offer new castings very quickly and at great value.

Hot Wheels is offering 100 models for 2004 and the new Ford Mustang will be a favorite. The Matchbox casting is the far better of the two. Now that Matchbox has been moved to California where HW can keep a closer eye, will we continue to see the occasional same models from both? Racing numbers for the Cunningham C4R are welcome but oh those wheels! The bright yellow on the Lotus Elise looks good. I liked the red-line tires on the Chevy Nova but they should not be low-profile. Finally, the four Barris Custom collector models are on their way to Germany. The Olds, Merc and Ford 'A' are fun but the Elvis Cadillac is everything that a pimped-out American luxo-barge could ever want to be. Does this car represent the godfather of bad taste in auto customizing?

MAJORETTE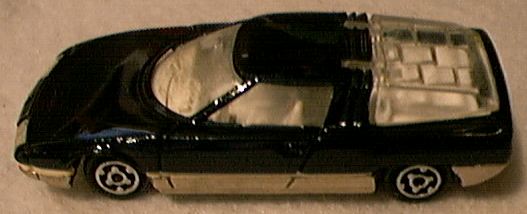 Citroen Camargue concept - trade


1948 Chevy Tow Truck - trade


1948 Chevy Tanker - trade


1948 Chevy Pick-up - trade
---

CORGI

1973 Porsche 911 RS police -trade


1970 Lotus Europa - trade


Jeep CJ5 - trade
---
MUSCLE MACHINES

1965 Chevrolet Malibu Wagon $1.99

---
NOREV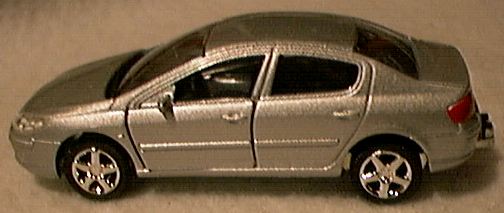 2004 Peugeot 407 - trade


2004 Citroen C3 Pluriel- trade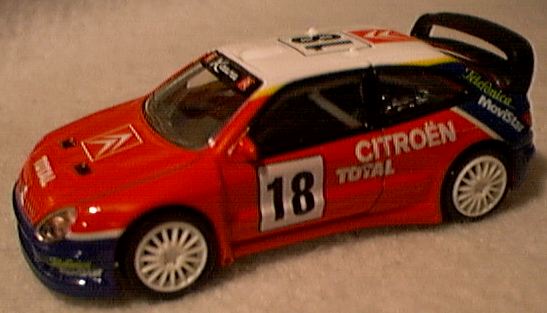 2004 Citroen Xsara WRC (Loeb) - trade



2003 Renault F1 - trade


Peugeot 307 - trade


Peugeot 407 Wagon - trade


Renault Laguna Break - trade


Renault Laguna - trade

---
HOT WHEELS

2004 Ford Mustang - $.99


Cunningham C4R - $.99


Lotus Elise racer - $.99


1968 Chevrolet Nova - $2.96


Barris custom Ford Model 'A' (Rainer Sliwinski)


Barris Elvis '65 Cadillac (Rainer Sliwinski)


Barris custom Mercury (Rainer Sliwinski)


Barris custom Oldsmobile (Rainer Sliwinski)