MAJORETTE


Citroen-Maserati SM - trade
---
UNKNOWN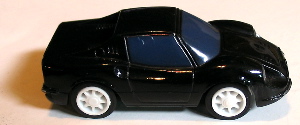 Dino 246GT- trade
Ferrari 250GT - bought years ago
Ferrari Daytona - trade
---
MATCHBOX
1970 Ford Mustang Boss 302 - $1.99
Checker Cab - $1.99
---
CF
Toyota Levin - trade
---

CHAMPION
Chaparral 2D. - trade
CAR OF THE MONTH
---
1968 Cadillac Eldorado - Husky - Rainer Sliwinski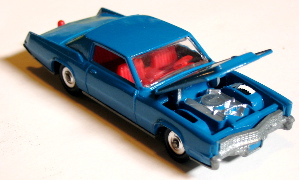 1968 Cadillac Eldorado - Husky - Rainer Sliwinski
---

The car of the month is not mine but I sure wish it was. I have the Corgi Whizzwheels and Rockets versions of the 1968 Cadillac Eldorado but the original Husky version shown here is the best looking example. The traditional Husky wheels make this car look like it should. While it is a very nice casting, the windshield is too flat for the real car and the crease in the rear window and trunk are missing. This perfect example is on the way to Germany.

A new trading partner from Belgium sent many of the models you see here this month. The apple green Citroen SM by Majorette is a lovely example of this model. The rear roof pillar is too narrow for the real SM but otherwise this casting is an excellent representation of Citroen's '70's GT.

The three plastic Ferrari models are from an unknown manufacturer. I've had the 250GT for years and received the Dino and Daytona models recently. They all have pull-back motors.

Matchbox has finally figured out that the new Superfast line looks best with period-correct wheels. The Boss 302 Mustang has a great vintage look. The Checker Cab in green and white is also a winner in these old school wheels.

Little is known about CF but with only six models ever produced, they still managed to get a lot of use from the castings. Some had rubber tires and pull-back motors. Some had the wheels shown on this yellow Toyota Levin example. Others had Yat Ming style wheels and goofy graphics.

Champion models were made by Safir of France, best known for their fine 1:43 scale models. These plastic body/metal base race cars are delightful and quite accurate. This Chaparral makes a nice companion piece to the Ford GT40 by Champion that I also have.

The Fiat Abarth by Tin Toys is a bit crude but I like it. Ertl also did the Fiat Abarth concept car. Welly's '99 Ford Crown Victoria has also been done in police trim. I like this 'unmarked' version.

Johnny Lightning has done a great job creating new model year examples from the same casting. The '66 Olds Toronado has received a new nose with correct, flush headlight covers and now it represents the '67 Toronado. I love the period-correct colors as well. The '65 Buick Riviera GS finally provides us with a beautiful example of this classic personal luxury car. I bet JL will also offer this casting as the '63 and '64 models, with appropriate changes. Thanks JL, for another great addition to the toy car universe!

The Playart Ford Escort is likely one of their last castings and I am very pleased to add it to the collection. I finally found a local store that offers Real Toy's Real-X 1:72 scale castings. The Subaru Legacy Wagon and WRC WRX are great models. The Schuco BMW 2002 has seen plenty of play time but then so have many of the real 2002 examples still on the road.

---
CANDEREL


Ferrari P4 and Dino 246GT - trade: These little Ferrari models have plastic bodies and pull-back motors. They are about 1:87 scale.
TIN TOYS


Fiat Abarth - trade

---
WELLY


1999 Ford Crown Victoria - $1.20
---

JOHNNY LIGHTNING


1967 Oldsmobile Toronado - $2.99

1965 Buick Riviera GS - Johnny Lightning - $2.99
---
PLAYART

Ford Escort.- trade
---
REAL TOY/REAL-X
Subaru Legacy Wagon - $1.99
Subaru WRX WRC - $1.99
---
SCHUCO
BMW 2002 - trade