JOHNNY LIGHTNING


1959 DeSoto Sportsman Fireflyte Sedan #031 - $2.99


1961 Ford T-Bird Indy 500 Pace Car #292 - $2.99


1961 Pontiac Ventura #197 - $2.99


1962 Plymouth Belvedere #199 - $2.99


1966 Buick Skylark GS #196 - $2.99


1972 Chevy Chevelle SS #195 - $2.99


2002 Mini Cooper S #048A - $2.99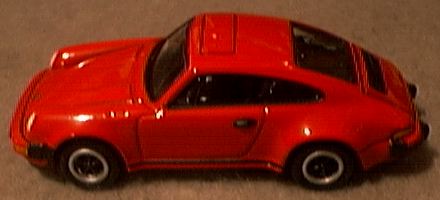 1985 Porsche 911 #133 - $2.99


1982 Porsche 930 Turbo #133 - $2.99
---
YAT MING

Nissan 350Z #72028 - $1.00


Lexus SC430 #72018 - $1.00


Mini Cooper #72048 - $1.00


VW W12 Nardo #72038 - $1.00
---
BOLEY

Jeep (police) - $.50
---
STRELA

Russian racing car - trade
CAR OF THE MONTH

2003 Citroen Xsara WRC - Norev, $6.00


ADDITIONS THIS MONTH

The Car of the Month for June is one I have eagerly awaited ever since news of its production by Norev was announced. The Citroen Xsara WRC is a strong contender for a championship title this year. Norev has done this model proud. The wheels are excellent and the car is well detailed. Norev has also done the Peugeot WRC model which I hope to have soon.

Several other Norev models arrived. The Citroen Xsara Picasso is an interesting 'family car' that carries the face of the Xsara line. The Renault Clio is in French 'Poste' colors and will be a must for postal vehicle collectors. The Renault Scenic RX4 will be just as popular with police vehicle collectors. While the prices for these Norev models seem very high, they do include postage costs from Europe and again from the U.S. east coast. The actual prices in Europe are 2-3 Euros each.

If you don't remember the re-make of 'The Absent-Minded Professor', staring Eddie Murphy, you are in good company. The starring car is a '62 Ford T-Bird that has been 'flubberized' so it can fly. Dave Weber discovered an interesting promo of this model by Johnson Grossfield and was able to get me an example.

Five more Motor Max models were found with new graphics. I prefer the versions without all the tampos but several caught my eye at this price. The racing version of the new Mini is tasteful as is the BME X5. The Toyota Supra and BMW Z3 are a bit too busy. The Ford Crown Victoria Police car is generic but a nice casting I did not have.

Three 'new to me' Summer models arrived in trade. What can I say except that I'm a sucker for Summer! The Pantera and VW drop-top actually have interiors of a sort while the 300ZX is for completists only.

Hot Wheels boxed sets are a rare purchase for me due to price but I found the custom Cadillac set on sale for $9.95. The '53 and '57 Eldorado models are modified but not to extreme. These represent actual cars done by a well-known customizer. The green Mini Cooper is the best color yet for this fun Hot Wheel.

Johnny Lightning models were found during a visit to Iowa and a stop at the Hobby Lobby. The '59 DeSoto is much better in stock colors. The '61 Ford T-Bird Indy 500 Pace Car continues this JL theme. The four remaining models from the latest muscle car series were found and all represent models never seen in 1:64 scale. The '61 Pontiac Ventura is an unexpected inclusion as it is seldom included in this category. These Pontiacs were very fast if ordered with the right engine package. The same thing goes for the Plymouth Belvedere. A Max-Wedge 413 c.i. motor could turn this car into a quarter-mile contender. The '66 Buick Skylark GS is the same color as my real Skylark-based '72 Buick Sport Wagon, a nice bonus. The '72 Chevelle SS was the end of the true muscle car line for Chevy and joins Welly's '71 convertible to now provide examples of Chevelles from 1965 to 1972. JL's new Mini Cooper S is as good as Jeff Koch said it would be. I love the colors. Lastly, two Porsche models are now available from JL. The '82 911 is nice in it's base-level trim. The 1985 930 Turbo is a contender with Majorette's Deluxe Edition model for the best 930 ever done.

While small in scale (1:72), Yat Ming's new models are serious competition to the best Hongwell has to offer. The Nissan 350Z is the best example yet of the latest 'Z' car. The Lexus SC430 is a bit somber in black but just as nice. Yet another new Mini Cooper puts this model into double figures (Majorette, Welly, Maisto, Hot Wheels, AUTOart, Siku, Johnny Lightning, Motor Max, Hongwell and now Yat Ming). The VW W12 Nardo is so superior to the Matchbox version that it's embarrassing. This VW supercar is amazing to see.

Boley is a name to has been associated with diecast for some years but I seldom find them. The quality is Summer-like but then so are the prices.

Speaking of rare, how about a 1:64 scale model of a Russian sports car. Strela means 'arrow' in English. The body is made of tin and the base and wheels are plastic. I expect the car is pure fantasy but any Russian-made models are welcome. The base is blank but my Estonian trading-partner identified this car.
---
This curious model comes from Estonia. It is identified as a Soiduk Viru and according to my Estonian connection who provided it in a trade, represents a real car! A Web search failed to confirm this but perhaps someone else can confirm. This model seems to be a mid-engine car in the spirit of many wedge-shaped concepts from the 1970's. The picture on the box shows a Darda-like wind-up motor but my model does not have this feature. It is mostly plastic with some metal parts.
NOREV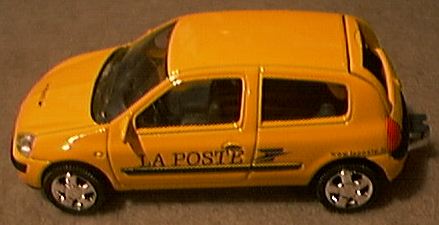 2002 Renault Clio 'Poste' - $11.00


2002 Citroen Xsara Picasso - $6.00


2002 Renault Scenic RX4 'police' - $11.00

---
HOT WHEELS

1953 Cadillac Eldorado 'Custom' - $4.99


1957 Cadillac Eldorado 'Custom' - $4.99


Mini Cooper - $.64

---
JOHNSON GROSSFIELD

1962 Ford T-Bird (Flubber) - $3.00
---
WELLY

BMW X5 - $.50


BMW Z3 - $.50


Toyota Supra - $.50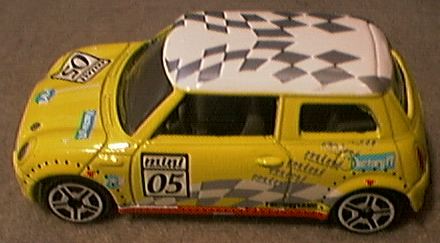 New Mini - $.50


Ford Crown Victoria Police - $.50
---
SUMMER

Nissan 300ZX - trade


DeTomaso Pantera - trade


VW Beetle Cabriolet - trade