HIGH SPEED

1963 Ford Thunderbird - trade

---
M.T.

Ferrari 360 Modena (RC) - $8.00

---
GUISVAL

Porsche 928 - trade


VW Golf 'Special Brigade' - trade


Opel Kadett - trade


Mercedes-Benz 190SL GTC - trade
---
SIKU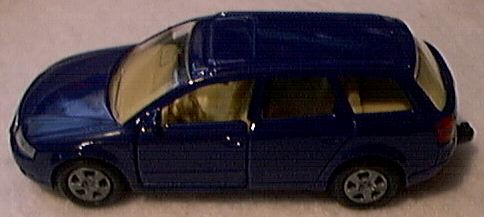 Audi A4 Avant - trade


Smart Roadster - trade


Porsche Cayenne - trade
---
JOHNNY LIGHTNING

VW Bus concept - $2.99
---
WELLY

Lamborghini Murcielago - trade
CAR OF THE MONTH

---

Renault Vel Satis - trade - Norev
---

ADDITIONS THIS MONTH

It is very difficult not to select every new Norev that comes my way as the 'car of the month' and in the case of the new Renault Vel Satis, why resist the temptation? Not only is the subject matter a very interesting 'hatchback' sedan but the quality of every part of the model is exemplary. Even the ever-present Norev tow-hook is not out of place on this car, begging the question of when Norev will offer something to tow?

The High Speed models prepared as Reader's Digest premiums are really very good. This hard-top Thunderbird of 1963 is unique as all other examples are top-less. Too bad these are so pricey, I would get them all. Fortunately, this one came via trade.

This Webzine does not feature slot cars or remote control models as a rule but the little Ferrari 360 Modena by M.T. caught my eye. It is fun to watch it zip around and while a bit cartoonish, it still looks like a Ferrari.

Thanks to a trade, four more Guisval models were added. The Porsche 928 is really one of Guisval's better castings. It has been around over 20 years and still looks great. The VW Golf carries 'Special Brigade' markings while the Opel Kadett ETC model is in the colors of Team Joest. The Mercedes-Benz 190 is also in ETC trim and correct racing colors.

Siku has really made an effort to improve quality, no doubt inspired by Norev's move into their primary markets. The Audi A4 Avant is actually a bit better than the same Norev model. The Smart Roadster is a fun little micro-car and it is nice to see this model. The Porsche Cayenne may not be everyone's glass of schnapps but regardless, Siku has done it very well.

Johnny Lightning has added the VW Microbus concept and this is a very stylish people-mover. The colors are excellent. Also excellent is the Lamborghini Murcielago by Welly. These fine models deserve much better distribution.

Early Efsi models began life as Best Box and these three are very interesting. The Mercedes-Benz 250SE, Ford Taunus and Opel Rekord all represent the type of European-built sedans that were common in the 1960's. While not quite of the quality of Matchbox models of the same period, these Efsi models are still a delight.

Also in trade, three older Norev models make for an interesting comparison with three new models. The Fiat Ritmo and Renault 18 are classic Mini-Jet models. The Jeep CJ5 is one of a series of models to be packaged by Norev during their darker days of the 1990's. These are very cheap castings from Faie and other sources that did nothing for the Norev image. Thank goodness that the new Norevs came along to once again give the company a reason to be proud of their products. These are the three Mercedes-Benz models now offered. The C230, 500SL and E320 are everything we have come to expect from Norev. The top can be removed from the 500SL. I really like the variety of chromed wheels offered on this models.

Hot Wheels is finally set to retire their Ferrari 308GTB casting. The addition of race-style graphics is actually done with some restraint. The wheels could be much worse. At least these 'final run' models are now the same price as regular models.

Matchbox has had little to be proud of lately. Their Checker cab is a fun and interesting model. The low-rider wheels are a pity but the shape and graphics on this casting are just fine. Too bad they did not have this one for their 'Star Car' series of the 1990's as it would have made a much better 'Taxi' TV show car.

Matchbox has been offering Corvette models for over 30 years and this is the eleventh to be produced. The Corvette C6 is not a dramatic departure from the C5 but it has a few new touches. This casting is exactly what Matchbox needs to be doing. It is well-executed, the paint is realistic and the temptation to over-tampo was avoided. It is unlikely that the 2005 offering from Matchbox will be so clean so I encourage you to get this example while you can.
EFSI


Ford Taunus - trade


Mercedes-Benz 250SE - trade


Opel Rekord - trade

---
NOREV

Fiat Ritmo - trade


Renault 18 - trade


Jeep CJ5 - trade


Mercedes-Benz C230 - trade


Mercedes-Benz 500SL - trade


Mercedes-Benz E320 - trade

---
HOT WHEELS

Ferrari 308GTB - $.99
---
MATCHBOX

Checker Cab - trade


2004 Chevrolet Corvette - trade