SCHUCO


Audi 100 Coupe S - trade
---
GRELL

Audi 100 Coupe S - trade


Ford Capri I Modell 2000 - trade


DKW (Auto Union) 1000 SP - trade


IFA F3 Luxus Cabriolet - trade



Sachsenring P 240 - trade


Trabant 500 - trade

---
JOHNNY LIGHTNING

1971 Buick GSX - $3.25


Aston Martin Vanquish - $3.25


Honda CRX - $3.25


1971 Ford Pinto - $3.25


1957 Chevrolet Nomad 'Spoilers' - $1.66


1955 Chevrolet 510 'Spoilers' $1.66
---
JADA

1969 Chevrolet Camaro - $2.99


Shelby Cobra 427 - $2.95
---
MATCHBOX

2006 Dodge Charger - $1.66
---
KELLOGG CO.

Lightning McQueen - cereal promo
Toy Cars of the Month


BMW 3.0CSL - Kyosho - trade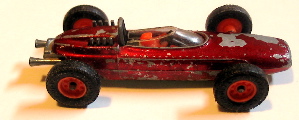 1964 Ferrari F1 - Majorette - trade


1963 Studebaker Avanti - $3.25
---
Three cars compete for the Toy Car of the Month awards. The BMW 3.0CSL by Kyosho is simply stunning. I have always admired the BMW coupes of this era and this is the racing version that proved these cars were more than a pretty face. Kyosho has offered the ultimate small-scale version of the 'Batmobile' as it was dubbed due to the rear fins and spoiler.

Majorette was known as Rail Route when they first offered small-scale models. These are not often seen today and I am very pleased to finally add the Ferrari F1 of 1964 from this line. It has the look of a vintage racer that might have resided in the corner of the factory for the last 42 years. John Surtees was F1 World Champion in 1964 so this makes it even more important.

I have Maarten Tys of Belgium to thank for both these great models. I can only hope he was as satisfied with what I sent for his collection.

For years I have wanted a small-scale diecast version of the Studebaker Avanti and Johnny Lightning has rewarded me with this fine casting. I would not mind a full-size example in the garage as well. Thanks Mac.

We should all hope that Grell's cross-marketing of toy cars and German beer is a huge success. Judging by the number of new models being produced, it must be. With the line now expanded to the cars of West as well as East Germany, the potential for great toy cars should get collectors drooling. The Audi 100 Coupe S was done by Schuco years ago and the fact that I added both to the collection at the same time made for easy comparison. The Schuco has a metal base but otherwise they are both excellent models. The Ford Capri I 2000 has been done by in small-scale by many over the years but few if any are better than Grell's version. If the DKW (Auto Union) 1000 SP looks like a baby '56 T-Bird that is exactly the idea. Some German Auto manufacturers had no qualms about borrowing design cues from Detroit. Grell has not finished with the cars of East Germany and the IFA F3 Luxus Cabriolet is a charmer. The Trabant 500 may be at the lower level of the automotive food chain but any toy version is always welcome. Who in their wildest pre-Grell dreams ever thought we would have a small-scale Sachsenring P 250 Cabriolet to collect. Even if you had never heard of one, I'll bet you would want one, just like me.

Johnny Lightning keeps offering new colors on older castings that I can't resist. The Buick GSX and Aston Martin Vanquish are two more examples. Numbers '20' and '32' from the Spoilers series were easy decisions, especially at 3 for $5. The Honda CRX is the best example yet of Honda's late '80's pocket rocket. After 30 year of waiting, the Ford Pinto is finally receiving some respect, at least as a toy car. Both JL and Motor Max have versions out now.

Jada likes to do the hottest street machines and the original Camaro and Cobra certainly qualify. The quality of these models is quite high and wheel-swaps are easy with screw-on bases.

Finding the new Dodge Charger Superfast on sale made the purchase an easier decision. Regular prices have jumped from $1.99 to $2.99 and I am being way more selective with this series.

A free toy car in the cereal box is always welcome. The Cars movie is delightful and while the Lightning McQueen character car is too generic to identify, it's still fun. The manufacturer is identified as Kelloggs. A toy car that is smiling just makes you smile too.

Paying $1 for a loose Summer model goes against the grain but I did want this particular casting. On the base, it is clearly identified as a BMW and could only represent a 3.0CSi GT racer. Many have wondered if Summer mis-labeled this model and if it could be an Alfa GT instead. Bertone was the designer involved with both cars and they do share common themes. Even more curious, Summer had already done a BMW 3.0CS and a 3.0 CSL so it would seem odd to see this same car represented three times. Still, it says BMW on the base so BMW it is and I paid $1 to get one.

The BMW 7 series is certainly a design that begs different opinions. My opinion is that it is simply an ugly design. Perhaps that makes it even more interesting to have a toy example. Maisto has provided this mild tuner version.

One can assume that the licensing cost to produce a small-scale version of the Porsche Carrera GT must have been very high. We have had the real car for more than two years and yet up to now, only Siku (licensed) and Pioneer (un-licensed) had done examples. Pioneer found that Porsche was not amused and forced to alter their casting. Now Hot Wheels has done the Carrera GT. As Hot Wheels go, it is a decent casting though nowhere as nice as the Siku version. Still, at half the price or less and in German Racing Silver, it is appreciated. The Chrysler Firepower Concept is quite nice and adds yet another concept car to the many produced for this manufacturer. The Nissan 350Z, Honda Civic and Chevrolet Corvair 'Vairy8' were all color variations I could not resist. One other new casting is the 1969 Chevrolet Camaro Convertible. As this model begged comparison with the original Custom Camaro of 1967, the very first Hot Wheel, here they are.
---
1967 Custom Camaro and 1969 Camaro Convertible ($.99) - Hot Wheels
---
Even with all the changes after 39 years of Hot Wheels, both could be identified as Hot Wheels without any labels. The low-profile wheels on the new model are a distraction but otherwise it compares well to the Custom Camaro.

More Darda models came my way. This time the Jaguar XJ220 and Mercedes-Benz 190 DTM models joined the collection. Both are welcome.

I have a rough example of the Lancia Monte Carlo in rally colors by Majorette so I am tempted to leave this perfect packaged example as is. I have a Majorette display rack for packages such as these and it has been fun to fill it up.

The Matra 650 by Champion lived up to this series name. It was a champion at Le Mans, beating the Ferrari 512 and Porsche 917 entries. I am now only missing three of the Champion race car castings.

This racing Toyota MR2 from Muscle Machines is full of excellent detail. I found it on sale and it now joins my other models from this Japanese racing series.

Motor Max seems to be selling their new Cherries series with ease. The second blue Pinto was bought just for the color. The two Mini models, old and new were cheap and I liked the colors.

The last model is one of Polistil's wonderful Penny Toys. It represents the McLaren-Ford 8V of 1966. The addition of the box is nice too as they are seldom seen. These were not the best small-scale F1 models of their day but they are delightful none the less.
---
McLaren Ford 8V F1 - Penny - trade
SUMMER


BMW 3.0CSi - $1.00
---
MAISTO

BMW 7 Series - $2.95
---
HOT WHEELS

Porsche Carrera GT - $.99


Chrysler Firepower Concept - $.99


Nissan 350Z - $.99


Honda Civic CRX - $.99


1965 Chevrolet Corvair 'Vairy8' - $.99
---
DARDA

Jaguar XJ220 - trade


Mercedes-Benz 190 DTM - trade
---

MAJORETTE


Lancia Monte Carlo rally - trade

---
CHAMPION

Matra 650 - trade
---
MUSCLE MACHINES


Toyota MR2 - $1.99
---
MOTOR MAX

1971 Ford Maverick - $1.95


1971 Ford Pinto - $1.95


1971 Ford Pinto - $1.95


New Mini Cooper - $.49


Mini Cooper - $.49